While a few fans have criticized the price (~$250 - $300 USD), let me assure you that the San Francisco 1971 concert (Discs (9) nine & (10) ten) is worth the price alone! So… let's start here. What do concert tickets cost these days? This show is one of those flawless, ultimate Who concerts. The kind of show that if you had Mr. Peabody's Wayback Machine, it could top your list of Who shows to visit. From start to finish the entire band is on fire. It has a different sound/vibe than Live At Leeds (Leeds) with Pete Townshend (Pete) and John Entwistle (John) dueling each other the entire time to outperform each other. It's absolutely amazing to listen to them in a way that <perhaps> has never been quite captured like this before (for an entire concert release). In the middle of Pete and John are Roger Daltrey (Roger) (unbelievable power, energy and flawless) and Keith Moon (Keith) drumming non-stop. If you love The Who, these (2) two discs will just blow you away. The value? A concert ticket <barely> buys you (1) one performance. Here, you get to listen to this show as many times as you like (and you will).
Not much to say here. Simply a very fine, newly remastered version of the original album.
So the bottom line is… If you haven't bought it already, do it now! It's truly great and you will endlessly enjoy it.

Part (2) Two: The Steve Wilson Blu Ray Disc…
Mixed feelings about this disc. It's good, but in my mind, it doesn't go far enough…

There are (2) two sections, the original "Who's Next" (9) nine tracks and (13) remixed bonus tracks.

I want to also clarify that I only listened to the disc in (2) two channel. I'm not a fan of surround sound. I tried it several times and thought it was more of a novelty vs. a "wow". But as they say in "Quadrophenia", "Each to their own sewage." I mention this because if you are a multi-channel kinda listener, you aren't getting a "full review".
One of the funnier stories that came out of the above, was with "Bargain". At the time they were prepping for the Atmos mixes, I had coincidentally remixed "Bargain" myself, with alternating Pete vocals from right to left channels. I sent a copy to Jon Astley to see what he thought of it and he somehow mistakenly believed I had a copy of the original multitrack tape (for "Bargain"). The exchange of emails was a little like Abbott & Costello's "Who's On First?" (until I was able to clarify exactly what I sent him). Unfortunately, the multitrack for "Bargain" was missing. Since I was working with "demix" software (which takes 2.0 tracks and converts them to multitracks) at the time, I was asked to demix a flat, HD master of "Bargain" to use for the Atmos. Not quite a true multitrack, but much better than nothing at all…
Before getting to the bonus track samples, I want to comment on the sound… The bass seems a bit "boomy". Fairly easy to fix, but not sure why this happened in the first place…
Lastly, please don't take my comments as "negative". Critical yes. Me being a bit picky, yes. But at the end of the day, it's all good and yours is the opinion that counts! Enjoy!
The summer is typically quiet for collectable records. In the course of looking for a record from South Africa, I reconnected with an old friend, who I purchased many Asian and African collectibles from at the Utrecht Record Faire years ago. While he didn't have the record I was looking for, it turns out he had some really nice LPs from Taiwan and cassettes from Thailand. Yesterday, I scanned them and added them to my website!

I chose this one because I've never seen it before. While I have multiple Who's Next Taiwan variations, I found this one to be really cool. It took quite a while to scan (both sides) because it has one of those "built in" plastic covers (which was very wrinkled) - however, I was determined to preserve this great artwork.
Once upon a time, I had both of these EPs. I never gave much thought to the fact that the were different and when an opportunity to trade with a friend for a John Entwistle single came up, I traded my 2nd pressing (red Polydor label) away. At the time, I gave no consideration to the <then unknown> fact that the 2nd pressing is much rarer than the 1st pressing (orange Polydor label) - I just wanted the other single. A few years since then I realized that I have never come across another copy and since it is an interesting variation, I'd like to display it on my website. The Israeli vendors (who I've purchased from over the years) never even heard of it! Anyway, as luck would have it, I found another copy and here it is...
Is it rare? I don't really know <at this time>, since this is new to me.
Every now and then, you find something interesting that you already have. Today was one of those days. I was searching online for various My Generation LPs on the Brunswick label and this album popped up. I look on my website, nothing to be found. Ah... something new to buy. Almost. It seems I had a 1970 Spain LP by the same name (or at least I thought I did). I checked out my 70's Best Ofs in my record room and this was the only LP I had under this title. Upon closer examination, it wasn't from Spain, it was clearly from Germany. How did that happen? Back in the days of the weekly record show, I bought all kinds of items like this. Never even bothered to look at the label or anything like that. Whatever the seller had labeled it, that's what it must be, right? Not even close. Not only did I correct my entry (on the website), but I scanned the label as well. I thought it was kind of cool to have another <original pressing> Who album on Brunswick and here it is...

The track listing is: My Generation, I Can See For Miles, Summertime Blues, Magic Bus ("Live At Leeds"), We're Not Gonna Take It, The Acid Queen, Overture (From "Tommy")
As you know, our favorite band began as The Detours, changed their name to The Who, then changed it to The High Numbers (briefly) and back to The Who again. During their High Numbers period they recorded and released one single, "Zoot Suit" back with "I'm The Face" (other songs were recorded at that time, but not released until many years later). The acetate <label> pictured below is actually the 2nd "Zoot Suit" acetate I've acquired. I knew about this one since ~2019, but the former owner didn't sell it until now (you can compare the two here).

I would take an educated guess that this acetate was pressed after my original copy. Why? The other copy suffers from band name confusion ("The Who" is crossed out and replaced with "The High Numbers"). This one seems to have come later, since the band's name is only "The High Numbers." The last owner bought it from the widow of UK session guitarist, Alan Pinches (who passed away in 2010). Apparently he was a collector and had it for many years (after obtaining it from another musician friend).

I didn't really need a 2nd copy and thought I was giving someone who really wanted it a chance, by only bidding slightly higher than the opening price. As it turns out, I was the only bidder and now this copy is permanently preserved for all Who fans on my website. I haven't played it yet. I'm curious whether this acetate has the count-in like my other one. When I find out, I will add an update...
Over the years there's always some sort of conversation that springs up about the aborted, 1968 Who album, "Who's For Tennis?". Various track lists, different covers, etc. Way back in the 1990's, I met a gentleman in the DC area, who claimed he had a tape copy of the <intended> original album and he loaned me his tape. The track list of that tape was:

Early Morning Cold Taxi, Glow Girl, Can't Tell A Note From A Symphony (Girl's Eyes), Now I'm A Farmer, Call Me Lightning, Kill My Appetite, Little Billy, Jaguar, Someone's Coming, Faith In Something Bigger, Dr Jekyll & Mr. Hyde, Glittering Girl, Melancholia, Naked Eye
Looking back (>25 years ago), it didn't seem likely that "Naked Eye" would have been a 1968 track and I don't recall anything remarkable about that version. However, the rest of the tracks make sense. Unfortunately, I never made a copy of the tape and lost contact with the owner of it shortly thereafter.
The <Bootleg> LP pictured below is a bit nostalgic. The track listing certainly isn't accurate (most of the tracks were lifted from The Who Sell Out Super Deluxe Edition), but its an interesting piece, regardless.
I had been told that the distortion on several of the tracks, was due to Pete's guitars. This turned out not to be true. My new mix has no distortion. What I found on one track was the percussion was clashing with the guitar(s), so I mixed the percussion down a bit and then there were no issues.
Remastering is a lot harder than you can imagine. You need to be able to listen accurately to what's playing. What may "sound good" on one system, can sound poorly on another. Fortunately, I found the right mastering that worked with the album.
If the album was released exactly like the way I transformed it, I would never have had the need to tinker. In retrospect, what I did was very simple. I didn't enhance any of the instruments (i.e. making the drums sound better), I just wanted a clean and enjoyable sound - and that's what I got.
As you can hear from the sound samples - clean, open, fresh sound - a pleasure to listen to and enjoy.

If you would like a free copy, please email me at whitefang@thewho.info and I will send you a copy via WeTransfer.
The track listing is fairly varied. Pete demos, unreleased Who studio tracks and <at the time> (3) three unreleased tracks from Live At Leeds. Quite a nice package for collectors.
Demos: That Motherland Feeling/Rael, Do The Strip, Kill My Appetite, Disguises, Don't Look Away, I'm A Boy, Glow Girl, Glittering Girl

Who Studio: Girls Eyes, Top Gear, Summertime Blues, Radio One, Happy Jack, Radio One, My Generation, Coca Cola, Signal-30, Batman (Unreleased instrumental version), The Seeker

Live At Leeds: I Can't Explain, Happy Jack, I'm A Boy
This is a sample from "Helpless Dancer". Compare it to the <correct> Japan CD version and note the placement of the vocal(s):
The Canada CD and the USA CD are almost physically identical. On the back of the CD, you will have to squint really hard to read "Canada" in the print.
Pictured below is the front cover, a close up negative of the print on the back cover (which is in black) and a graphic comparison of the Canada and USA "The Real Me" samples (the USA version on the top).
Other than the oddity of this as a collectable, the Canada CD suffers from the same poor sound quality as its USA companion. Apparently both of these masterings were coded with pre-emphasis but unlike the Polydor versions (Germany & Japan), someone at MCA must have forgotten to "throw the switch" and caused it to have an adverse frequency shift.
I never noticed this one before until I recently saw it on eBay and scooped it up. The common version of this single is the 3-prong version. While there seems to be various pictures of this version around the internet, it doesn't appear that easy to find.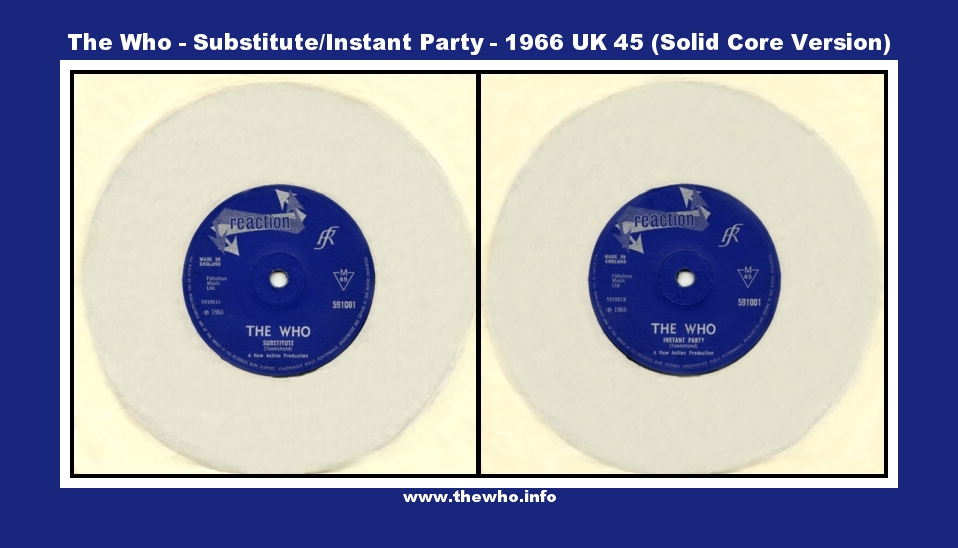 I was scrolling on eBay this AM and came across a copy of the Austrian "Squeeze Box". I thought, what a shame they didn't create a black one, like "The Who By Numbers". However, Austrian singles a component of Austria vinyl matched with Germany sleeves, so… But, it does look nice, doesn't it?
While it's fun to read about some of the history of The Who, it's even better to have the pictures that match up with the stories, and that's exactly what this is. Enjoy!
So… what's this? Yet another piece in the puzzle. Apparently, Abbey Road Studios got a shot at remastering the album and for whatever reason, the "other" mastering co was used for all CDs/LPs, etc…

I played and recorded this yesterday because I was curious as to what might be different. Interestingly, it was different – in fact, slightly better than the other versions. However, it still had way way too much bass. What it didn't have was the distortion inherent in the "other" versions and seemed a bit more dynamic and smoother.

After recording it, I played around with remastering it. There's a preset in Ozone 10 (mastering software) for Greg Calbi, "High Detail Wide". I used this setting before and it sounded fantastic, except it swallowed up the bass. I figured that since I was starting out with "too much bass" – perhaps it might just work out right. I did some research on Greg, it turns out he's a mastering engineer for Sterling Sound (which some of you may recall did great mastering for various Who/Who solo projects).

The LP was a bit noisy (a few crackles and pops here and there), and I electronically removed the ones I "caught".

Here are some samples of the remastered tracks (In HD):
band never fixed it, but I decided to fix it on my own.


"Fixing" was never easy. It requires patience, skill and the right tools. When I started out, I had none. Initially, I was able to use the crappy tools I had, download some others and create a "listenable" album that was "OK", but by no means what it should be.


A friend of my introduced me to a new software which "demixes" existing two-track stereo to create (4) four separate tracks – allowing you to "remix". It's very cool. Mono tracks can now be mixed to stereo, etc. It's not perfect, but it's "perfect enough".


"Who" was plagued with a few issues that weren't dealt with in the mixing process. Pete's guitars were severely distorted on (2) two of the tracks. Rather than "shape" the guitar via software, the distortion was left in the mix. Hence, the mastering engineer ended up dumping tons of bass and compression on each of the tracks to "mask" the problem. Between the mix and the mastering, the results sorta worked on computer speakers, earbuds, etc. but on a real or car stereo – forget it. The LP versions sounded just as horrid.


Having the ability to break the out the instruments and create a new mix was great. It didn't solve all the problems on its own, but it moved the environment up to a more acceptable level.


I decided to buy mastering software. Rather than master the entire "new mix" I created, I focused on curing each song's defects. For example, the drum sound seems to be inconsistent throughout. On the various tracks I added more compression *just to the drums* to get a more solid sound. Where the guitar distorted, I tried various tools to "reshape" the guitar and squeeze the distortion out. I found all of this fascinating.


The one song I had the most trouble with was "Beads On One String". I couldn't cure the distortion without affecting the feel of the rest of the song. When Pete released the "Yaggerdang Remix" version in 2020, I was able to lift the undistorted guitar from that and use it in place of the distorted one. Fixed it!


"Hero Ground Zero" was another pesky one. There was some clash going on between the bass and the guitar and depending on the level, there was a lot of distortion. I worked specifically on the guitar to smooth it out and carefully got the mix levels to where the instruments didn't clash. Fixed it!


Some of the other tracks had the cymbals too loud in the mix creating an annoying sound and clashing with the other instruments. The mastering software has a cymbal suppressor for just that reason. It works!


Long story short, I was able to get a really good mix.

What stopped me short and ending up shelfing the "project" last January, was mastering. I've always complained that too many mastering engineers can't hear their own work and end up releasing bad masters. Welcome to the crowd. If you don't have a proper playback working in real-time, your "master" is just a guess. I wasted a lot of time on a lot of bad guesses. I actually set up a room/equipment to mix and master, but never bought another computer to finalize. With the setup I created, I'd get real-time sound and be able to do this properly. So, to do this, I have to take my tracks and plug them in elsewhere for a proper listening feedback and make mental notes to "try again". I would tell anyone else they were an idiot for doing it that way, but…


So… I recently updated my mastering software, but the results still were unacceptable. A few weeks ago, I created a beautiful sound – almost mesmerizing – but the bass was buried! Rebalancing the master with added bass (the next logical thing to do), just helped to "unglue" the master and it was unacceptable.

Being frustrated again (i.e. so close, but not perfect), I thought back to what I did in my first "unprofessional" attempt. Reverb and Ambiance.
Since my mixes already had their components separately mastered – what I needed was the "glue" to make them sound that much smoother and I found it. Using the right settings on Neoverb, I got it.

I'm pretty 98% happy with the way the album sounds now. I will probably continue to "tinker" with it over time to reach that 100%, but my ears may not last that long. Ear saturation is another problem when working on "stuff" like this on a computer. I have a bit of more work to do on it (balance sound levels for each track, etc.), but that's easy and a weekend project…

Here are some HD samples:
Detour
Hero Ground Zero
Break The News
She Rocked My World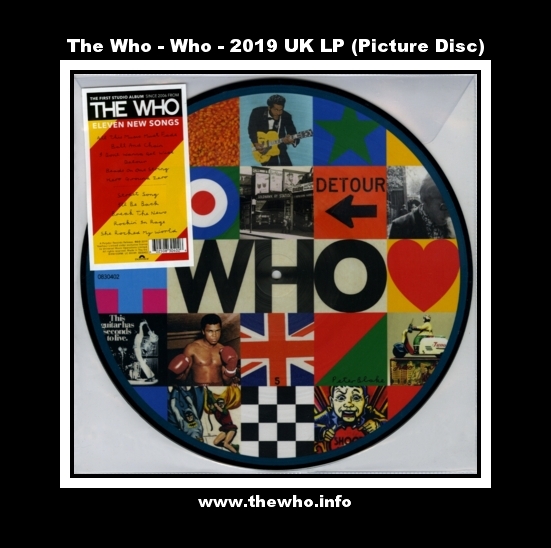 ---
November 10, 2022
The Who With Orchestra Live At Wembley - 2022 Germany / UK CD / Blu-Ray Set
New Who album? Almost...
I sent a picture of this CD to a good friend of mine last night and he replied, "I take it that it's a boot?" Nope! This is a real CD set, which somehow got lost in cyberland. The artwork is by William "Billy" Schneider, the nice mix by Richard Whittaker, the mastering by the overworked Miles Showell (at Abbey Road) and on the Polydor / UMC label.
So... why hasn't anyone else heard of it??? Apparently it was posted on Amazon (UK) and a few other websites for a release on November 4 (2022) with little or no info (i.e. promotion) elsewhere. Folks with pre-orders apparently got their CDs and then the link quietly disappeared (note the link at Target). With all the post-Covid / Ukraine war production problems, it's possible that it was intended to be released, but was put on hold until orders could actually be filled. It's anyone's guess (including mine) what the current status is.
What is it? Yes, the real question. The (2) two CDs are comprised mostly of the July 6, 2019 concert at Wembley Stadium, London (UK). (2) two of the songs are from other shows on the tour. The accompanying blu-ray (Dolby Atmos) contains the same tracks as the CDs (see Wembley page for more details).
I really enjoyed the mixes (lots of channel separation and various elements bouncing back and forth between the speakers), but I thought the mastering had a little excess compression (my taste, not necessarily yours). I have created (14) four-teen sound samples as well as given the CD/Blu-Ray a proper page of its own, so you can listen to the samples and read the track list, etc., here. Enjoy!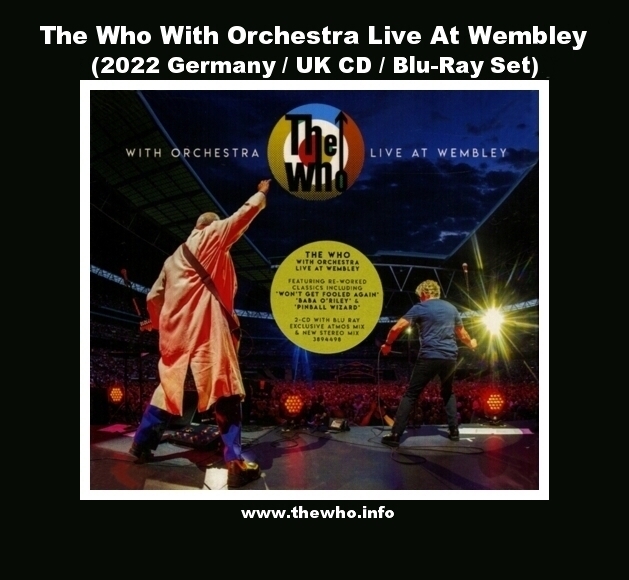 ---
October 24, 2022
The Who - The Kids Are Alright / The Ox - 1966 Holland 45
Between 25-40 years ago, while rare, these early Holland (The Netherlands) singles seemed much easier to collect. While not plentiful or common, they were around and selling for about $25. Now? I feel sorry for the collector trying to find them. The more popular titles occasionally show up, but not usually in the best condition. This is one of the rarer ones...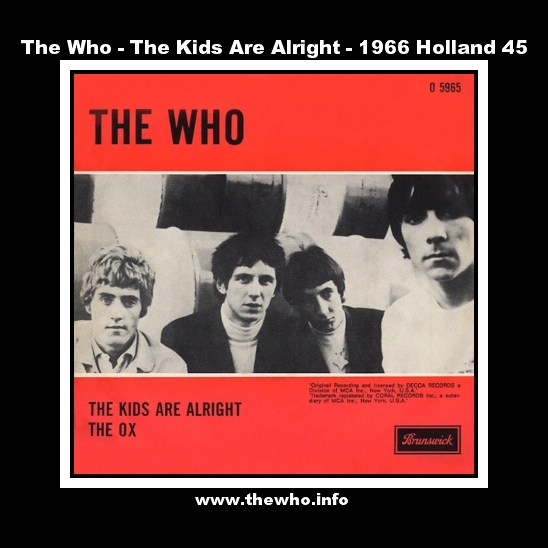 ---
October 23, 2022
The Who - Who Are You - 1978 Italy LP(s)
A friend of mine from Italy recently posted the rare, Polydor version of Who Are You. For several years in the 1970's, The Who's label in Italy switched from Polydor to RCA. If I saw this one before, it probably went by completely unnoticed. However, seeing it in an internet post, immediately made me realize I was missing a copy. Thanks to the magic of the internet, I was able to find a copy and secure it.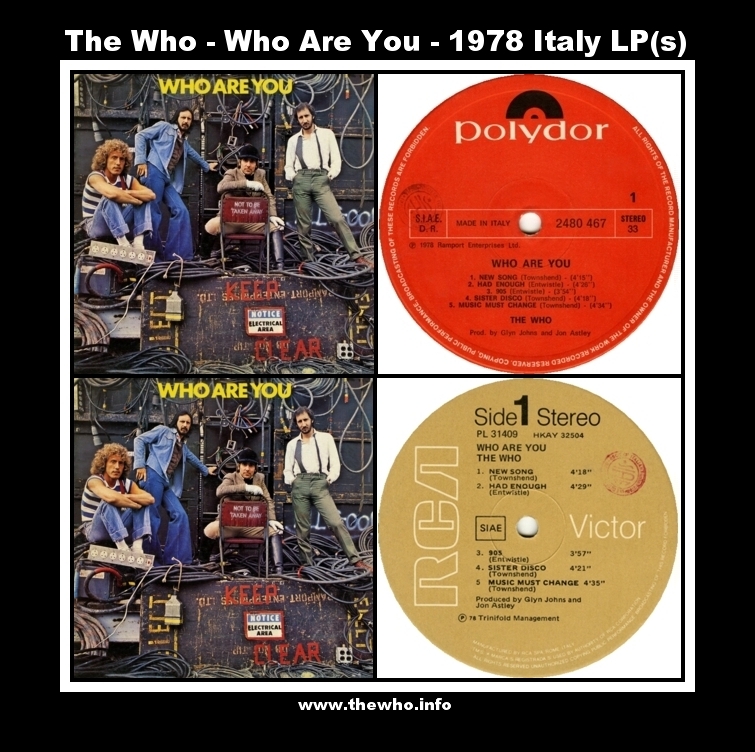 ---
October 21, 2022
John Entwistle - Rarities Oxhumed Volume 1 – 2022 CD/Download
I ordered this (CD) yesterday as the release dates were conflicting (some sources had Oct 21, some had Nov 4). I was notified by Amazon that my album was ready for download. Wow! That was quick.
The album is to be the first of two in a series, but when I saw the track listing, I was a bit disappointed as I thought the first of such releases should be much more diverse, vs. primarily remastered tracks from Van Pires and outtakes from the same. But, included within the track list were (2) two "John Entwistle" demos – and John's demos are always a treat (except these really aren't John's demos – more below). As you know, I buy *every* Who "product" and I *try* to keep an open mind because I *hope* that there's something good to be found in all of them (and usually there is).
A few initial observations (and I will point out, I was listening to MP3s vs CD quality – which MAY affect my review contents in the future).
Van Pires Tracks
The "Van Pires" tracks weren't necessary to be remastered. The sound quality is outstanding on the original album. While what I sampled, didn't sound really any better or worse... except... I did encounter a bunch of distortion on "Back On The Road" (which wasn't present on the original). Again, this could be the MP3 download (or not). I won't get into the selection of tracks (from "Van Pires") picked, because that's more taste (i.e. I might say, "why did you pick the worst song from the album", someone else might say, "that's the best song!")
Rarities… (The Good!)

"I Wouldn't Sleep With You" is an outtake from "Van Pires". Classic John Entwistle lyrics. Great song, long overdue for release. Thumbs up! "Left For Dead" – this is an alternate version, more "raunchy". Unfortunately, the mastering is a little muffled. Not terrible, but it should be better (the master tape is just fine). Could be the MP3 version, might not be. Don't know yet. Great version of the song.
The Demos (Eh)

These aren't really John's demos, they are Steve (Luongo)'s (with John on bass). They have a "Van Pires" sound to them, but my first impression wasn't good. One of the songs vocals are buried (I may try remix it to see if I can bring them out) and the other, no "wow" factor. In fairness, *sometimes* it takes awhile for new music to grow on you…
The Live Tracks (OK)
I know all the issues regarding the Left For Live recordings and recording sessions. These tracks appear to be significantly remastered and edited versions from "Left For Live" and sound much better than what I expected.
Track List:

Bogey Man, Darker Side Of Night, I'll Try Again Today, When You See the Light, Back on the Road, Left for Dead (Alternate Version), I Wouldn't Sleep With You, Don't Be a Sucker, Life Goes on (Demo), Where Ya Going Now (Demo), Trick of the Light (Live), Under a Raging Moon (Live), Shakin' All Over (Live)

UPDATE: The CD version of "Back On The Road" doesn't appear to have the distortion present in the MP3 version. However, both "Left For Dead" and "I Wouldn't Sleep With You" are slightly duller than the other <original> "Van Pires" tracks. Also worth noting there's an uncredited, "bonus" rarity. The previously released version of "Don't Be A Sucker" (Van Pires) featured Leslie West on lead vocals. This album features the original lead vocal with Steve Luongo (which is the better of the (2) two versions).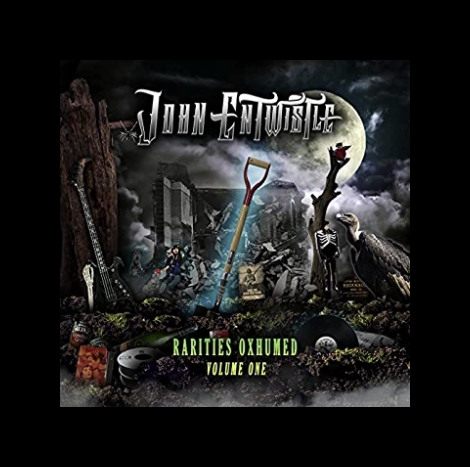 ---
October 18, 2022
The Who - Wholiday In The USA - 1976 USA LP
I saw this LP in the "on-deck" pile yesterday and decided to give it a spin today. I haven't played this double LP set in probably 40 years. It's not perfect (i.e. tape wobbles here and there), but it's pretty good. The performances are outstanding and Keith joins the act introducing several songs. Just listening to Keith on "Magic Bus" demonstrates how unique, gifted and irreplaceable he was. I had fun recording samples for this, perhaps a little less fun, editing them. Since the song intros were so good, I created separate samples for them and you can find (29) twenty-nine sound samples... here. Enjoy!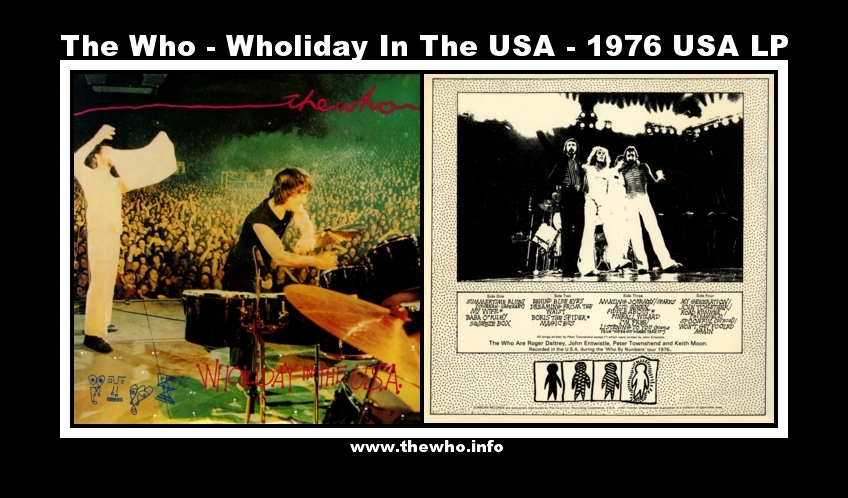 ---
October 17, 2022
The Who - Live! Collector's Item - 1972 USA LP
I was trying to fix something with my stereo/recording equipment this AM and needed a "Test LP". I hadn't made any sound samples for this one <yet> and I had so much fun with it, I even rescanned the front and back cover.
This concert (August 13, 1971 - Dayton, OH) was absolutely outstanding. I enjoyed it so much, I even created sound samples of some of the stage banter (Pete was really being Pete that day).
So, if you want a real treat, there are (9) nine sound samples here. Enjoy!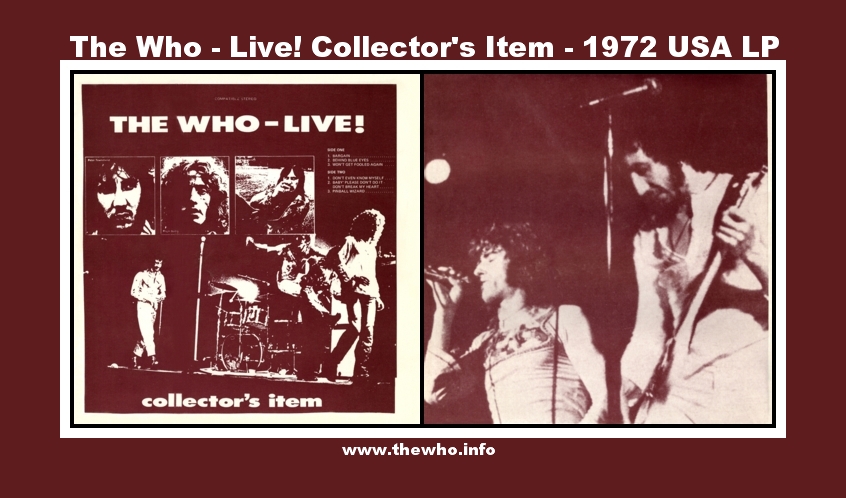 ---
October 9, 2022
The Who - Swansea - June 12, 1976
Roger Daltrey has gone on record stating that Swansea was his favorite all time Who concert. I can understand why. Yesterday, I pulled out the best of the CD versions and (2) two LP versions and recorded (46) forty-six sound samples. Included in the 46 are 11 from the original "Swansea, June 1976" LP (pictured left), which I applied compression to. Normally, I hate compression because I feel it's been overused and when too severe, kills dynamic range. However, for sample purposes, it helps boost quiet passages (or vocals that might be low in the mix) and gives everything a boost. Either way you prefer, you can listen to them both ways.
I haven't written much in the blog lately, because the task of creating sound samples for the live bootleg section is time consuming. So many LPs and CDs to go through, but ultimately an important story to tell for the history of The Who.
If you haven't stopped by the page with all the Swansea sound samples, take a few minutes and check them out. The "Better Boot" CD (pictured right) has samples for all of its tracks, which really are unbelievably good. Hopefully we can one day look forward to an official release of this concert, but in the meantime, check out the concert... here.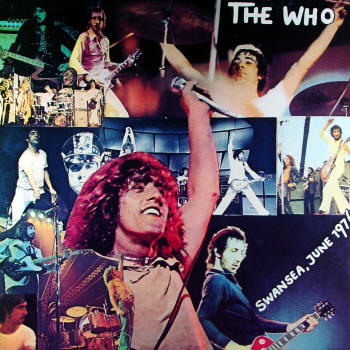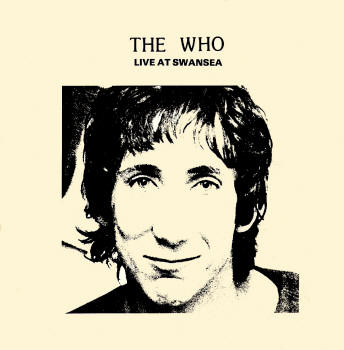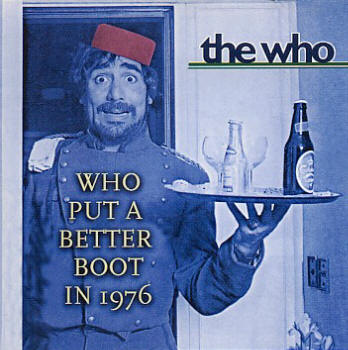 ---
October 2, 2022
The Who - Woodstock 1969 - Master Tape Reel-To-Reel (Copy)
With all of the Woodstock samples I recently posted, I thought <perhaps> it was a good time to revisit the "Woodstock Story" from ~3 years ago (and more)...
As far as I can remember, Who fans have always prized the band's Woodstock performance. As much as the band members said they "hated" Woodstock (for various good reasons), they were on absolute fire that day. Unfortunately, there were only a handful of songs officially released and quite a few fair sounding, mono bootlegs (which improved over the years). Who fans could only dream that "one day"...
In 2013 with the construction of Tommy Super Deluxe Edition, there was discussion of remixing and remastering the original Woodstock tapes for release with the box set. Unfortunately, the band did not own the tapes and these things can (and do) get complicated. Fast forward to 2019, an ambitious project was underway to release the entire (all bands) performance at Woodstock - a big, limited edition, expensive box set. While this was an exciting project, I knew that if it wasn't done just right, The Who performance would come out poorly. As some of you folks know, I've worked with and have been friends with the band's producer's/engineers for many years. I've had conversations regarding the difficulties and limitations with some of these older recordings. For example, in 1996, I was asked specifically what I "thought" about the "Isle Of Wight 1970" release. Ironically, while I really love it today, at the time, all I could think about was that it "didn't sound like Live At Leeds". To me, "Leeds" set a new standard and this was... different. What I came to learn at the time, was that John Entwistle's bass bled into everything. If you think about a "normal" multi-track recording (with separate instruments on each track), you can mix these independent of one another. However, when you have bass bleeding into the other tracks, you are limited by how far you can mix, since the finished mix won't sound right (and this is only one factor)...
I had a vision that something was not going to be right with the new (2019) release and rather than "wait to find out", I reached out to the producer to offer some help and advice. It wasn't well received. What followed became almost "silly" with the producer commiserating with a bunch of <Who fan> strangers in an online forum, complaining about me ...he hasn't even heard it and he's criticizing it! (paraphrasing).
Sadly, while I hoped I was going to be wrong, I wasn't. The finished product was basically unlistenable. The best way to describe the distortion throughout, was that it sounds like John's bass strings became loose and were flapping against the wood of his bass guitar. In their defense, I'm sure they were working hard, tired and against a time frame and budget. However, you don't mess with The Who. At the time, a lot of Who fans took their hard earned money to buy the entire box, just for the Woodstock performance. They were extremely disappointed...
Coincidentally, shortly after the release of the official version, I came into contact with someone that had the original board tapes. Long story short, I ended up with a copy of the same. It sounds wonderful! Below are some sound samples comparing the "official" with the original. This isn't a matter of "I told you so", but to demonstrate that there's still an opportunity to officially release a great Woodstock in the future. We can still hope...
I Can't Explain:

Woodstock Board Mix (1969) Woodstock 50 (2019)
Sparks:
Woodstock Board Mix (1969) Woodstock 50 (2019)
Eyesight To The Blind:
Woodstock Board Mix (1969) Woodstock 50 (2019)
Acid Queen:

Woodstock Board Mix (1969) Woodstock 50 (2019)
I'm Free:

Woodstock Board Mix (1969) Woodstock 50 (2019)
See Me, Feel Me:

Woodstock Board Mix (1969) Woodstock 50 (2019)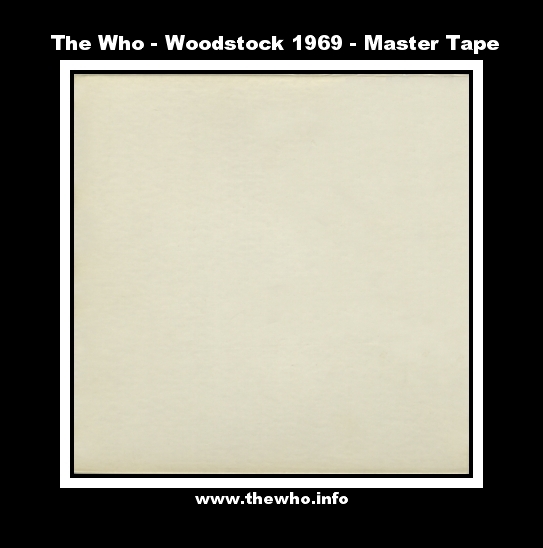 ---
September 29, 2022
Pete Townshend - Rough Boy - 1980 USA LP
In my quest to update my website, I became astutely aware that some of the vinyl bootlegs which I overlooked (or simply ignored) for 40+ years were lacking some depth. I originally had the black vinyl version of this LP, but traded (or sold) it because I had Pure n Easy (which is a similar LP, different artwork, etc.). So... I recently found this cool splash wax copy from some obscure website for about $50.
Not a bad find.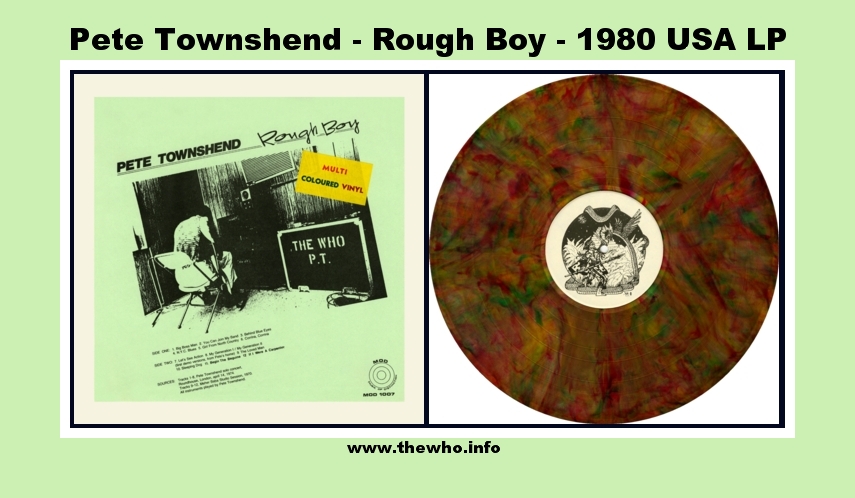 ---
September 26, 2022
The Who - Call Me Lightning - 1968 South Africa 45
Pictured here is the incredibly rare "Call Me Lightning" b/w "Dr. Jekyll & Mr. Hyde" from South Africa, originally sold with a picture sleeve or stock copy. Besides the great cover art, what makes it even more unusual is its the only South Africa Who release on the Coral label. Everything else about it is similar to a standard Polydor release, except it says "Coral" instead.
I picked this record today, as I've been <mostly> out of commission over the last several days due to a severe lightning strike. I was about to upload a new post and BOOM. Like a sonic boom, it was loud, the ground shook violently and the power went out (but for only seconds). When it came back up, the computer and several other odd things were "dead". While only taking a few days to recover (and when booting back up), my "whoge" scanner (12.2" x 17") wouldn't talk to the new computer. Even though it wasn't even on, apparently the surge zapped the USB circuits and poof. Finding/buying a tabloid size scanner "overnight" wasn't an easy task. There were a few listed online locally and I made a deal with someone who had one (~50 miles south of me) and was able to obtain it 7AM on Sunday. All the rare LPs I intended to scan earlier in the week - are now uploaded and online...
It's not "fun" to lose your computer, data (even if temporary) and other equipment, but <Picard> happens. So there you have it (unless you don't).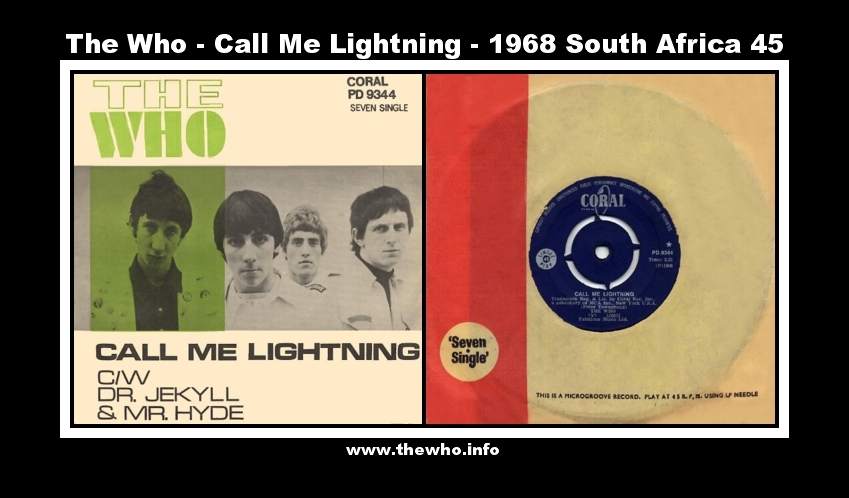 ---
September 20, 2022
The Who - Live At Leeds 2014 vs. Live At Leeds Complete
In 2014, Live At Leeds, was remixed and remastered once again. Initially available only as a hi-definition download (see www.hdtracks.com) and then eventually making its way onto a triple LP (pictured) in 2016. This <version> is the finest "Live At Leeds" ever released. If you took a journey on Mr. Peabody's Wayback Machine, and stopped at 1996, you would be super excited by Live At Leeds Complete. This CD was a result of a created opportunity due to the (2) two record companies (MCA & Polydor) fighting over what the 1995 "Live At Leeds" CD should be. MCA wanted the complete concert on (2) two CDs, Polydor wanted a single CD release (the companies eventually merged). So, the bootleggers in Japan sent this (an unedited version of the concert) to market. I recall the excitement of the time as Who fans were thrilled they now had the full concert and the live "Tommy" that eluded them.
"Complete" was far from perfect. Crackling noises, "whoooge" dropout on "I Can't Explain and sound wise (while very good), not up to the standard set by the 1995 "Leeds". The band made an attempt to remedy this in 2001, with the release of "Live At Leeds" (Deluxe Edition). However, that version was a disappointment as the newly remixed/remastered CD, didn't hold up to the 1995 version (and included a modern day overdub vocal, which, quite frankly was out of place and didn't fit).
So... in 2014, Live At Leeds was given a fresh life for the HD format and went beyond the 1995 version. Other than the inclusion of Spoonful (which for whatever reason has been edited out of "Leeds"),"Complete" is pretty much obsolete, but certainly worthy due to its history and nostalgia Oddly, there are some people living in a time bubble of sorts, thinking this is still the release. It's not. "Each to their own sewage" I suppose.
Sound Samples:

Heaven And Hell I Can't Explain Young Man Blues Happy Jack A Quick One While He's Away Amazing Journey Eyesight To The Blind See Me, Feel Me Magic Bus

Compare to Live At Leeds (2014 Remix Version):
Heaven And Hell I Can't Explain Young Man Blues Happy Jack A Quick One While He's Away Amazing Journey Eyesight To The Blind See Me, Feel Me Magic Bus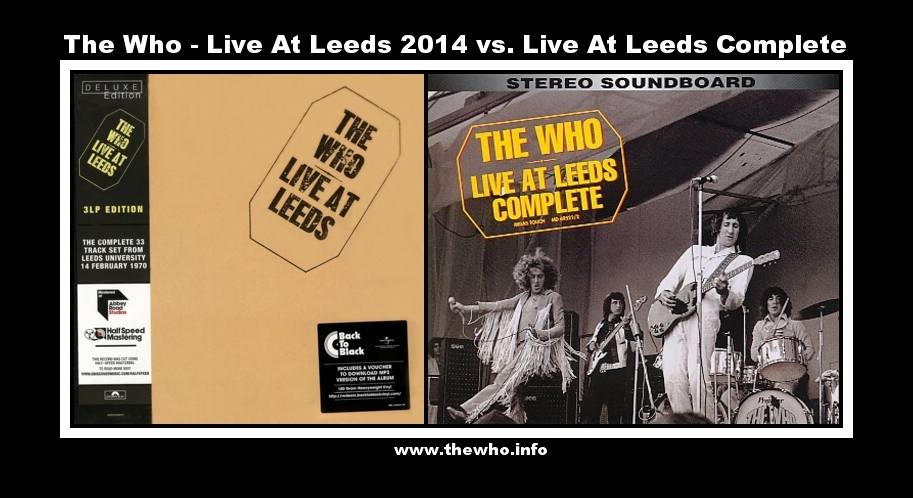 ---
September 19, 2022
The Who - I Can't Explain - 1965 Germany 45
The Who have always been very popular in Germany. As a result, the band's records and CDs were produced in great numbers there, making most Germany Who releases (with some notable exceptions) fairly common. One of those exceptions, is The Who's first release in Germany, the I Can't Explain single. Much tougher to find than many of their other singles and even harder to find in good condition. The paper used to print the picture sleeve is somewhat thin and had a tendency to wrinkle and deteriorate if not kept properly. It's a great photo of the band, and also used on the Australia Dance Session EP and several USA 60's ads.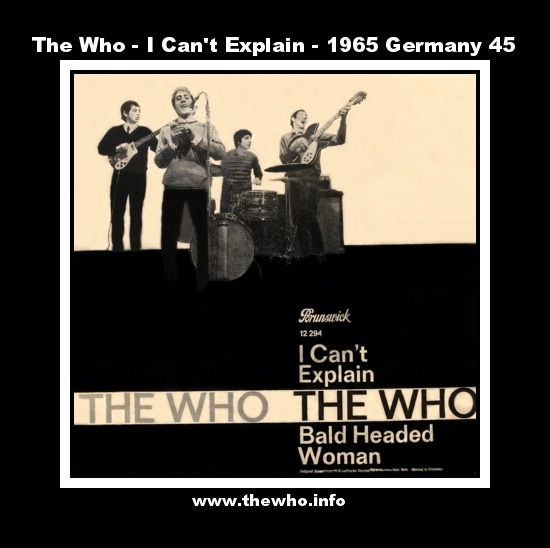 ---
September 18, 2022
The High Numbers - Dance To Keep From Crying - LP
I spent <almost> the entire last day creating sound samples for the 1st page of my live bootlegs collection. It's a time consuming process, but ultimately, it helps to expand the history of The Who. At the very top of this page sits the "Dance To Keep From Crying" LP (pictured), which I believe was the very first of the various releases (LP & CD) of The 1964 High Numbers Railway Hotel concert (mistaken for The Marquee). I probably haven't played this album since the 1980's (I purchased it when it came out in 1983), but remembered that it sounded really good. So... I recorded the album to HD and then proceeded to create sound samples.
The sound quality on this varies a little and that might be due to the age of the tapes or the playback equipment - but overall, it's an outstanding recording. The crack of Keith Moon's drums was never quite captured like this. I can't tell you how it was recorded (i.e. mics on the stage or connected directly to the mixing board), but it's very captivating as well as historic.
Rather than post sound samples here, I will direct you to the top of the page where this resides, here.
Enjoy!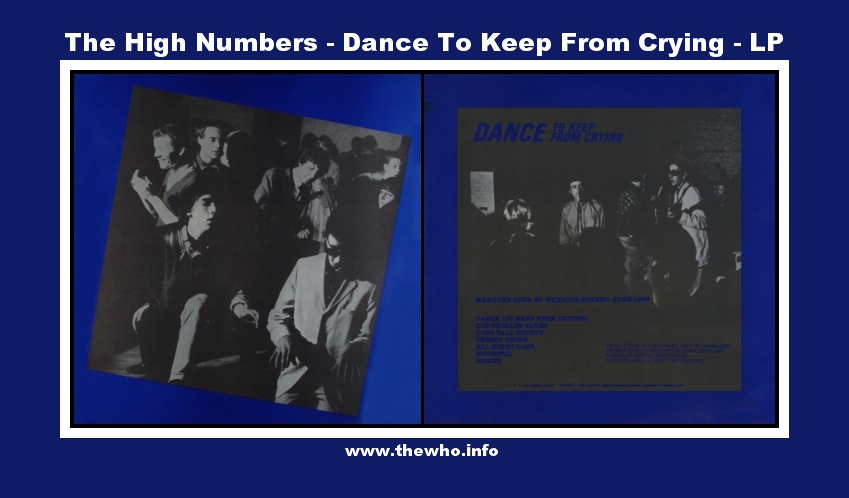 ---
September 15, 2022
The Who - The Kids Are Alright - 1966 Belgium 45
I've always admired this record - The Kids Are Alright, released in Belgium in 1966. The picture of the band almost appears three dimensional against its purple background. Four of the early Belgium Who singles (Anyway, Anyhow, Anywhere, My Generation, A Legal Matter and The Kids Are Alright) used the same band photo, but with different surrounding artwork. All of the Brunswick (or Decca) pressings were made outside of Belgium, but exported for sale there.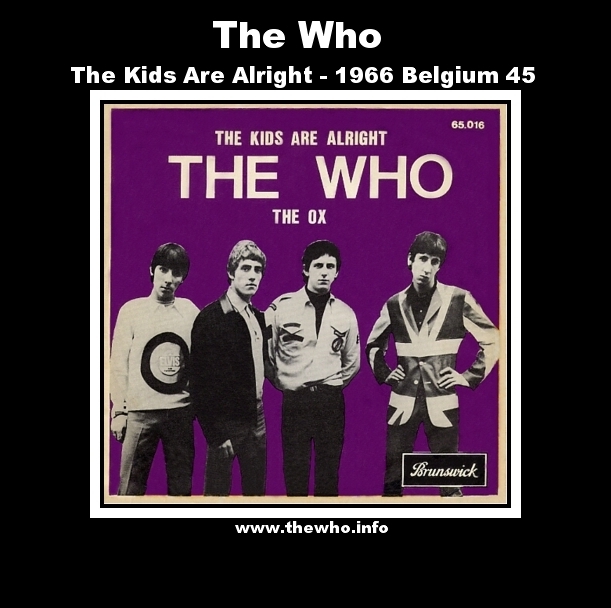 ---
September 13, 2022
The Who - Who's Next - 1971 Venezuela LP
While there are many Who records which feature Spanish titles on the labels or even on the back covers, there are only a few which feature the front cover title in Spanish.
This one is Who's Next from Venezuela. The Spanish title, "Nuevamente los Who" translated to English, is "Again The Who". It doesn't sound very close, does it?
For a while these seemed to obtainable, but now they are very scarce...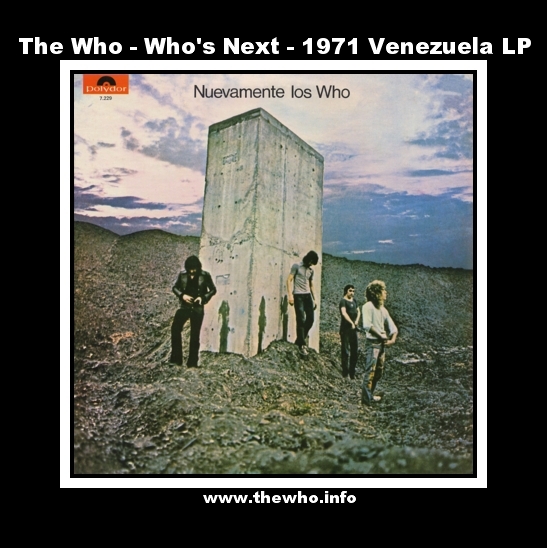 ---
September 12, 2022
The Who - Live At Leeds - 1971 / 1980 Brazil LP(s)
After a friend's recent post, I quickly realized I never had (or was even aware of) the original Brazil pressing of Live At Leeds (as you can see, I quickly remedied that mistake). I recall the day in 1983, when my friend Bryan and I went to Farfels Records in NY and were shown copies of the Brazil "Leeds" (which we both immediately purchased). Jack (who worked there), sold us many Who records, but this was quite special as the first version of the album we bought with different artwork... After seeing my <other> friend's post, I scratched my head and then worked to find a great original pressing, so... here it is.
As much as I seem to have, there's always more. I'm sure the original popped up on my eBay feed many times but was dismissed quickly. The other difference is that the reissue is slightly lighter/brighter - something you wouldn't notice until you see them both side-by-side.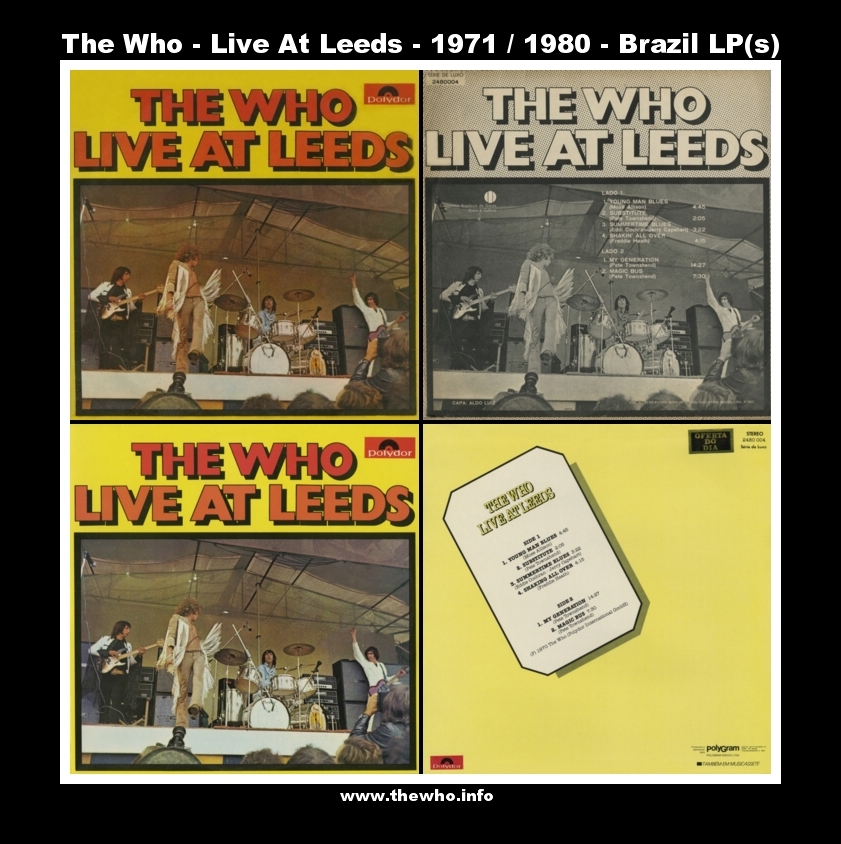 ---
September 11, 2022
Pete Townshend - Live In California - 1993
I recently obtained (2) two new CDs that are absolutely fantastic. While I would place the sound quality only in the "C" range (which is above average for most boots), the performances and setlists are just outstanding. Pete performed about 15 shows in support of his Psychoderelict album. Unfortunately, the one he chose to video and distribute (The August 7, Brooklyn Academy Of Music show), was the weakest from the tour (as a result of Pete having a cold, staying up all night, doing a full dress rehearsal and ending up much stiffer and with a scratchy voice). In comparison, these shows were loose, fun and wildly "over the top" - truly representing Pete at his best. I recall seeing Pete at the Beacon Theater (New York City) and the show being one of the very best concerts I had every seen.
The setlists are packed with great songs:
Wiltern Theater (July 29, 1993): Cobwebs And Strange, Save It For Later, Eyesight To The Blind, Face The Face, Heart To Hang Onto, I'm A Boy, Eminence Front, English Boy, Meher Baba M3, Let's Get Pretentious, Meher Baba M4, Early Morning Dreams, I Want That Thing, Outlive The Dinosaur, Meher Baba M4, Flame, Now And Then, I Am Afraid, Electronic Wizardry, Don't Try To Make Me Real, Predictable, Flame, Meher Baba M5 (Vivaldi), Fake It, Now And Then (Reprise), Baba O'Riley, English Boy (Reprise), Let My Love Open The Door, Corrina Corrina, A Little Is Enough, You Better You Bet, Rough Boys, Girl From North Country, Naked Eye, Magic Bus*, Let's See Action*, Won't Get Fooled Again*

(*John Entwistle joins Pete on stage and plays bass on these songs)
Berkeley Community Theater (August 3, 1993): Let My Love Open The Door, Rough Boys, Keep Me Turning, Pinball Wizard, Who Are You, Till The Rivers All Run Dry, Sheraton Gibson, Sleeping Dog, English Boy, Meher Baba M3, Let's Get Pretentious, Meher Baba M4, Early Morning Dreams, I Want That Thing, Outlive The Dinosaur, Meher Baba M4, Flame, Now And Then, I Am Afraid, Electronic Wizardry, Don't Try To Make Me Real, Predictable, Flame, Meher Baba M5 (Vivaldi), Fake It, Now And Then (Reprise), Baba O'Riley, English Boy (Reprise), Girl From North Country, Behind Blue Eyes, Face The Face, Won't Get Fooled Again / Let's See Action / Won't Get Fooled Again, Got Love If You Want It, Save It For Later
Some of you might be aware that "Got Love If You Want It" (above) is the song Pete Meaden rewrote the lyrics for, which became "I'm The Face".
Here are 23 sound samples from both shows:
Wiltern Theater: Cobwebs & Strange I'm A Boy English Boy Let's Get Pretentious I Want That Thing Outlive The Dinosaur Don't Try To Make Me Real Let My Love Open The Door Naked Eye Magic Bus Let's See Action Won't Get Fooled Again
Berkeley Community Theater: Keep Me Turning Till The Rivers All Run Dry Sheraton Gibson Sleeping Dog Now And Then Don't Try To Make Me Real Predictable English Boy (Reprise) A Little Is Enough Face The Face Got Love If You Want It
Enjoy!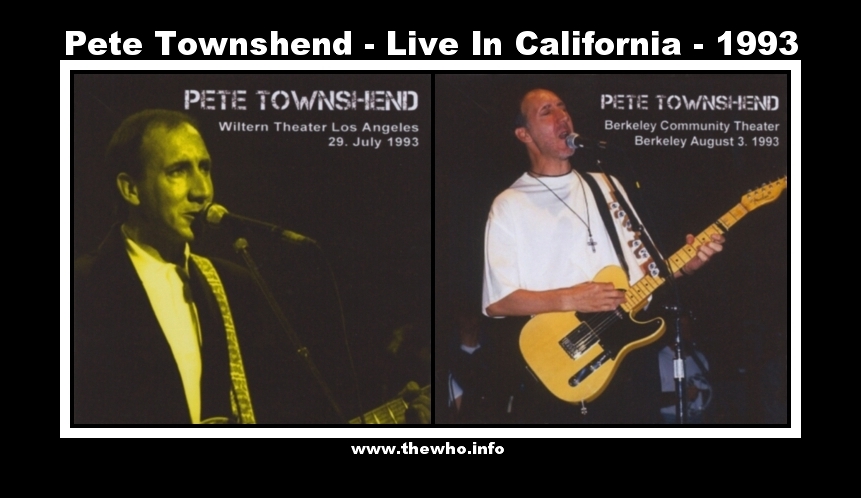 ---
September 9, 2022
The Who - Can't Explain - 1964/65 USA 45 (Withdrawn)
This single was the very first <official> release by The Who (actual release dates have been published of either December, 1964 and January, 1965 - both pre-dating the UK release date of January 15, 1965). The single, with the "missing I" was released in error, quickly withdrawn and replaced with the corrected title.
I bought this particular copy, from a gentleman named Bob in Miami, Florida, circa late 1982. Bob was a huge music fan and collector and he worked in one of my favorite all-time records stores, Yesterday & Today (as well as some of the other great Miami stores of that era). Bob sold me quite a few early USA Who singles, which were in brand new condition, mostly sold at $10 each. When he asked me if I was interested in this single, I immediately said "yes" (but this one was slightly more expensive). I recall picking it up at his apartment, which had many old-style filing cabinets and as he opened the drawers - they were full of singles (immaculate and organized to perfection). Bob explained to me that he bought this on the very day it was released - his first ever Who single.
This single has become super scarce over the years. I was recently reminded that I have a 2nd copy and might consider parting with it for the right offer...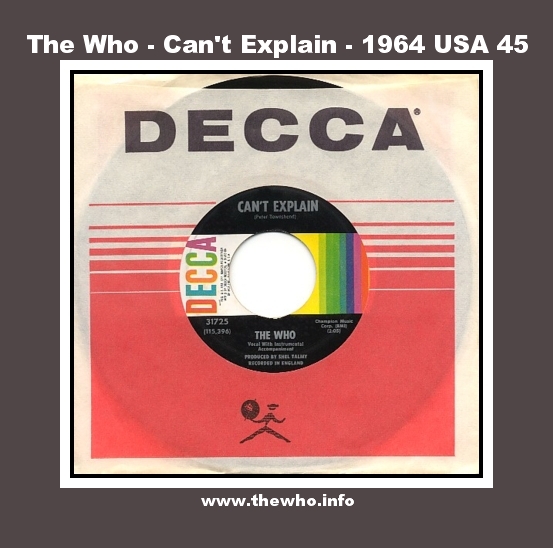 ---
September 8, 2022
The Who - 1966 Holland "Balloon" Pinup / Poster
The look on John Entwistle's face says it all. "What kind of rock star poses like this?" Roger seems to be biting his tongue, while Keith and Pete look like they are "OK" with it. It's different. Some of these old, European magazines have the coolest photos (and centerfold pinups) of the band (if you like this sort of thing).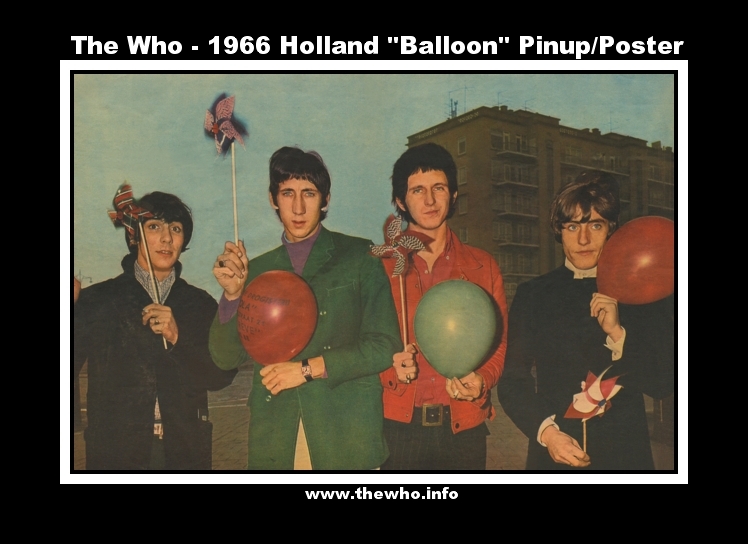 ---
September 7, 2022
The Who - Slip Kid - 1975 (1976) Spain 45 "B" Side
After posting yesterday, a few people asked where they could find this single. As I looked around, I was reminded of what the "b" side looked like. Typically, I post <mostly> front covers Unless I believe there's something there's something truly unique and interesting about the back cover, I feel that there needs to be something another collector gets excited about discovering on their own (vs. just the record itself). It goes back to the record bin days, when you saw something for the first time and said "wow!" to yourself. On one hand, there's a "story to tell" (which has an element of completeness), on the other, leaving room for the excitement of discovery. Perhaps with the introduction of Discogs and their ton of crappy photos, the point is moot and we are now living in a different age... So... as I found some singles for sale, I saw this picture which has been buried in my collection for ~40 years and I said, "wow... why didn't I scan this?" A lot of picture sleeve singles have the same image front and back, some have an "advertisement" for related albums/singles, etc (but graphically boring), some have different titles (i.e. same picture front and back, but each side has the title of the "a" and "b" sides). What I like about this (besides the Spanish), is the reverse picture of "The Who By Numbers". We've seen black covers, filled in line covers and now a reverse cover. I think that's worthy of a scan. So, I grabbed the sleeve, scanned it and here it is...
Also please note that the single (in the very small print bottom left) is dated March, 1976. So, as much as I want it to be a 1975 single, it's actually from 1976.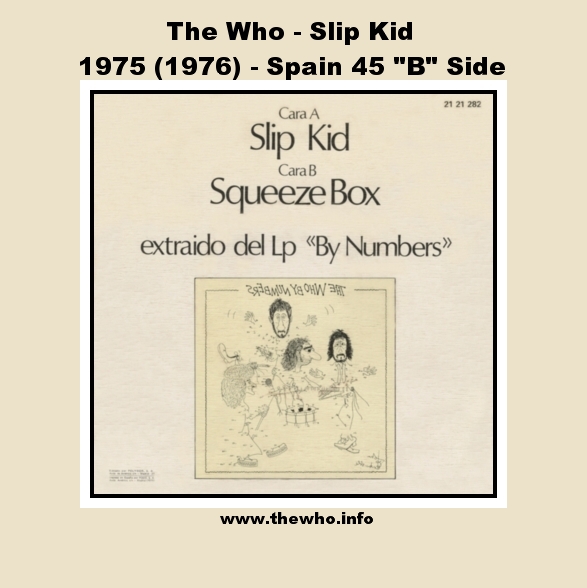 ---
September 6, 2022
The Who - Slip Kid - 1975 Spain 45
While very popular amongst Who fans, The Who only played "Slip Kid" live about a half a dozen times in 1976. The common single released from The Who By Numbers was Squeeze Box. However, in Spain, "Slip Kid" was released as the single (with Squeeze Box as its b side). In the USA and Canada, Slip Kid was released as the 2nd single from The Who By Numbers, but unfortunately, it didn't chart very well.
Over the years, many fans were hoping the band would include the song in their set list. In 2008, the band teased us with a one-off performance (which was actually pretty damn good!) and then brought it back again between 2014 - 2016. I recall being excited to hear it live, but I thought these later versions didn't work out as well as I hoped. Not sure why...
Sound Samples:

1976 @ Madison Square Garden 2008 @ Indigo London 2015 @ Tampa Florida (Remixed)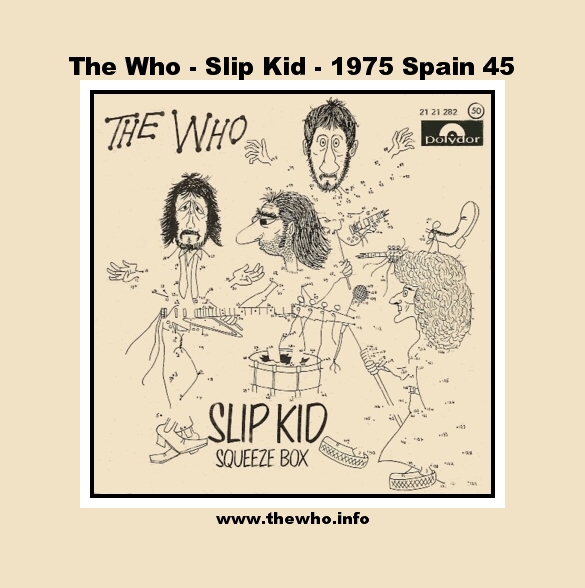 ---
September 5, 2022
The Who - 1967 France (EP) - Cassette
This is what is known as a "lucky find". Without paying too much attention, I thought I was buying another "best of" cassette with an unusual cover. As it turns out, it's an obscure EP from France (circa 1967) featuring Happy Jack, I Can See For Miles, Pictures of Lily and I'm A Boy. The cover is made from the same laminated material as the one's used for the <vinyl> EPs of the period.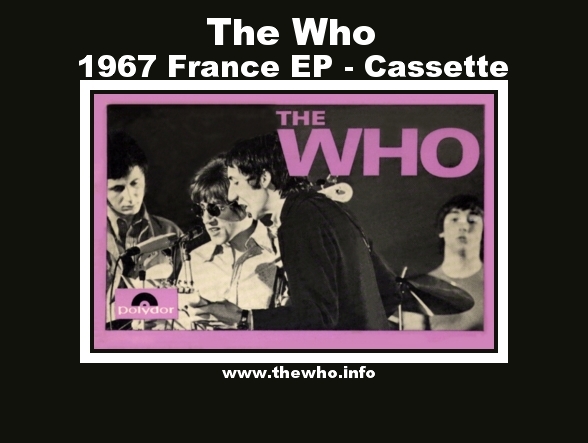 ---
September 4, 2022
The Who - Bootlegs (Live and Studio)
I just finished updating the <above> sections for the website. What began 20+ years ago as a good idea (picture gallery on the top of the page, detailed descriptions below) started out OK, but... with the expansion of so many LPs, CDs, etc., the pictures became too far away from their descriptions and didn't really work anymore.
The live section has expanded from 16 pages to 25 (to better separate different tours - i.e. the 1981 Face Dances tour was very different than the 1982 It's Hard tour) and the pictures have been relocated from the picture gallery to their respective descriptions (for both live and studio bootlegs). A lot of work, but hopefully a better experience for you, the visitor.

You can find access these sections here:

The Who - Bootlegs Live Directory (Live)
The Who - Bootlegs - Studio - Page 1 (A to E) (Studio)
Enjoy!
---
September 2, 2022
John Entwistle - Too Late The Hero - 1981 UK 45 Picture Disc

Every time I go to eBay I see tons of "autographed" Who related items with <worthless> COA's (Certificates of Authenticity) *. Some even include a picture of the artist signing the "item". 99% of these are fakes. The Who signed many items. If you want an authentic autograph, you may need to dig around until you find someone that you know who had something personally autographed (and hope they will part with it). Your other option is to track down one of the items where there are no doubts - i.e. the Too Late The Hero picture disc. (John Entwistle autographed every single one.) Seemingly forever, you could buy one of these fairly cheap ($10-$15). However, in recent years, the value (finally) has realized and prices have increased quite a bit. There's only 1,500 of them - so grab one while you still have a chance.

* One of the funniest COA stories I came across was the "fully autographed" copy of It's Hard. Not only did the autographs look fake, but the "fraudster" also signed Keith Moon's name. I wrote to the seller and told him his COA was "worthless" and the signatures were fake. He kept insisting he "bought it from a reliable source". So, I asked him... How did they get Keith Moon to sign the LP (4) four years after he died? That must be some neat trick! (He eventually got the point.)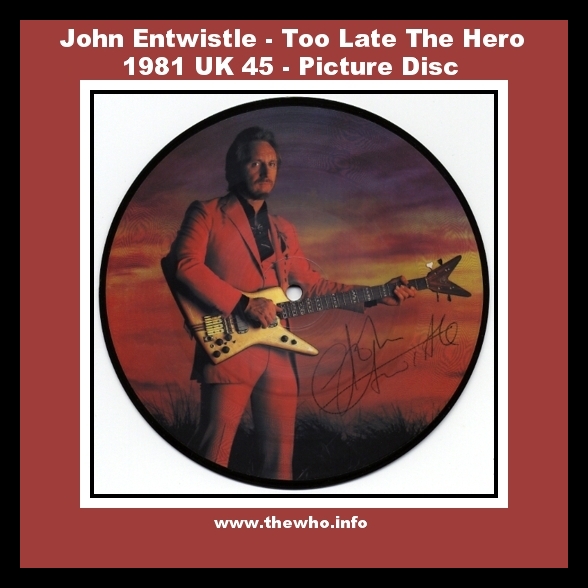 ---
August 31, 2022
The Who Sell Out - 1974 Saudi Arabia Cassette - Vol. 1

Over the years I have been accumulating cassettes from Saudi Arabia. Most likely unofficial releases (based on the odd and sometimes competing titles on different labels, these cassettes sometimes feature unique artwork, or an interesting addition of "bonus tracks"... Pictured is The Who Sell Out, Vol. 1. Unfortunately, I don't have the matching Vol. 2. (on this label, but several on other labels). This cassette features the complete album tracks of "The Who Sell Out", and would assume Vol. 2. (on this label) is A Quick One, as packaged by most official record labels in 1974...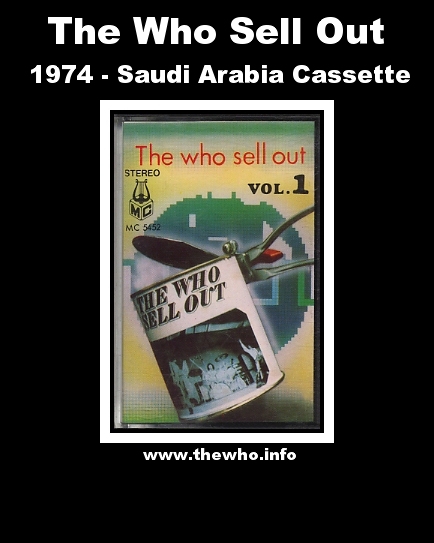 ---
August 30, 2022
The Who - My Generation - 1965 Switzerland 45 (Club Edition)
Pictured is a very obscure version of the 1965 My Generation single (45 RPM), released only in Switzerland. To my knowledge, there were only two Who records released in Switzerland (this one and "Happy Jack"). Both are "Club Edition" releases, made in Germany for export and relatively difficult to find. My first copy was pretty worn, but I was fortunate to find a 2nd copy...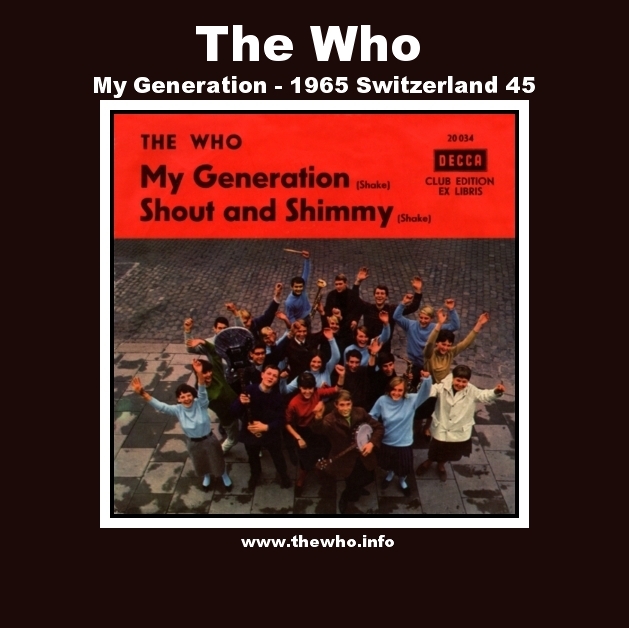 ---
August 29, 2022
The Who - Tommy - 1970 South Africa LP
Another mystery album... This is a very rare pressing of Tommy from South Africa. I believe that with the world-wide popularity of The Who's Live At Leeds, Polydor South Africa re-released Tommy there, with this "Leeds" style cover in 1970. Someone I met theorized that this was actually the first pressing, and released prior to the record company having the proper artwork. However, if this were true, how coincidental to predate "Live At Leeds" by a year? Either way, a very nice collectable... (Please also note that "Tommy" was also pressed in South Africa with the common cover.)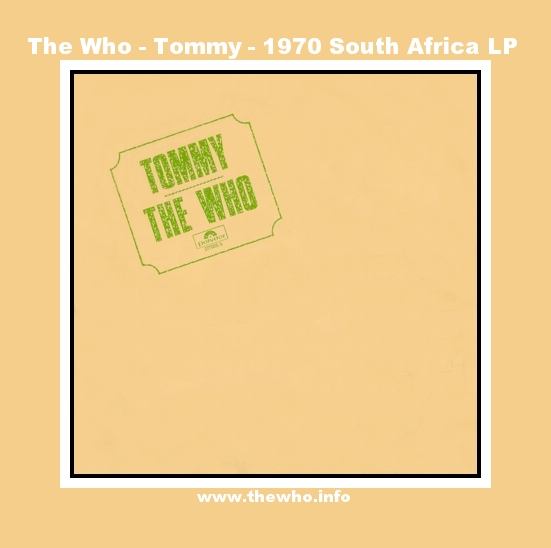 ---
August 25, 2022
Pete Townshend - Hall For Cornwall Truro - November, 1998
Included in my recent CDs was this interesting piece. As some folks might recall, I was not originally enamored with the mini-tour of 1998. I absolutely loved all of Pete's performances in 1996 and had a great time and experience at the NY Supper Club (sans some idiots trying to steal my backstage pass). When my friend got me tickets for the 1998 Boston show, I was equally thrilled. However, (6) six songs in with the <then> dreaded arraignment of "Anyway, Anyhow, Anywhere", I had completely lost my mind and as Popeye (the Sailorman) would say, "Can't stands no more!" as in... how did that happen?
A few years later, some kind fan of my website offered to send me a complete 1998 Woodstock soundboard, which he downloaded off of a satellite feed. At first I didn't want it (even for free), but even under my standards, I was being completely stupid and why insult someone being kind and generous? After listening to it, I came to enjoy it (but always skipped over "Anyway, Anyhow, Anywhere" - which happens to be one of my very favorite Who songs). Long story short, perhaps I was also being stupid in Boston and developed a delayed appreciation for the 1998 performances...
Other than the artwork for this CD, I was intrigued by the setlist inclusion of "Cobwebs And Strange" (which Pete opened with for his 1993 "Psychoderelict" shows). So, what's another CD?

Surprisingly, this one didn't sound half bad and I enjoyed making the samples to present (and preserve) part of the greater history of The Who. Enjoy!
Track Listing: Cobwebs And Strange, On The Road Again, A Little Is Enough, Pinball Wizard, Drowned, Anyway, Anyhow, Anywhere, Behind Blue Eyes, You Better You Bet, Baby Don't You Do It, I'm A Boy, Sheraton Gibson (Tease), Mary Anne With The Shaky Hand, Three Steps To Heaven, Substitute, North Country Girl, Band Introductions, She's A Sensation (listed as "Sensation"), Now And Then, Let My Love Open The Door, Who Are You, The Kids Are Alright, The Acid Queen, Won't Get Fooled Again, Magic Bus, The Lobster Song

Sound Samples:
Cobwebs And Strange On The Road Again Baby Don't You Do It Mary Anne With The Shaky Hand Three Steps To Heaven She's A Sensation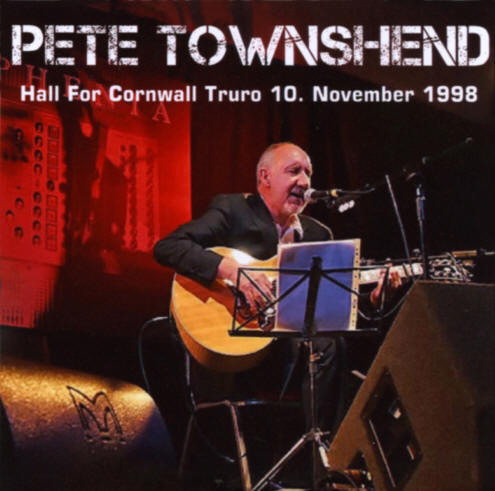 ---
August 25, 2022
Pete Townshend - Brockwell Park London - May 30, 1981 - 2022 UK CD
I received another small batch of boot CDs from the UK over the weekend. I thought this particular one stood out because of the diverse setlist and performances. I've had most of these tracks before, but pretty much ignored them because of the poor sound quality. While this CD is no better (and perhaps worse), it was the entire show (including (2) two performances of "A Little Is Enough"). I don't know if Pete professionally recorded all of his post-Roundhouse (1974) shows, but this CD gives you a hint at how good such a compilation might be.
Here's the sound samples for the entire show (sorry, only the 2nd version of "A Little Is Enough"):

A Little Is Enough #2 Cats In The Cupboard Big Boss Man Substitute Corrina Corrina Body Language Join Together Let My Love Open The Door
On another note, I'm almost finished with round one of my website refresh. Round 2, will consist of reorganizing all of the boot pages (to place the artwork with the descriptions) and perhaps another rework of the Discography page (which works fine for a computer browser, but just fair for a mobile one...) Stay tuned and enjoy!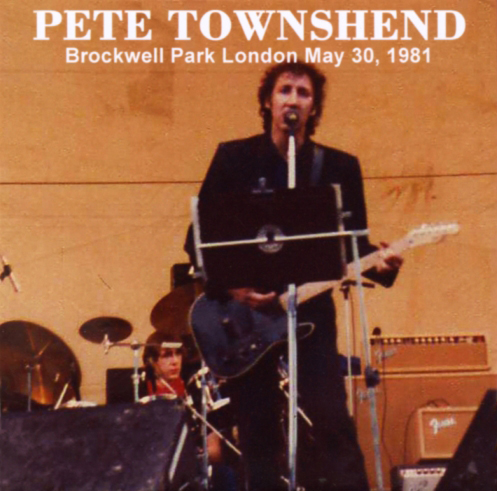 ---
August 23, 2022
Keith Moon / Various Artists - All This And World War II - 1976 Japan LP (Promo)
In the various attempts to expand (and complete) Keith Moon's only solo album, Two Sides Of The Moon. there has been a missed an opportunity to add Keith's only other solo vocal performance, "When I'm Sixty-Four" (a cover of the Beatles song) which was only released on the All This And World War II album, worldwide.
The album was also reissued on CD as a limited box set in 2006 (on the Hip-O label) and then again in 2015 (on the Island records label).

Here's an MP3 Sample to hear what you are missing: Keith Moon: When I'm Sixty-Four
LP copies are fairly abundant, but the CDs... pretty rare (and expensive).
Happy Birthday Keith!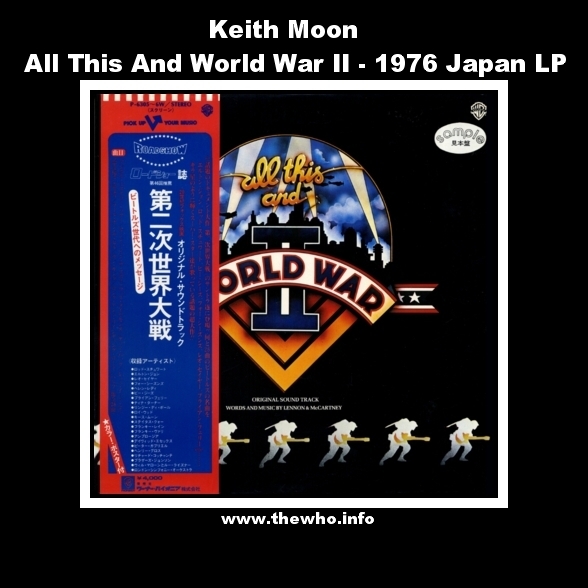 ---
August 22, 2022
The Who - Live At Leeds - 1970 Korea LP
This is one of several different pressings of Live At Leeds from Korea. Most of the Korea Who LPs appear to be pirate pressings that seem to be photocopied from USA pressings on various colored paper (there are at least (5) five different versions of Who Are You). Most likely these records were pressed and sold for the large population of USA Servicemen stationed in Korea. The earliest evidence of "official" LPs in Korea seems to have begun with Face Dances in 1981. This particular version of Live At Leeds apparently was constructed using both cover art and inserts.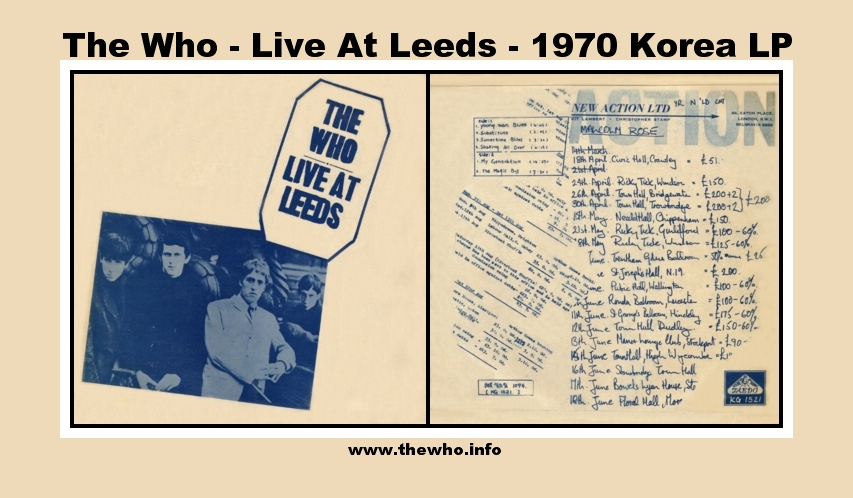 ---
August 21, 2022
The Who - 1979 UK Quadrophenia Soundtrack LP (Alternate Artwork)
Every so often you come across a truly rare find - something that's a one-of-a-kind or just a handful scattered around the world.. Pictured is a rejected album cover for the 1979 Quadrophenia Soundtrack.
This copy was "saved" by an employee who worked at the printing company (who manufactured them - as the other unused copies on hand were destroyed). Without his quick thinking, part of The Who's history was preserved.
Inside the cover, are "program style" glossy pictures and text regarding the movie. It makes you wonder what all of the other rejected album covers looked like!
Since I bought and published the LP picture many years ago, I've come a cross about 2-3 other folks who also have a copy, including a 2nd copy I purchased from a collector in Germany.
Before he died, Cy Langston and I chatted extensively about his and John's work on the Soundtrack. Cy claims the the entire Quadrophenia album was reworked (i.e. remixed with overdubs, etc.), but since the album was being released world-wide on Polydor, MCA (USA/Canada) saw this as a "competitor" to their own 1973 LP. As a result, the Soundtrack was chopped up and other, non-Who music added to it.
One day, I'd love to see a restored, "Director's Cut" of the Soundtrack released, as John and Cy intended...(and with this artwork)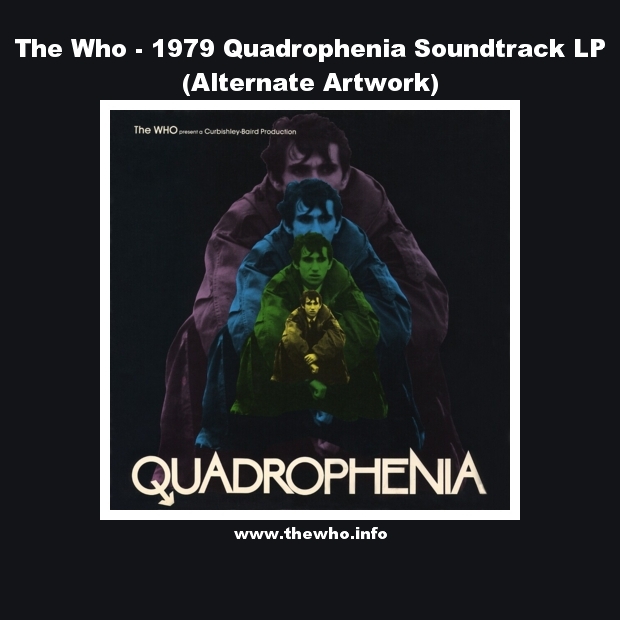 ---
August 20, 2022
The Who - Happy Jack - 1966 Israel 45 (EP)
Pictured is the 1966 Happy Jack EP from Israel - which I believe uses the earliest photo of The Who from its entire international catalogue of singles and albums.

This record is fairly rare, and was issued with both an orange, Polydor International label (1st pressing) and a red, <common> Polydor label (2nd pressing). I once had both pressings, but traded one to a friend for a record I didn't have...

I paid about $35 for this record in 1983 from a store in New York City... (It's worth a little more than that today...)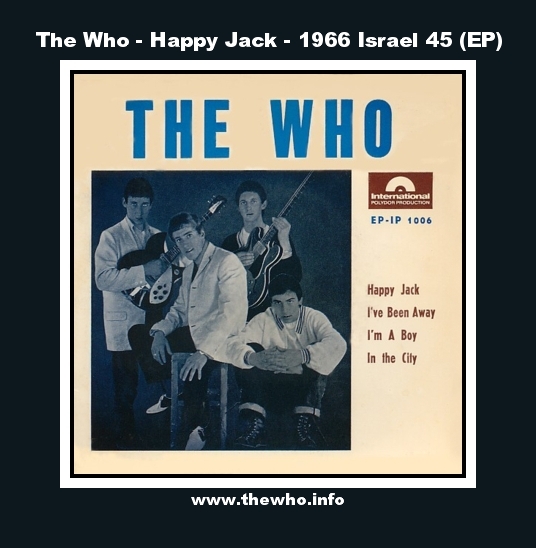 ---
August 19, 2022
The Who - Join Together Rarities - 1982 Australia LP
Sometime in 1982, I was shopping for records in the infamous electronics (and music) store, Crazy Eddies. Low and behold in The Who section, I pull out the LP (pictured), The Who: Join Together Rarities. At first it appeared as it might be a bootleg, but I quickly found the Polydor logo and sure enough it was a legitimate release. What made this record so special at the time, was that prior to its release, the only way you could buy any of the music contained on it, was via rare singles or bootleg LPs like Who's Zoo. Apparently, the LP was released by Polydor Australia (without permission). However, it did get Polydor (UK) to think a little harder, resulting in the following year's new series of Who Rarity LPs.
Track list: Join Together. I Don't Even Know Myself, Heaven & Hell, When I Was A Boy, Let's See Action, Relay, Wasp Man, Here For More, Water, Baby Don't Do It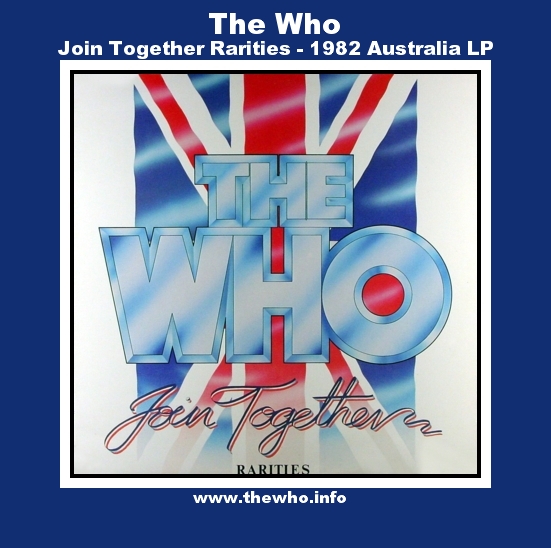 ---
August 18, 2022
The Who - The Ox - 1970 Holland LP
In 1970, someone at Track Records, UK came up with a great idea - A Who album comprised of all John Entwistle songs! It was called, Backtrack 14: The Ox. In the same year, The Ox (pictured) was released in Holland. Essentially the same album (as its UK counterpart), but with a much nicer cover. Unfortunately, no other country released it.
The track listing is: Heinz Baked Beans, Heaven And Hell, Dr. Jekyll & Mr. Hyde, Fiddle About, Cousin Kevin, Doctor, Doctor, Medac, I've Been Away, Whiskey Man, In The City, Someone's Coming, Silas Stingy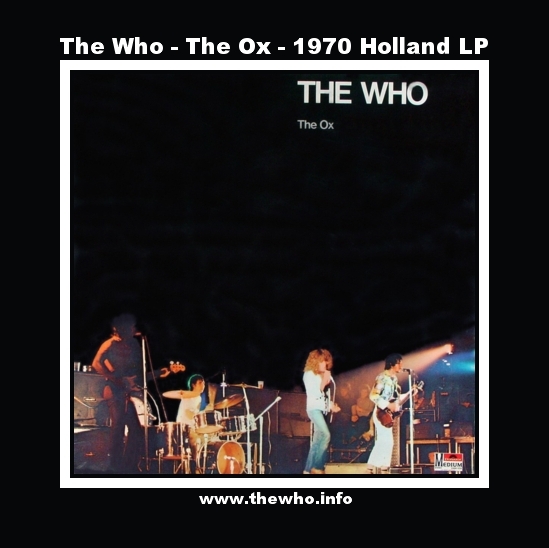 ---
August 17, 2022
Pete Townshend - All The Best Cowboys Have Chinese Eyes - 1982 USA Promo Playing Cards
In 1983 (shortly after I first started collecting), I used to make frequent visits to buy records in New York City. The small shops there would always have new collectables and every weekend I would come home with "new stuff". One of those shops (It's Only Rock n Roll) had a memorabilia case. At the time I was only interested in records and promotional posters. However, I always had my eye on this All The Best Cowboys Have Chinese Eyes card set. I never bought it (probably too expensive) and one day the store closed. Over 20 years later, I was able to find another one of these rare card sets. Who knew?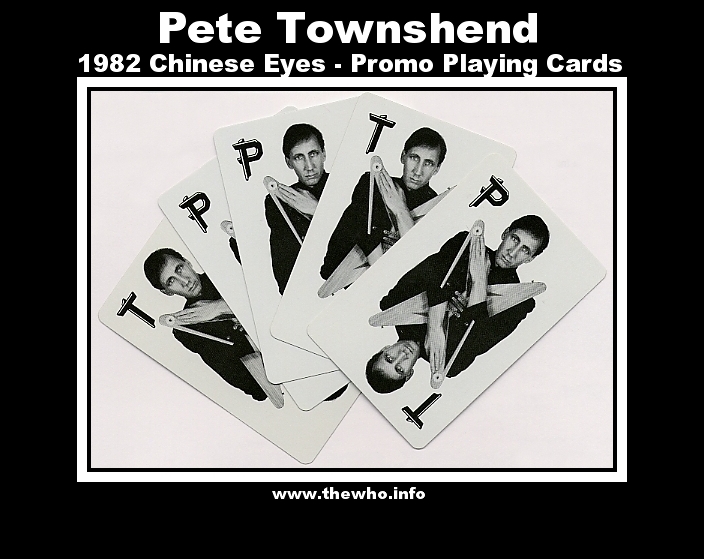 ---
August 15, 2022
The Who - Instant Party / A Legal Matter - 1966 Sweden 45
One of the more elusive records I have ever come across is the 1966 45, Instant Party / A Legal Matter from Sweden. I originally saw it at the Utrecht Record Fair in 2004. I was told it was the rarest Who record from Sweden and the asking price was very steep. By the time I thought it over and decided to buy it, the record was already gone. Occasionally, a copy would show up again at a subsequent show (in Utrecht) and typically sell out very quickly before I had even a chance to see it. In 2008, I had the opportunity to bid on a copy via <non eBay> auction and while I thought my bid was very generous and I got seriously outbid. Then, out of nowhere, the nice person who ran the previous auction contacted me and offered me another copy he found... ...and then my want list had one less entry...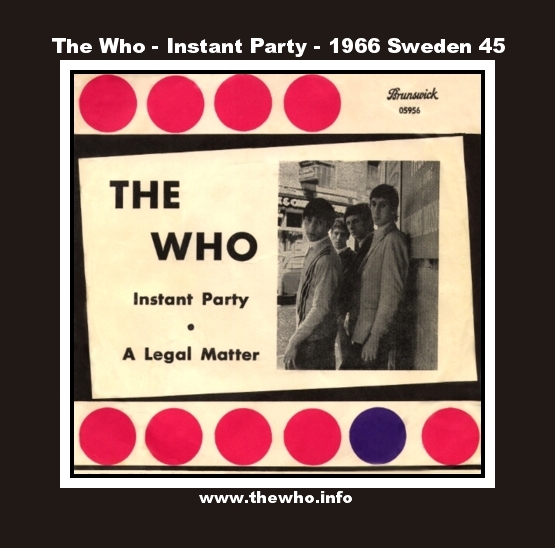 ---
August 14, 2022
The Who - Rough Boys - 1984 Brazil LP (Promo)
This is a cool, one-of-a-kind LP promo, which uses a Pete Townshend solo song for its title.
The track listing is: Overture, My Wife (live), Sister Disco, Eminence Front, Drowned, The Seeker, Magic Bus, Baba O'Riley, Substitute, Another Tricky Day, It's A Boy, Run, Run, Run
I think the nice folks in Brazil got this one right... I believe I bought this at the Utrecht Record Fair in 2001. Copies are still around online fairly cheap. Best to "scoop" them up before they are all gone...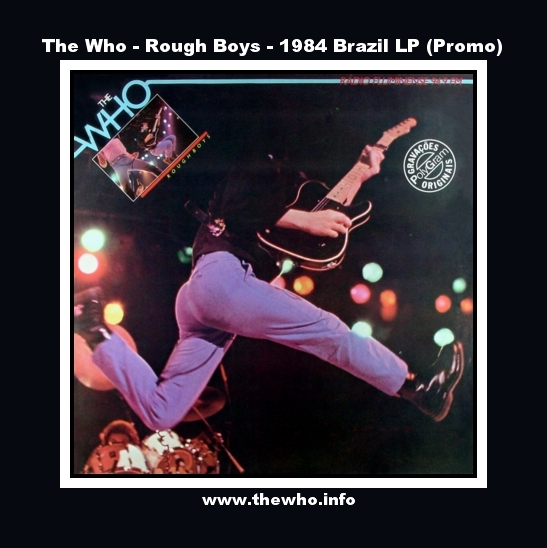 ---
August 13, 2022
Various Artists - Jem Records Celebrates Pete Townshend - 2022 USA CD
This CD/LP/Download just came out about a week ago and I just had the opportunity to preview it. It's a pretty good album of covers, but given the title, a little disappointing that the only Pete Townshend solo song included is, "Let My Love Open The Door" leaving the other (13) thirteen song as Who covers. Solo vs. The Who aside, the track listing is still very good, drawing from Who songs written between 1964 and 1971 (but with a Tommy Soundtrack version of "I'm Free") and the single solo track from 1980.
Track listing: Baba O'Riley, I'm Free, Let My Love Open The Door, The Seeker, Glow Girl, I Can't Explain, The Kids Are Alright, So Sad About Us, A Quick One, I Can See For Miles, Mary Ann With The Shaky Hand, Let's See Action, The Good's Gone, Substitute
Sound Samples: Baba O'Riley Let My Love Open The Door I Can't Explain The Kids Are Alright So Sad About Us A Quick One While He's Away Mary Ann With The Shaky Hand Let's See Action The Good's Gone Substitute
Overall, this is a well-produced and balanced album of cover songs. I really liked the female lead on "Baba O'Riley" and the jazzy "I Can't Explain". If you like Who cover versions - this is a good album. Enjoy!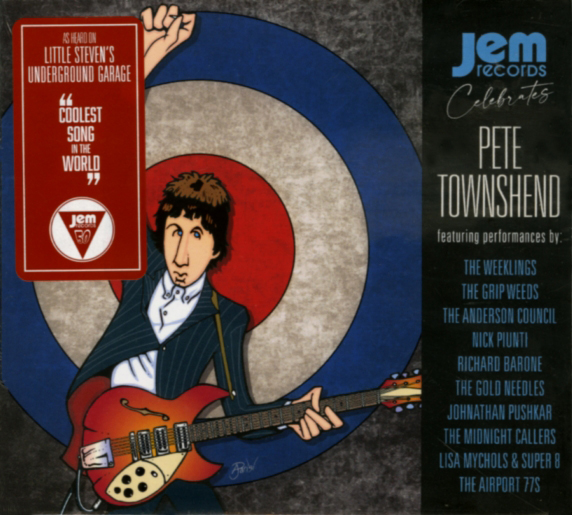 ---
August 12, 2022
The Who - Who's Next - 1971 Spain LP (x2)
Can you see the real me? (Sorry, wrong album...) Just a small cover reversal here.. On the left is the original Spain Who's Next, which was released (and censored) during the Franco administration. Not only is Won't Get Fooled Again and "Love Ain't For Keeping" deleted from the album, but the track order (as printed on the back cover) has been changed to:

Side 1: Baba O'Riley, Sargain (correctly spelled as "Bargain" on the label), Song Is Over
Side 2: Getting In Tune, Going Mobile, My Wife, Behind Blue Eyes
(No small change!)
As to the nice cover art... They reversed the picture! (Note John Entwistle left and Pete Townshend right). The picture on the right has been photoshopped to demonstrate what the cover would have looked like had the photo not been reversed. Believe it or not, there's a tiny faction of Who fans who reject this particular album because they feel that this mistake is too large for them. For me? Another collectable story...
PS: Spain later reissued the LP with it's common artwork and full track listing...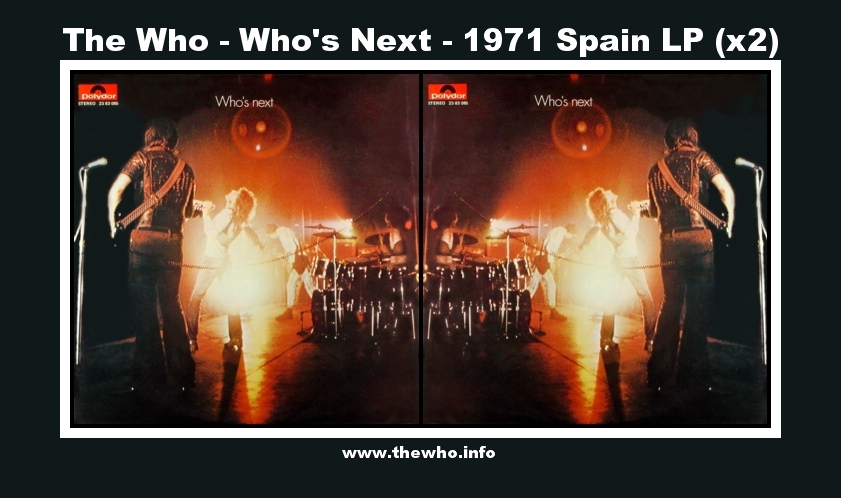 ---
August 11, 2022
The Who En Numerous - 1975 Argentina LP
Translated from Spanish:
"Escapate Muchacho!" ("Escape Boy"), "No Importa Cuanto Tome" ("It Doesn't Matter Much It Takes"), "Caja De Sorpresas" ("Surprises Box"), "Sonando Sesde La Cintura" ("Ringing From The Waist"), "Imaginate Un Hombre" ("Imagine A Man"), "Historia De Exitos" ("Success Story"), "Todos Ellos Estan Enamorados" ("They Are All In Love"), "Azul Rojo Y Gris" ("Blue Red And Grey"), "Cuantos Amigos" ("How Many Friends"), "En Una Mano O Cara" ("On A Hand Or Face")
Interesting translations (and only 50% correct)...

Gotta love it...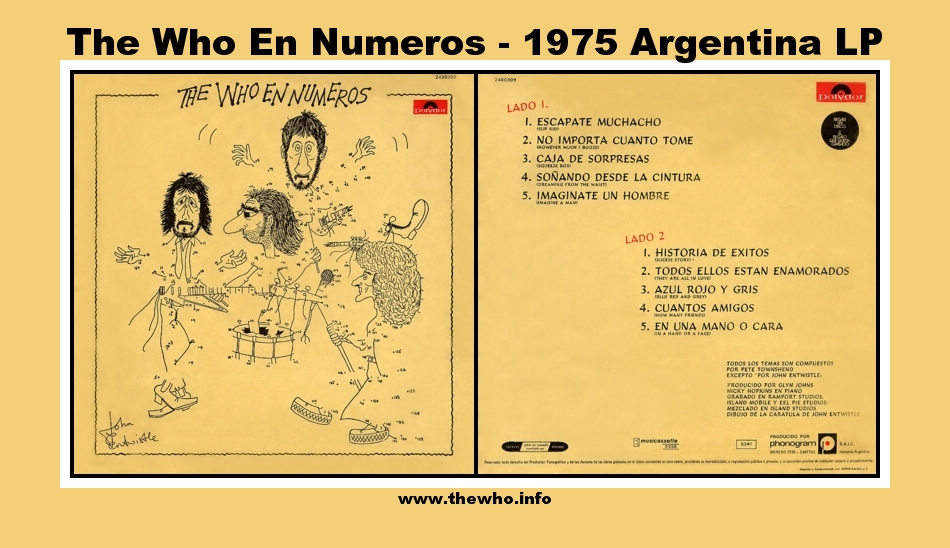 ---
August 10, 2022
Roger Daltrey - Walking In My Sleep & Parting Would Be Painless - 1984 UK 12" (EPs)
While I always loved non-album tracks on singles, I never understood the concept of not reissuing them as bonus tracks in whatever the current media of the day is. Below are (2) two great examples. These are 1984 UK 12" EPs (or "maxi singles") from Roger's 1984 album, Parting Should Be Painless. These EPs each contain a unique track - both of which are fantastic.
Walking In My Sleep features Roger's rendition of the Spencer Davis Group classic, Gimme Some Lovin'.
Parting Would Be Painless * features a great Billy Nicholls written song about the breakup of The Who, I Won't Be The One To Say Goodbye.
Both of these songs may have been part of Roger's scrapped album, "Pop Songs" (an unreleased album primarily of hit covers).
If you don't have these <now 38 year old> songs in your collection, you should - they are great.
* For whatever reason, Roger named his album, "Parting Should Be Painless", but the single's name is "Parting Would Be Painless" (which has always caused confusion among fans).
Please also note, that there are also 7" versions of these singles, which do not feature the bonus tracks above...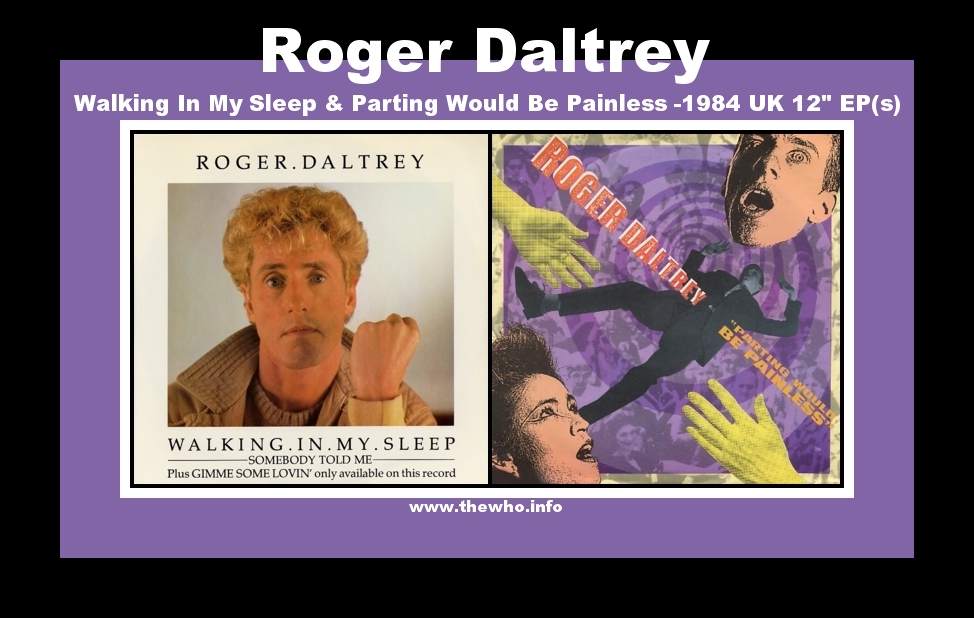 ---
August 9, 2022
Pete Townshend - Hiding Out - 1986 Germany 12" (EP)
One of my favorite Pete Townshend singles/EPs... This special 12" contains (2) two rare tracks: Hiding Out (Extended Version) and Hiding Out (Instrumental Version).
Both of these tracks are variations of each other, but a completely different performance than the album version. Not only that, but for whatever reason, these (2) two tracks appear to be recorded better (i.e. wider mix, much more open sound).
(20) twenty years later, the "extended version" made its way onto the 2006 White City Reissue - but the instrumental version was <unfortunately> left off.
If you want a really great EP, seek this out. Copies appear to be available online, but don't confuse this with the 7" 45 version (which does not have the "Instrumental Version").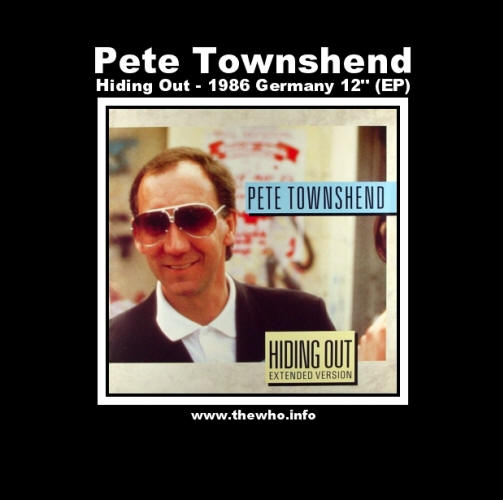 ---
August 8, 2022
A Bunch Of New Boots (1970 - 2022)
I spent the last <almost> 3 days updating my website with a lot of "new stuff". Some of those items included the boots you see pictured. I had been recently contemplating creating a whole new website in order to make something that's more functional for mobile users. In the process, I got hooked on making some <hopefully> cool changes to this one.

Boots are a lot work. Scan the pix, listen to some/all of the tracks, create 30 sound samples that either represent the concert (or in some cases, rare tracks often or never played otherwise). While most of these boots sound pretty bad, the sound quality is good enough for computer speakers and with all the performances, helps create a representative history of the band - which is a good thing. If John Entwistle were still alive, he would have liked this a lot.
So... what is there to say about this weekend's batch? Mixed results. Cleveland 1970 was pretty bad, The Forum '73 OK, (2) two of the (3) 1975/76 pretty decent and lastly - Roger's 2022 decent and great performances (God bless Roger Daltrey!).

If you go to the New Stuff link, you can find the specific pages where the track listings and sound samples are hiding in plain site... Enjoy!

---
August 4, 2022
The Who - Who Are You - 1978 UK LP Proof Copy
This unique item is a <rejected> proof art cover for the Who Are You album. They had their band photo finalized, but couldn't decide on the lettering apparently. What's interesting here, is that "The Who" was used for their Japan pressing (but with the same yellow print color as the final UK copy) and they retained the <orange> color of the print for the USA and Canada markets (in a no good idea shall go unused scenario).
I bought this on eBay after much ado (that lasted a long time). The seller initially had this listed for ~$1,500. I contacted him, told him I was interested but that collectors are generally nervous over such items and don't pay a lot *. He asked me what I thought it was worth (I told him I thought it was worth his price, but in the marketplace - nobody is going to pay that much, so I would give him $100). That didn't go very far... So, he kept listing and re-listing the sleeve and over time, gradually reducing the price. About a year (or two) later, the price was a lot closer to what I wanted to pay. I contacted him again and expressed my continued interest. By this time, he saw that I was right, but he had paid more than what I initially offered. So we worked out a price and that was that. Just like Archie Bunker used to say, "Patience is a virgin."
* I've noticed over the years, that many collectors are "risk adverse" as in... ...they don't want to be the first to make a mistake and overpay for something that may turn out to be a fake. Sometimes I will get the "what do you think?" email or, "well if it's on Fang's site, then..." (Of course this seems to be completely out the window lately as a few misguided numbskulls are paying ridiculous prices for fake Mexico sleeves, but that's a different story...)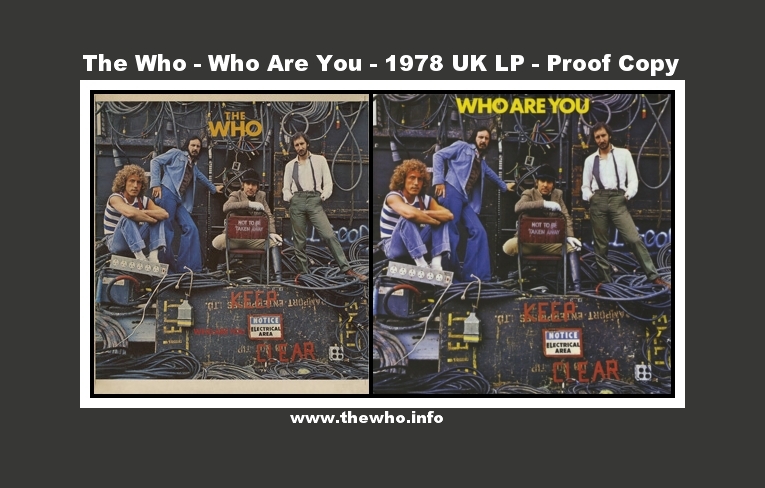 ---
August 3, 2022
Electric Tommy - 1971/1975 USA LP(s)
I used to see these LPs in the Who record bins in the late 1970's. I had no idea what they were, but saw them everywhere. Then (naturally), the day I decided to buy a copy... all gone!
This morning I was reminded of this album when scrolling on Facebook. My friend, Isao is doing a Tommy special and had a copy displayed. So... why not do a post on this album?
There are (2) two different versions of the LP - Viva label (left) and Chelsea label (right). Same track list and contents, different cover art and label...
There's also some confusion regarding the release date(s). Some sources list 1971 and others, 1975. Apparently the Viva pressing was released in 1971 and the Chelsea pressing is the1975 reissue. What's interesting is... the music arraignments sound more like Tommy Soundtrack versions (1975) than the original "Tommy" (1969)... go figure...
The album itself is actually pretty cool. Synthesizer, drums, guitar and keyboards. Never available on CD, but apparently you can buy this as a digital download...
Track listing: Tune Up / Overture, Pin Ball Wizard, Amazing Journey, Christmas Tommy, Tommy Can You Hear Me?, Fiddle Around, Sally Simpson, Sparks, Welcome, Go To The Mirror Boy
Sound Samples:
Amazing Journey Christmas Go To The Mirror Boy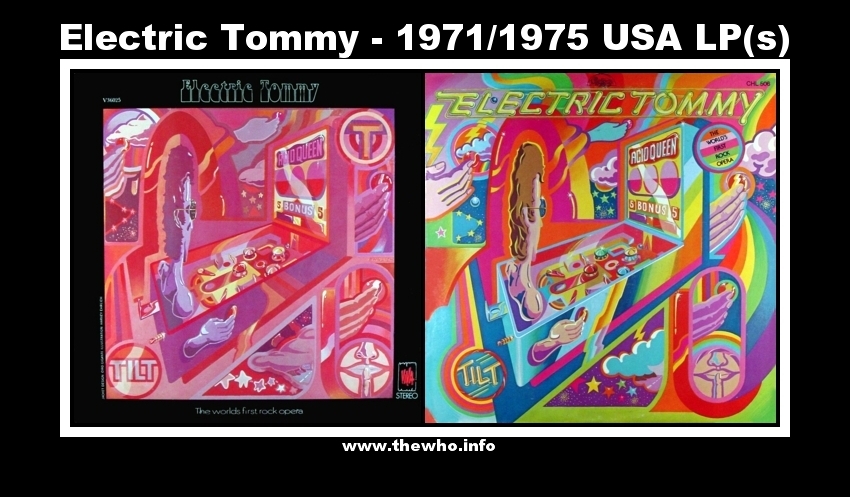 ---
August 2, 2022
John Entwistle - Reboots Solo Career - Part 2B
The fax... In late 1995, Mrs. Fang was working with John designing his Left For Dead Tourbook. Occasionally, there was the late night call. On this particular night, I was fast asleep at 2AM, only to be woken up with,
"Where can I find the sheet music for '905'?"
Whaaaaaaat? Apparently John had looked all over Quarwood looking for an LP of Who Are You to rehearse "905" for the upcoming tour. Since he couldn't find it (extremely large mansion with a lot of "stuff"), he knew I would have a copy of the sheet music. I did (it was included within the Who Are You song book).
What John wants, John gets. I scanned in the (7) seven pages, added the text and page numbers and faxed him the sheet music...
I somehow thought at the time (even while mostly asleep), that this would make a good story one day...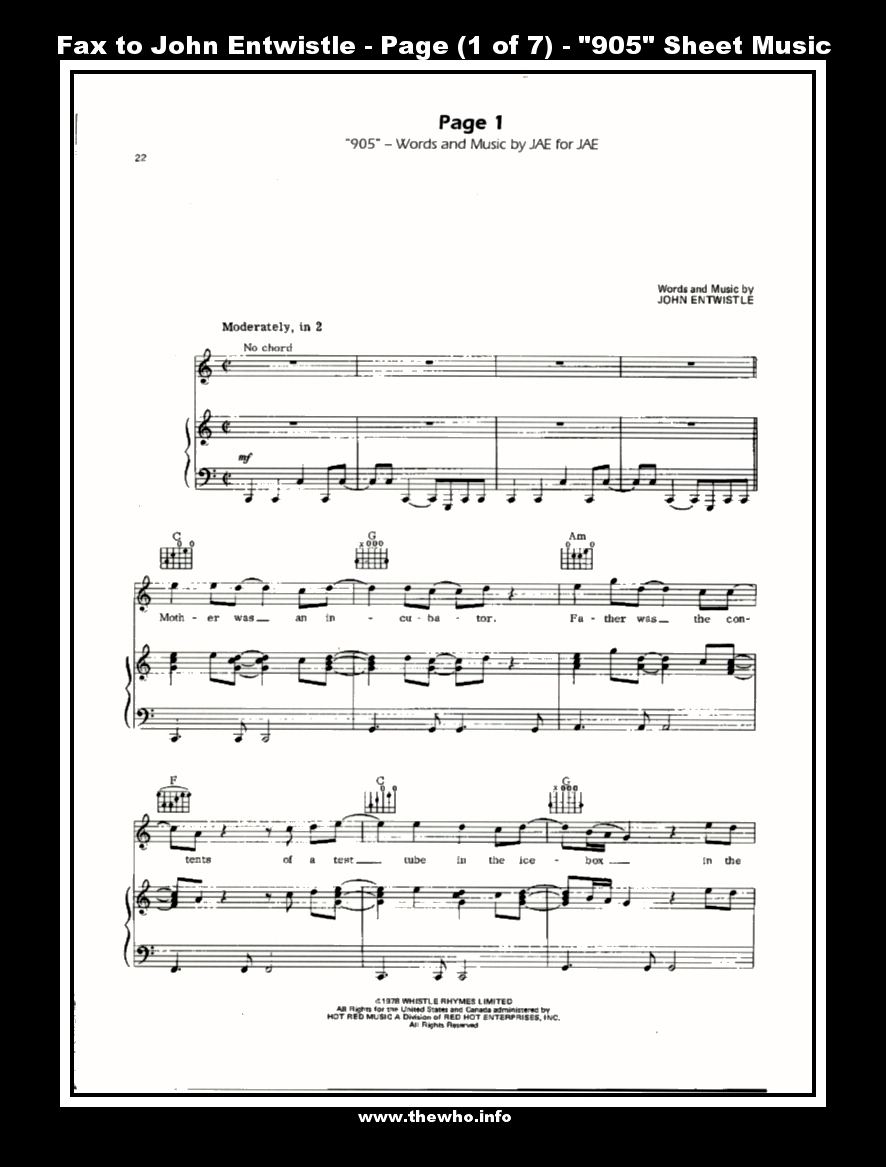 ---
August 2, 2022
John Entwistle - Reboots Solo Career - Part 2A
Well lookee lookee here! While searching for something else, I accidentally found this! This is the track list of the tape I sent John (& Co) in December, 1995.
Several songs were never played (i.e. "Dr. Jekyll" and "I Can See For Miles"). Some of these songs, John said, "...impossible to play live." (i.e. "When I Was A Boy", "One At A Time" & "Dancing Master").
For some reason, I thought I had hand written this with the tape, but... (obviously not!)
I also recall (and perhaps will find), a "part 2" to this. "905" is not included here, but John needed me to fax the sheet music to him at 2AM!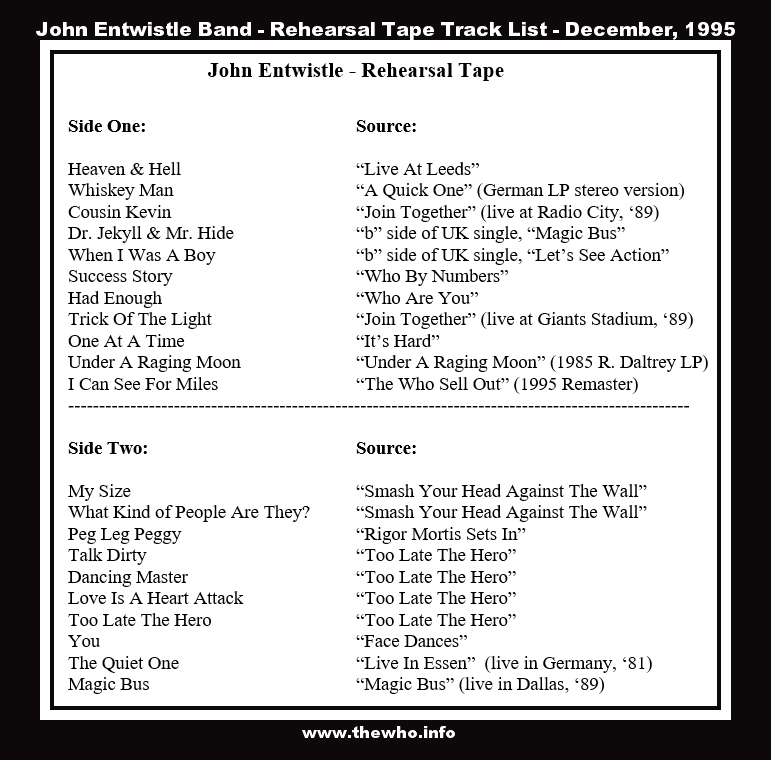 ---
August 2, 2022
John Entwistle - Reboots Solo Career - Part 2
Just prior to joining Rat Race Choir on the road in 1987, John had finished recording another solo/solo band album in 1986... The Rock. This album was a departure from John's previous solo albums as he wanted it to be a "band album" (of which he was a member), vs. a solo album (which was all about him). The album was set to be released in 1988. I recall being out to lunch one day and hearing John on the Scott Muni Show playing tracks from and promoting the "soon to be released album". Unfortunately, just prior to the release, the record co was "busted by the FBI". John had already assembled a new band, comprised mostly of band members that played on the album (but substituting Zak Starkey for the drummer from Rat Race Choir).
I was fortunate enough to see this band on July 2, 1988 at the Stone Pony in Abury Park, NJ. One of the first in the door, I planted myself right in front of John. It was a tight, powerful show, with a set list mostly comprised of songs from "The Rock", as well as some of John's Who and solo songs. I will never forget the bass lines belted out from "Love Is A Heart Attack" - a fantastic rendition. Lead singer, Henry Small sang most of songs.
The 1988 band didn't hold together. The Who reunion of 1989 and stories of band member "infighting", left many bad feelings.
John's next attempt at a band, was a very short lived "superstar" band called The Best (band members included, Jeff "Skunk" Baxter, Simon Philips, Joe Walsh and Keith Emerson). Not exactly sure what happened here, but they really sounded good.
In 1995, a new John Entwistle Band was being formed. A member of that band popped into my Who forum and announced himself. Nobody responded, but I immediately sent him a private message asking him what the plans were. Basically, they was looking to recreate the 1987 set list of Who covers. I explained to him that John's fans didn't want a "Who Cover Band" and were greatly disappointed with that concept in 1987. We discussed set lists at length and I created a "set list tape" of what I thought would be a great fit for the band - most of the songs were adopted (with a few exceptions that John later told me, "...were impossible to play live.").
The newly formed band got off to a great start, initially supporting "The Rock" (again), but this time, copies of the newly released CD were for sold at the shows. Fans were thrilled over this version of the band, but the band was not without its share of problems... (Stay Tuned For Part 3)

Sound Samples:
Love Is A Heart Attack 1988 You 1988 Bridges Under The Water 1988 Bridges Under The Water 1996 Life After Love 1988 Life After Love 1996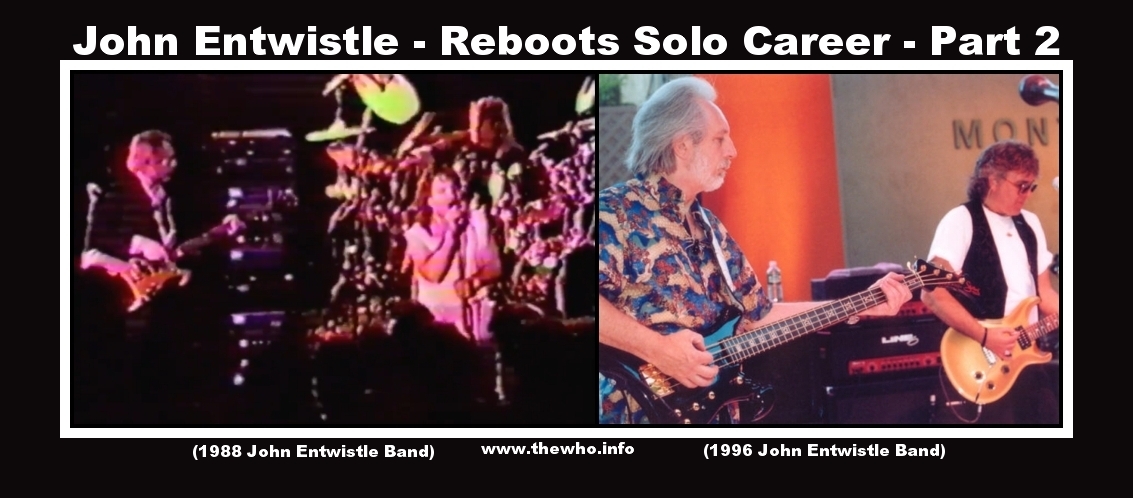 ---
August 1, 2022
The Who - The Beat - 1967 Germany LP
Before the days of eBay and easy Internet shopping, "The Who - The Beat" was considered a rare and expensive item. In the late 1980's through the 1990's, prices were typically between $100 and $250 (if you could find one). I found this copy in 1995 at a small record show for only $80. I couldn't have been happier. One of the best Who LP covers (and check out Pete's tie).
Essentially, this is a colorful Germany reissue of My Generation. Note the big "stereo" print on the label. Back in the 1960's, there were several methods to simulate stereo, but none of them any good. For this album, they drowned it in reverb.
Here's a sound sample of My Generation
Thanks to eBay (and similar), copies of this album can be obtained for even a fraction of what I paid. It may not sound great, but you can't beat the cover...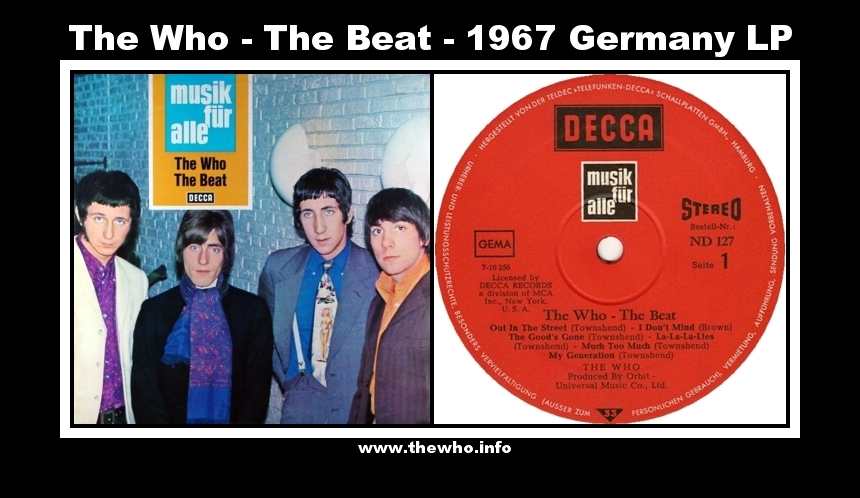 ---
(FOR PREVIOUS BLOG POSTS - CLICK NEXT)
___________________________________
Copyright 2002, 2003, 2004, 2005, 2006, 2007, 2008, 2009, 2010, 2011, 2012, 2013, 2014, 2015, 2016, 2017, 2018, 2019, 2020, 2021, 2022 | RWhiteFang | All rights reserved. No part of this website may be copied or used for any other purpose without the express permission of the site owner. | This page was last updated on Tuesday September 19, 2023 05:38 AM