The Who Info Blog:
August 17, 2022
Pete Townshend - All The Best Cowboys Have Chinese Eyes - 1982 USA Promo Playing Cards
In 1983 (shortly after I first started collecting), I used to make frequent visits to buy records in New York City. The small shops there would always have new collectables and every weekend I would come home with "new stuff". One of those shops (It's Only Rock n Roll) had a memorabilia case. At the time I was only interested in records and promotional posters. However, I always had my eye on this All The Best Cowboys Have Chinese Eyes card set. I never bought it (probably too expensive) and one day the store closed. Over 20 years later, I was able to find another one of these rare card sets. Who knew?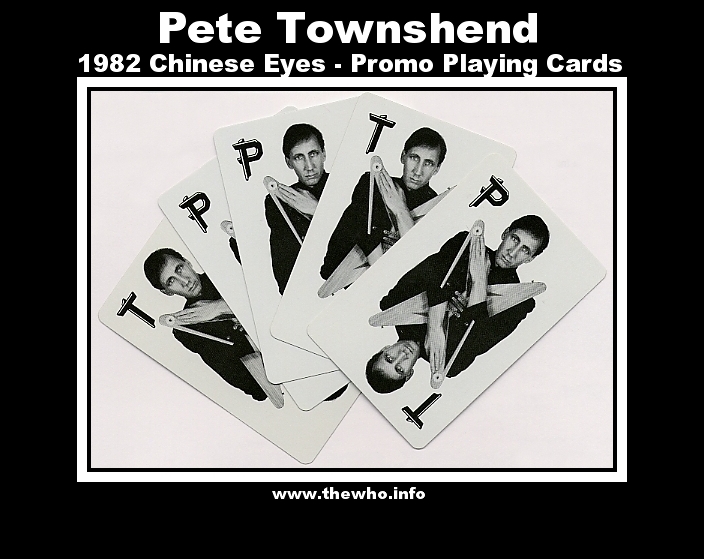 ---
August 15, 2022
The Who - Instant Party / A Legal Matter - 1966 Sweden 45
One of the more elusive records I have ever come across is the 1966 45, Instant Party / A Legal Matter from Sweden. I originally saw it at the Utrecht Record Fair in 2004. I was told it was the rarest Who record from Sweden and the asking price was very steep. By the time I thought it over and decided to buy it, the record was already gone. Occasionally, a copy would show up again at a subsequent show (in Utrecht) and typically sell out very quickly before I had even a chance to see it. In 2008, I had the opportunity to bid on a copy via <non eBay> auction and while I thought my bid was very generous and I got seriously outbid. Then, out of nowhere, the nice person who ran the previous auction contacted me and offered me another copy he found... ...and then my want list had one less entry...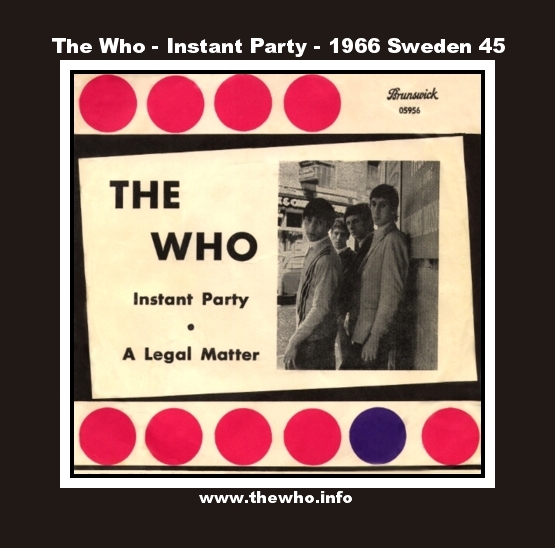 ---
August 14, 2022
The Who - Rough Boys - 1984 Brazil LP (Promo)
This is a cool, one-of-a-kind LP promo, which uses a Pete Townshend solo song for its title.
The track listing is: Overture, My Wife (live), Sister Disco, Eminence Front, Drowned, The Seeker, Magic Bus, Baba O'Riley, Substitute, Another Tricky Day, It's A Boy, Run, Run, Run
I think the nice folks in Brazil got this one right... I believe I bought this at the Utrecht Record Fair in 2001. Copies are still around online fairly cheap. Best to "scoop" them up before they are all gone...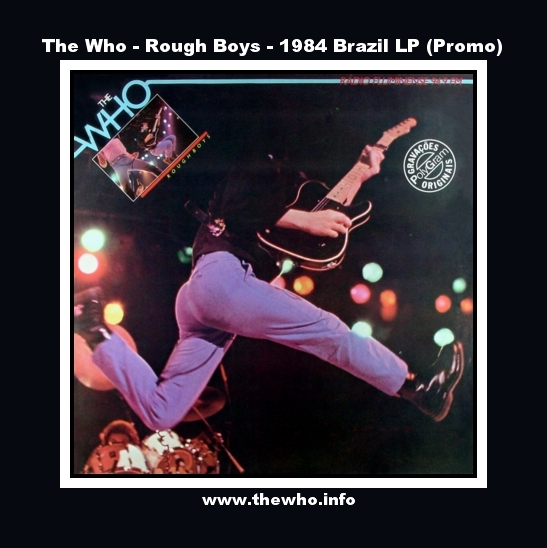 ---
August 13, 2022
Various Artists - Jem Records Celebrates Pete Townshend - 2022 USA CD
This CD/LP/Download just came out about a week ago and I just had the opportunity to preview it. It's a pretty good album of covers, but given the title, a little disappointing that the only Pete Townshend solo song included is, "Let My Love Open The Door" leaving the other (13) thirteen song as Who covers. Solo vs. The Who aside, the track listing is still very good, drawing from Who songs written between 1964 and 1971 (but with a Tommy Soundtrack version of "I'm Free") and the single solo track from 1980.
Track listing: Baba O'Riley, I'm Free, Let My Love Open The Door, The Seeker, Glow Girl, I Can't Explain, The Kids Are Alright, So Sad About Us, A Quick One, I Can See For Miles, Mary Ann With The Shaky Hand, Let's See Action, The Good's Gone, Substitute
Sound Samples: Baba O'Riley Let My Love Open The Door I Can't Explain The Kids Are Alright So Sad About Us A Quick One While He's Away Mary Ann With The Shaky Hand Let's See Action The Good's Gone Substitute
Overall, this is a well-produced and balanced album of cover songs. I really liked the female lead on "Baba O'Riley" and the jazzy "I Can't Explain". If you like Who cover versions - this is a good album. Enjoy!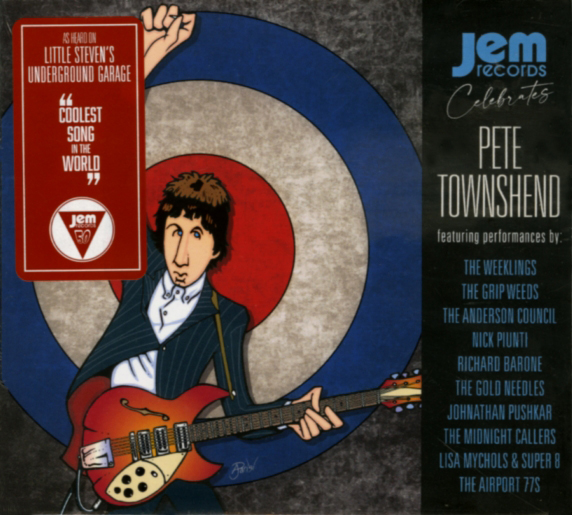 ---
August 12, 2022
The Who - Who's Next - 1971 Spain LP (x2)
Can you see the real me? (Sorry, wrong album...) Just a small cover reversal here.. On the left is the original Spain Who's Next, which was released (and censored) during the Franco administration. Not only is Won't Get Fooled Again and "Love Ain't For Keeping" deleted from the album, but the track order (as printed on the back cover) has been changed to:

Side 1: Baba O'Riley, Sargain (correctly spelled as "Bargain" on the label), Song Is Over
Side 2: Getting In Tune, Going Mobile, My Wife, Behind Blue Eyes
(No small change!)
As to the nice cover art... They reversed the picture! (Note John Entwistle left and Pete Townshend right). The picture on the right has been photoshopped to demonstrate what the cover would have looked like had the photo not been reversed. Believe it or not, there's a tiny faction of Who fans who reject this particular album because they feel that this mistake is too large for them. For me? Another collectable story...
PS: Spain later reissued the LP with it's common artwork and full track listing...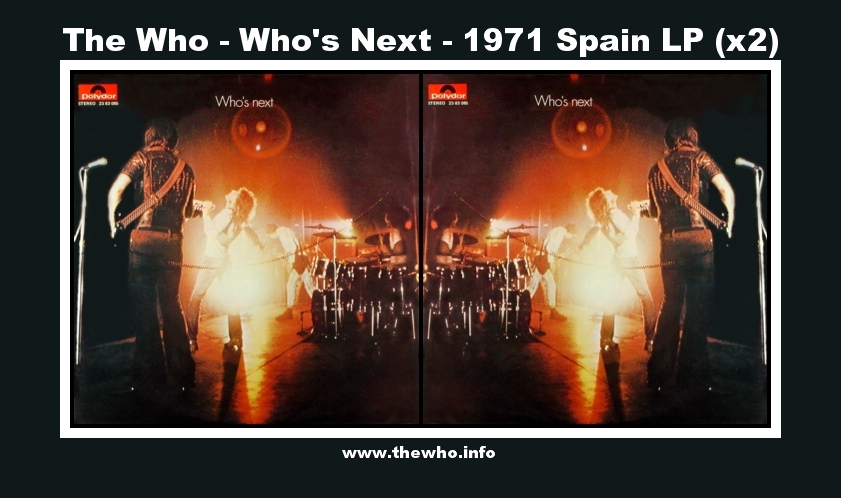 ---
August 11, 2022
The Who En Numerous - 1975 Argentina LP
Translated from Spanish:
"Escapate Muchacho!" ("Escape Boy"), "No Importa Cuanto Tome" ("It Doesn't Matter Much It Takes"), "Caja De Sorpresas" ("Surprises Box"), "Sonando Sesde La Cintura" ("Ringing From The Waist"), "Imaginate Un Hombre" ("Imagine A Man"), "Historia De Exitos" ("Success Story"), "Todos Ellos Estan Enamorados" ("They Are All In Love"), "Azul Rojo Y Gris" ("Blue Red And Grey"), "Cuantos Amigos" ("How Many Friends"), "En Una Mano O Cara" ("On A Hand Or Face")
Interesting translations (and only 50% correct)...

Gotta love it...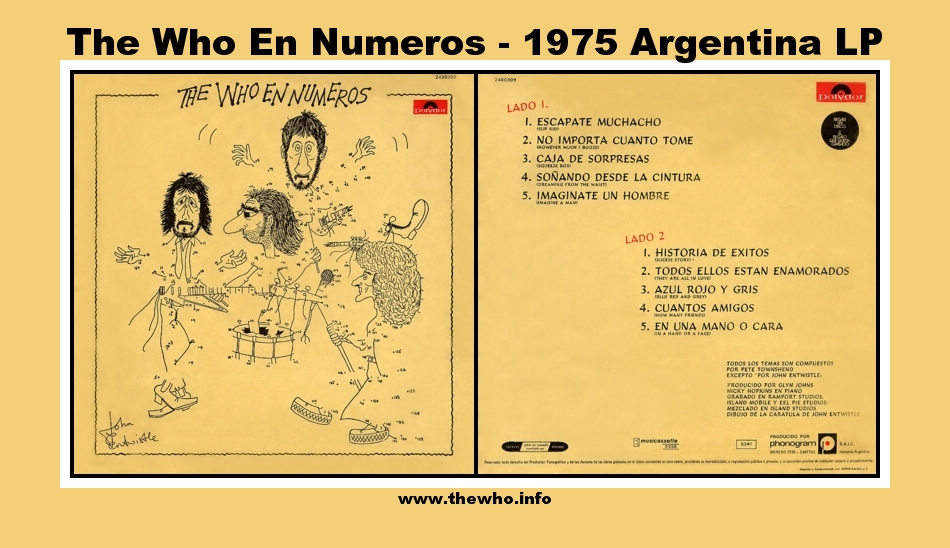 ---
August 10, 2022
Roger Daltrey - Walking In My Sleep & Parting Would Be Painless - 1984 UK 12" (EPs)
While I always loved non-album tracks on singles, I never understood the concept of not reissuing them as bonus tracks in whatever the current media of the day is. Below are (2) two great examples. These are 1984 UK 12" EPs (or "maxi singles") from Roger's 1984 album, Parting Should Be Painless. These EPs each contain a unique track - both of which are fantastic.
Walking In My Sleep features Roger's rendition of the Spencer Davis Group classic, Gimme Some Lovin'.
Parting Would Be Painless * features a great Billy Nicholls written song about the breakup of The Who, I Won't Be The One To Say Goodbye.
Both of these songs may have been part of Roger's scrapped album, "Pop Songs" (an unreleased album primarily of hit covers).
If you don't have these <now 38 year old> songs in your collection, you should - they are great.
* For whatever reason, Roger named his album, "Parting Should Be Painless", but the single's name is "Parting Would Be Painless" (which has always caused confusion among fans).
Please also note, that there are also 7" versions of these singles, which do not feature the bonus tracks above...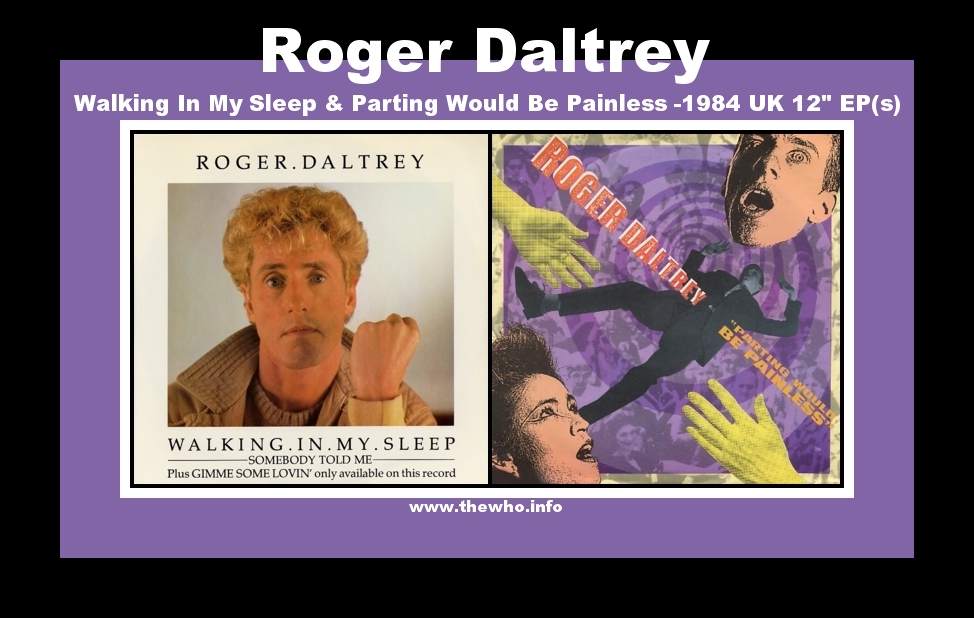 ---
August 9, 2022
Pete Townshend - Hiding Out - 1986 Germany 12" (EP)
One of my favorite Pete Townshend singles/EPs... This special 12" contains (2) two rare tracks: Hiding Out (Extended Version) and Hiding Out (Instrumental Version).
Both of these tracks are variations of each other, but a completely different performance than the album version. Not only that, but for whatever reason, these (2) two tracks appear to be recorded better (i.e. wider mix, much more open sound).
(20) twenty years later, the "extended version" made its way onto the 2006 White City Reissue - but the instrumental version was <unfortunately> left off.
If you want a really great EP, seek this out. Copies appear to be available online, but don't confuse this with the 7" 45 version (which does not have the "Instrumental Version").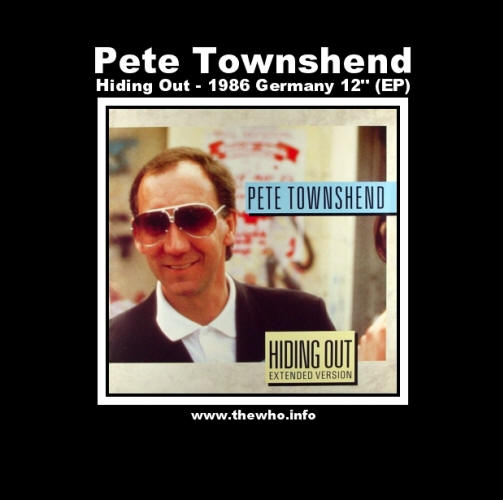 ---
August 8, 2022
A Bunch Of New Boots (1970 - 2022)
I spent the last <almost> 3 days updating my website with a lot of "new stuff". Some of those items included the boots you see pictured. I had been recently contemplating creating a whole new website in order to make something that's more functional for mobile users. In the process, I got hooked on making some <hopefully> cool changes to this one.

Boots are a lot work. Scan the pix, listen to some/all of the tracks, create 30 sound samples that either represent the concert (or in some cases, rare tracks often or never played otherwise). While most of these boots sound pretty bad, the sound quality is good enough for computer speakers and with all the performances, helps create a representative history of the band - which is a good thing. If John Entwistle were still alive, he would have liked this a lot.
So... what is there to say about this weekend's batch? Mixed results. Cleveland 1970 was pretty bad, The Forum '73 OK, (2) two of the (3) 1975/76 pretty decent and lastly - Roger's 2022 decent and great performances (God bless Roger Daltrey!).

If you go to the New Stuff link, you can find the specific pages where the track listings and sound samples are hiding in plain site... Enjoy!

---
August 4, 2022
The Who - Who Are You - 1978 UK LP Proof Copy
This unique item is a <rejected> proof art cover for the Who Are You album. They had their band photo finalized, but couldn't decide on the lettering apparently. What's interesting here, is that "The Who" was used for their Japan pressing (but with the same yellow print color as the final UK copy) and they retained the <orange> color of the print for the USA and Canada markets (in a no good idea shall go unused scenario).
I bought this on eBay after much ado (that lasted a long time). The seller initially had this listed for ~$1,500. I contacted him, told him I was interested but that collectors are generally nervous over such items and don't pay a lot *. He asked me what I thought it was worth (I told him I thought it was worth his price, but in the marketplace - nobody is going to pay that much, so I would give him $100). That didn't go very far... So, he kept listing and re-listing the sleeve and over time, gradually reducing the price. About a year (or two) later, the price was a lot closer to what I wanted to pay. I contacted him again and expressed my continued interest. By this time, he saw that I was right, but he had paid more than what I initially offered. So we worked out a price and that was that. Just like Archie Bunker used to say, "Patience is a virgin."
* I've noticed over the years, that many collectors are "risk adverse" as in... ...they don't want to be the first to make a mistake and overpay for something that may turn out to be a fake. Sometimes I will get the "what do you think?" email or, "well if it's on Fang's site, then..." (Of course this seems to be completely out the window lately as a few misguided numbskulls are paying ridiculous prices for fake Mexico sleeves, but that's a different story...)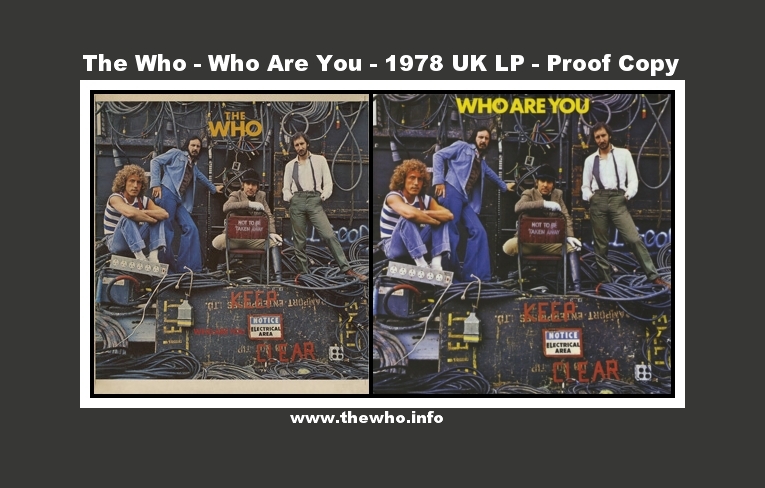 ---
August 3, 2022
Electric Tommy - 1971/1975 USA LP(s)
I used to see these LPs in the Who record bins in the late 1970's. I had no idea what they were, but saw them everywhere. Then (naturally), the day I decided to buy a copy... all gone!
This morning I was reminded of this album when scrolling on Facebook. My friend, Isao is doing a Tommy special and had a copy displayed. So... why not do a post on this album?
There are (2) two different versions of the LP - Viva label (left) and Chelsea label (right). Same track list and contents, different cover art and label...
There's also some confusion regarding the release date(s). Some sources list 1971 and others, 1975. Apparently the Viva pressing was released in 1971 and the Chelsea pressing is the1975 reissue. What's interesting is... the music arraignments sound more like Tommy Soundtrack versions (1975) than the original "Tommy" (1969)... go figure...
The album itself is actually pretty cool. Synthesizer, drums, guitar and keyboards. Never available on CD, but apparently you can buy this as a digital download...
Track listing: Tune Up / Overture, Pin Ball Wizard, Amazing Journey, Christmas Tommy, Tommy Can You Hear Me?, Fiddle Around, Sally Simpson, Sparks, Welcome, Go To The Mirror Boy
Sound Samples:
Amazing Journey Christmas Go To The Mirror Boy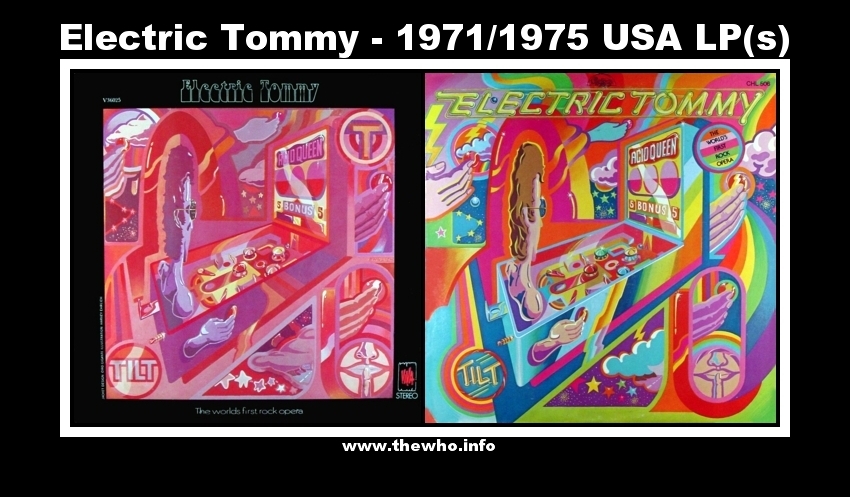 ---
August 2, 2022
John Entwistle - Reboots Solo Career - Part 2B
The fax... In late 1995, Mrs. Fang was working with John designing his Left For Dead Tourbook. Occasionally, there was the late night call. On this particular night, I was fast asleep at 2AM, only to be woken up with,
"Where can I find the sheet music for '905'?"
Whaaaaaaat? Apparently John had looked all over Quarwood looking for an LP of Who Are You to rehearse "905" for the upcoming tour. Since he couldn't find it (extremely large mansion with a lot of "stuff"), he knew I would have a copy of the sheet music. I did (it was included within the Who Are You song book).
What John wants, John gets. I scanned in the (7) seven pages, added the text and page numbers and faxed him the sheet music...
I somehow thought at the time (even while mostly asleep), that this would make a good story one day...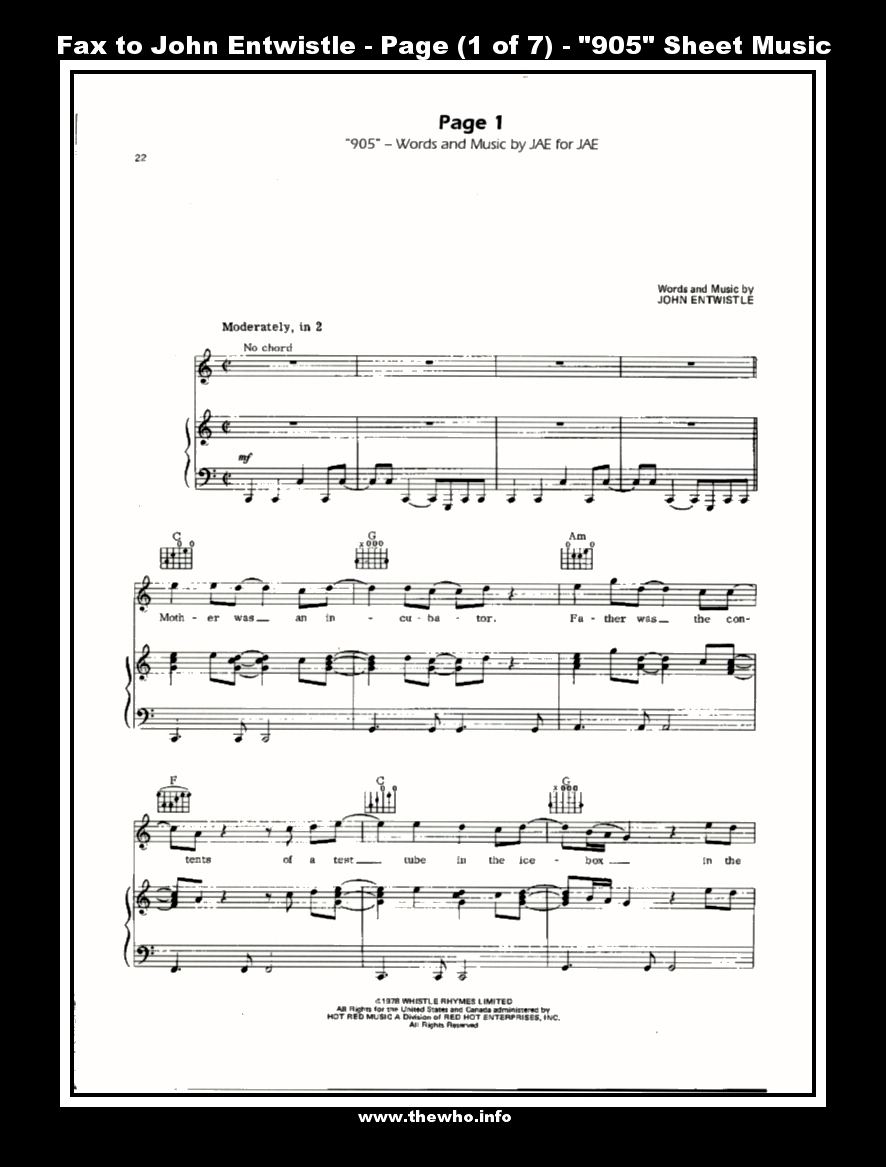 ---
August 2, 2022
John Entwistle - Reboots Solo Career - Part 2A
Well lookee lookee here! While searching for something else, I accidentally found this! This is the track list of the tape I sent John (& Co) in December, 1995.
Several songs were never played (i.e. "Dr. Jekyll" and "I Can See For Miles"). Some of these songs, John said, "...impossible to play live." (i.e. "When I Was A Boy", "One At A Time" & "Dancing Master").
For some reason, I thought I had hand written this with the tape, but... (obviously not!)
I also recall (and perhaps will find), a "part 2" to this. "905" is not included here, but John needed me to fax the sheet music to him at 2AM!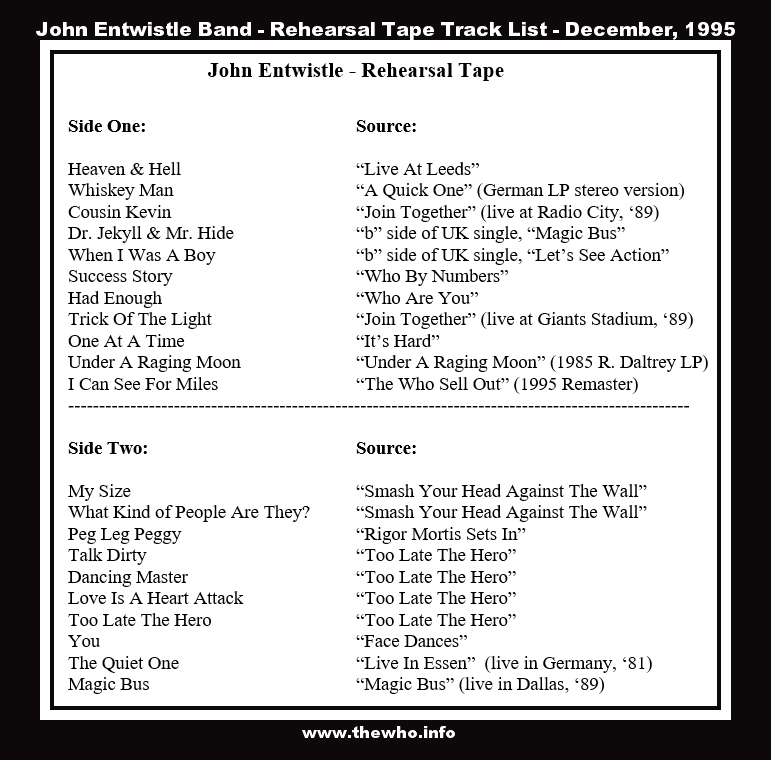 ---
August 2, 2022
John Entwistle - Reboots Solo Career - Part 2
Just prior to joining Rat Race Choir on the road in 1987, John had finished recording another solo/solo band album in 1986... The Rock. This album was a departure from John's previous solo albums as he wanted it to be a "band album" (of which he was a member), vs. a solo album (which was all about him). The album was set to be released in 1988. I recall being out to lunch one day and hearing John on the Scott Muni Show playing tracks from and promoting the "soon to be released album". Unfortunately, just prior to the release, the record co was "busted by the FBI". John had already assembled a new band, comprised mostly of band members that played on the album (but substituting Zak Starkey for the drummer from Rat Race Choir).
I was fortunate enough to see this band on July 2, 1988 at the Stone Pony in Abury Park, NJ. One of the first in the door, I planted myself right in front of John. It was a tight, powerful show, with a set list mostly comprised of songs from "The Rock", as well as some of John's Who and solo songs. I will never forget the bass lines belted out from "Love Is A Heart Attack" - a fantastic rendition. Lead singer, Henry Small sang most of songs.
The 1988 band didn't hold together. The Who reunion of 1989 and stories of band member "infighting", left many bad feelings.
John's next attempt at a band, was a very short lived "superstar" band called The Best (band members included, Jeff "Skunk" Baxter, Simon Philips, Joe Walsh and Keith Emerson). Not exactly sure what happened here, but they really sounded good.
In 1995, a new John Entwistle Band was being formed. A member of that band popped into my Who forum and announced himself. Nobody responded, but I immediately sent him a private message asking him what the plans were. Basically, they was looking to recreate the 1987 set list of Who covers. I explained to him that John's fans didn't want a "Who Cover Band" and were greatly disappointed with that concept in 1987. We discussed set lists at length and I created a "set list tape" of what I thought would be a great fit for the band - most of the songs were adopted (with a few exceptions that John later told me, "...were impossible to play live.").
The newly formed band got off to a great start, initially supporting "The Rock" (again), but this time, copies of the newly released CD were for sold at the shows. Fans were thrilled over this version of the band, but the band was not without its share of problems... (Stay Tuned For Part 3)

Sound Samples:
Love Is A Heart Attack 1988 You 1988 Bridges Under The Water 1988 Bridges Under The Water 1996 Life After Love 1988 Life After Love 1996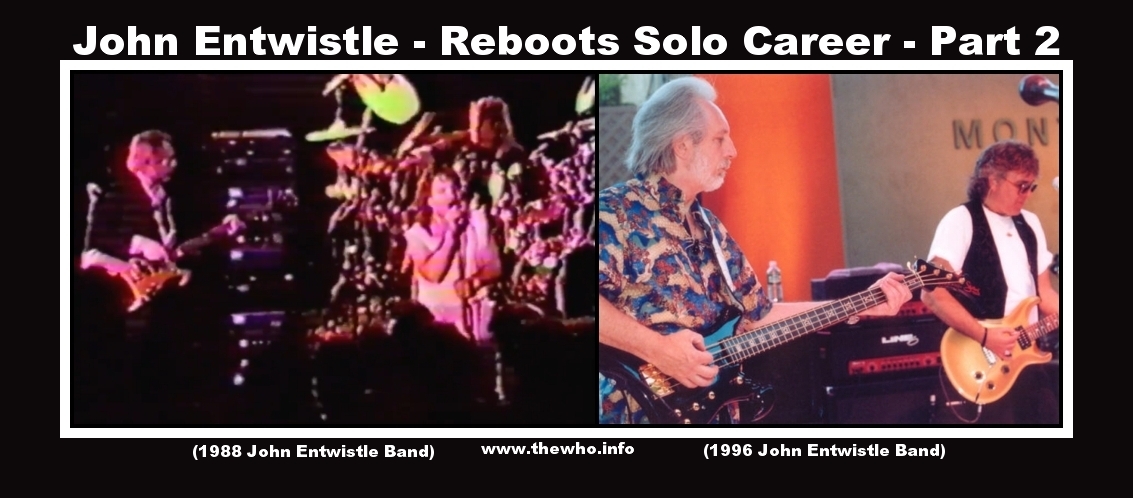 ---
August 1, 2022
The Who - The Beat - 1967 Germany LP
Before the days of eBay and easy Internet shopping, "The Who - The Beat" was considered a rare and expensive item. In the late 1980's through the 1990's, prices were typically between $100 and $250 (if you could find one). I found this copy in 1995 at a small record show for only $80. I couldn't have been happier. One of the best Who LP covers (and check out Pete's tie).
Essentially, this is a colorful Germany reissue of My Generation. Note the big "stereo" print on the label. Back in the 1960's, there were several methods to simulate stereo, but none of them any good. For this album, they drowned it in reverb.
Here's a sound sample of My Generation
Thanks to eBay (and similar), copies of this album can be obtained for even a fraction of what I paid. It may not sound great, but you can't beat the cover...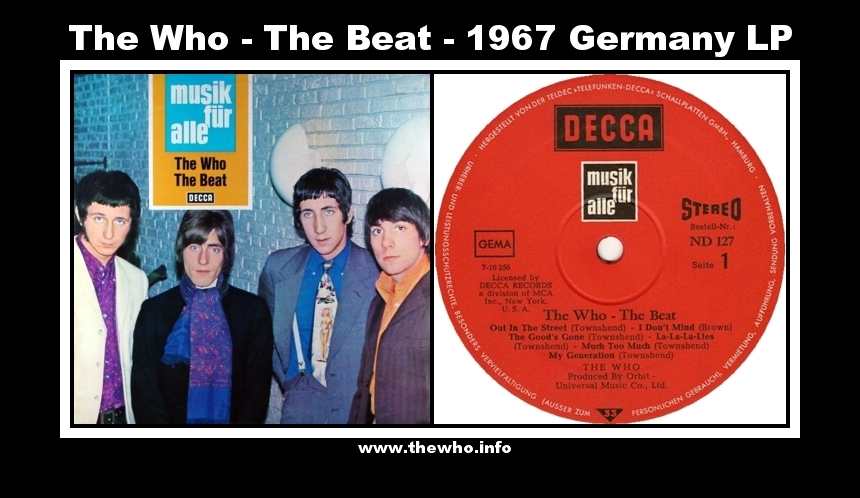 ---
(FOR PREVIOUS BLOG POSTS - CLICK NEXT)
___________________________________
Copyright 2002, 2003, 2004, 2005, 2006, 2007, 2008, 2009, 2010, 2011, 2012, 2013, 2014, 2015, 2016, 2017, 2018, 2019, 2020, 2021, 2022 | RWhiteFang | All rights reserved. No part of this website may be copied or used for any other purpose without the express permission of the site owner. | This page was last updated on Wednesday August 17, 2022 06:19 AM