Welcome! This site is all about The Who. Inside you'll find close to 19,000 pictures spread over 1,000+ web pages about the world's greatest rock band - The Who!
Use the navigation buttons on the left column to find info about their music, videos, books, magazines, posters and various other related information.
The first ever recordings by The Who - "I'm The Face" and "It Was You" !!!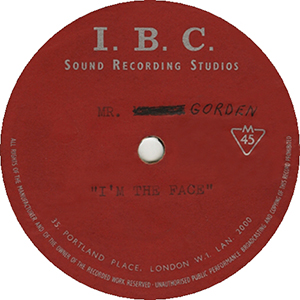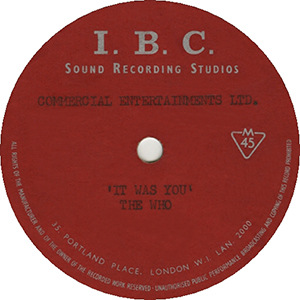 (Click on the pictures above to hear a sound sample of each song.)
In 1964, The Who went through several name changes after evolving from The Detours. First they were The Who, then The High Numbers and back to The Who again...
Before, they recorded "Zoot Suit" and "I'm The Face" (as The High Numbers), The Who recorded these (2) two songs on May 11, 1964 and June 4, 1964, respectively.
As you can quickly tell from the sound sample, this version of "I'm The Face" is very different than the one you are so familiar with. The sample starts from the middle
instrumental section of the song to demonstrate the flavor of the differences. "It Was You" is Pete Townshend's very first song! It was released by The Naturals in 1964
and Chaos & Co in 1966, but never by The Who. Hopefully these recordings will see a 2020 official release. You can read all about the acetate story here. Enjoy!
Follow us on Facebook previous showcase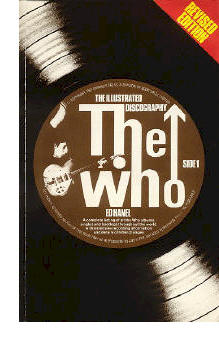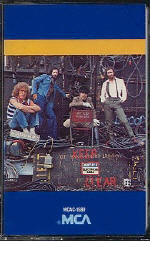 About... The site is made up entirely of my personal collection. What started with a cassette tape of Who Are You (pictured left) at the end of 1978 has grown to more than 6,800 of The Who / The Who solo records, CDs and tapes. Why? I found The Who to be a "unique band" - different and so much better than anything else I've ever heard. As I listened to their music, the more I was drawn in. At some point, I was listening to "The Who music" almost exclusively. I began buying more... I initially started "collecting" in order to have every released Who and Who solo song available. "The Illustrated The Who Discography" (pictured right) became my collecting 'bible'.



I soon learned that not every Who record or CD was "created equal". Albums that I thought were "bad", were merely "bad pressings", which could be found elsewhere (i.e. from other countries) with much better sound quality. (Good sound quality helps you enjoy the music. Bad sound quality is a distraction and hurts the music.) In the process of seeking out the best recordings <of The Who> from around the globe, my collection began to grow. Eventually, it became a matter of, "another cool picture!"

Since all recordings by The Who are not created equal, I have added audiophile sound quality reviews under each album section to help you decide - what's the best source for you.

My collection, while quite large, is by no means "complete". As with any collection, there's always more to be collected. Please come back from time-to-time and look for updates as I'm adding to my collection almost daily ... Oh... and if you want to buy all of it... Make me an offer I can't refuse. The Who For Sale

- wf
Hits To This Homepage Since 03/31/02
This page has been dedicated to the loving memory of WhiteFang, Black Tooth & WhiteFang II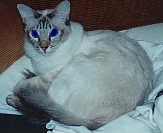 ___________________________________
Copyright 2002, 2003, 2004, 2005, 2006, 2007, 2008, 2009, 2010, 2011, 2012, 2013, 2014, 2015, 2016, 2017, 2018, 2019, 2020, 2021, 2022, 2023 | RWhiteFang | All rights reserved. No part of this website may be copied or used for any other purpose without the express permission of the site owner. | This page was last updated on Tuesday April 25, 2023 04:20 PM