The Who For Sale?

I would consider selling it all...
In addition to everything that you see on this site, I have approximately 400 duplicates. Lots of "Who stuff"... (see below)*
Need more info? E-mail me at: whitefang@thewho.info (please read below before pressing send)
(An Excel spread sheet is available to anyone who is seriously interested and can demonstrate the means to afford it...)
I am not willing to break-up the collection.
I have spent over 30 years collecting and would like to see it go to a "good home", intact (what you do with it thereafter is your business).

The website and domain are included for free with the sale ** - as well as full-sized, higher resolution digital scans of the entire website content

All inquiries will be treated confidentially.
* My current inventory consists of (approximately) - Updated March 2, 2022: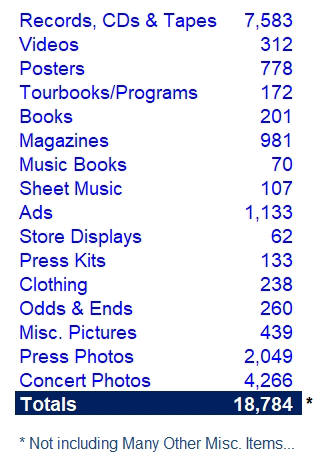 ** Based on the terms of the sales agreement, I would consider supporting the website for a defined time period.
___________________________________
Copyright 2002, 2003, 2004, 2005, 2006, 2007, 2008, 2009, 2010, 2011, 2012, 2013, 2014, 2015, 2016, 2017, 2018, 2019, 2020, 2021, 2022, 2023 | RWhiteFang | All rights reserved. No part of this website may be copied or used for any other purpose without the express permission of the site owner. | This page was last updated on Monday April 17, 2023 12:18 PM