| | | | |
| --- | --- | --- | --- |
| | WhiteFang's Who Site - The World's Largest Collection Of The Who Records & CDs | | |
| | | | |
The Who - Discography - Other:

Outtakes Reel from "Parting Should Be Painless"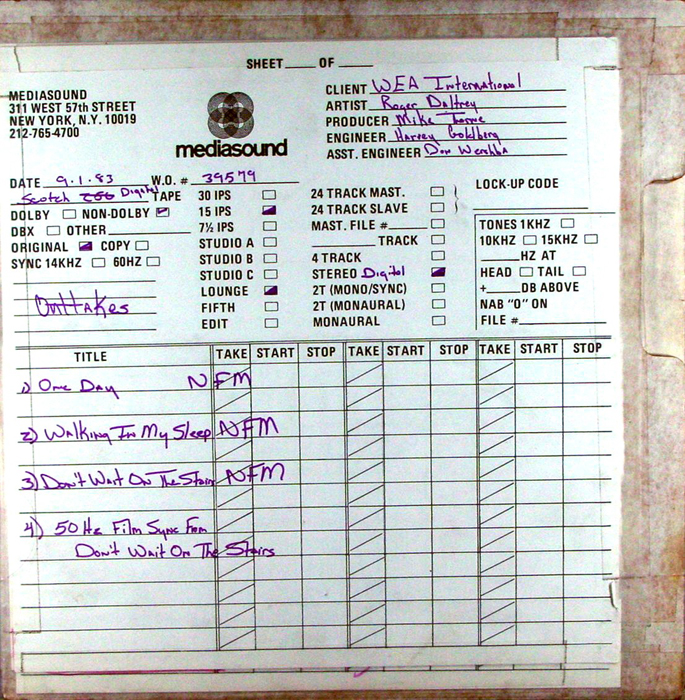 The above is a 10" reel that contains a few outtakes from the 1984 Roger Daltrey album, "Parting Should Be Painless". Apparently it was recorded on a short lived, Mitsubishi X-80 <professional> reel-to-reel deck. The reel also contains a very week signaled, mono, analog guide track of its contents - which turned out to be somewhat interesting. The most material difference between these tracks and their released counterparts is "Don't Wait On The Stairs", whereas this version has a longer run time.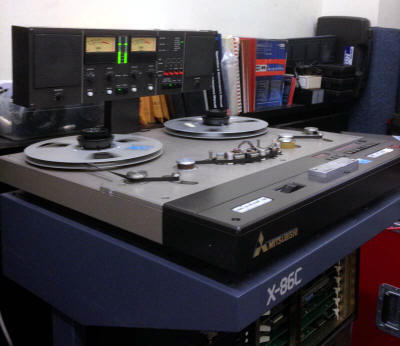 After owning the above tape for 10-15 years, I decided to satisfy my curiosity and find a studio which was able to play the tape. Apparently the Mitsubishi X-86, plays back tapes made on an X-80 - and it did...

So, what was on the tape? "One Day" seems to be the same/similar to the album version - I'd have to spend more time with it to notice any mix differences. "Walking In My Sleep" seems to be the same as the album version, except that the vocal track seems a bit more "muted". However, "Don't Wait On The Stairs" runs over 30 seconds longer than the album version and is pretty cool!

Was all of the above worth the time, effort and money spent "finding out" what was on the tape? Good question...
___________________________________
Copyright 2002, 2003, 2004, 2005, 2006, 2007, 2008, 2009, 2010, 2011, 2012, 2013 | RWhiteFang | All rights reserved. No part of this website may be copied or used for any other purpose without the express permission of the site owner. | This page was last updated on Saturday January 26, 2019 04:55 AM