WhiteFang's Other Collections
| New Stuff | Cats | Fish | Toys | Trains | Cars | Radios | Soupy Sales | Comics | Misc. | The Who | E-Mail | Home |
Cars
I've had a strong interest in cars as long as I can remember - especially Mercedes-Benz. I could probably recite their whole history, all the way back to 1885. In 1995, I finally made it to their factory and Museum in Germany.

Here are some of the cars that I currently have and previously owned...
2020, Corvette C8 Z51 LT2 HTC (Hard Top Convertible). Torch Red with 2-tone red/black interior. This is a fun car. Everywhere you drive it you get the "thumbs up" (whatever value that has in life). This car is pretty loaded and includes the front lift system.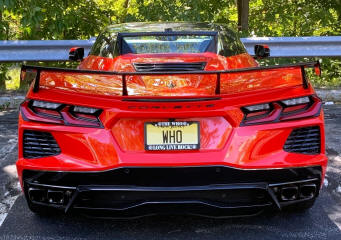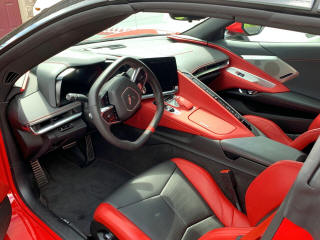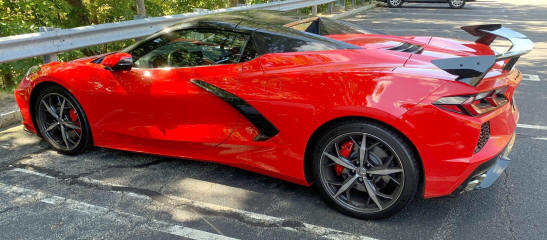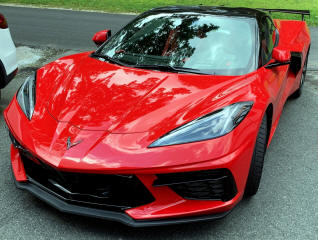 2019, Porsche Targa 4 GTS. Chalk/Alcantara Black w/Red Stitching, Carbon Fiber, Red Seat Belts and Bose. Lighting fast and glued to the road. This car does everything well (except the memory programs)... When I traded the car in, I applied for the pro-rated refund on the wheel/tire insurance (which had over 1/3 remaining). The dealer (Porsche Gold Coast in NY) owed me a refund of over $600. They first sent a check for $141. I wrote them and pointed out their mistake. They sent another check for $192. Basically between the (2) two checks they sent me about 1/2 of what they owed me. Corresponding with the owner and sales manager was futile as they politely said fuck you. Imagine a Porsche dealer robbing a customer of ~$300 after buying a ~$170,000 list price car from them. You might want to check out their reviews...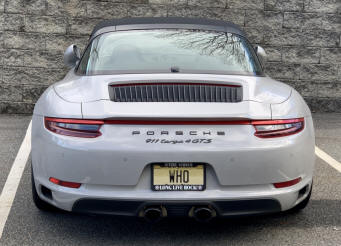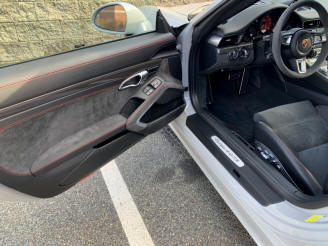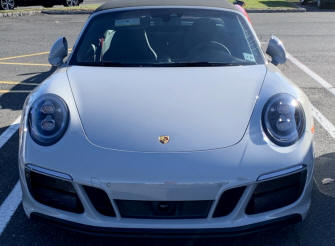 2015, Mercedes-Benz SLK250. Designo White Metallic/Designo Classic Red/Black. A loaded car with pano roof, Harman Kardon, Navigation, AMG Sport Package, etc. Fun, comfortable car with a lot of "zip" for a turbo charged 4... Didn't have this long. After putting a lot of money into it, it didn't turn out to be such a great car... (Looked nicer than it actually was...)

1999, BMW Z3 2.8. Green/Black/Champaign. Limited Edition. I found this beautiful car with only 25K miles in fantastic condition. It needed new tires and an updated stereo w/blue tooth. A very special car. I bought this car because after 27 years of driving manual transmissions, I missed it. However, I was having trouble with first gear on a hill and would rather sell this great car to someone who could give it a "good home" vs. me struggling with first gear on hills. The rare color combo (1 of 300) was just outstanding.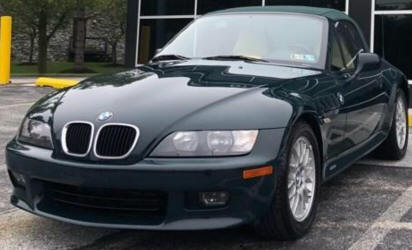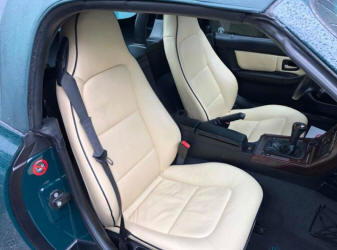 2016, Corvette Z51 LT3. White/Red. My first American car. This car does everything well. It's fast, fun, flat handling, comfortable and cool. A great navigation/entertainment system and a Bose system which will play 24/96 HD recordings. I updated the interior by changing the 100% red seats with OEM two-tone and added the OEM red seat belts as well...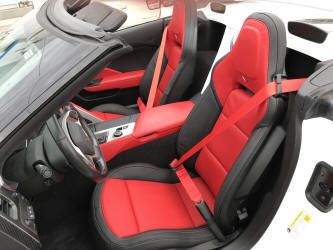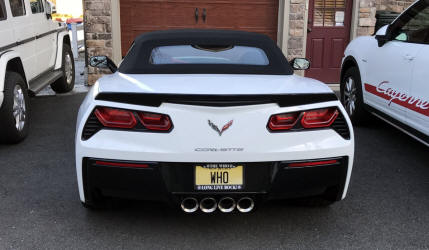 2014, Jaguar F-Type. Red/Red. Fantastic car. Fast, fun, cool, etc. Had a problem with the heated driver's seat. After much ado and a bit of a run-around, the company offered to fix it "as a favor" and were going to mail the parts via regular mail. I thought this was indicative how they might handle something more serious in the future. When my 2003 Porsche blew its transmission after the first month, Porsche overnighted a transmission from Germany. I would have been happy to pay for DHL to get my seat fixed quickly. A "favor" and slow answers from the manufacturer is not the way a high-end luxury car dealer should operate. I traded the car in after three weeks... (The navigation was a bit antiquated.)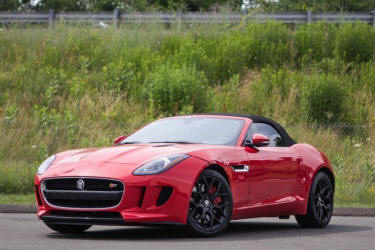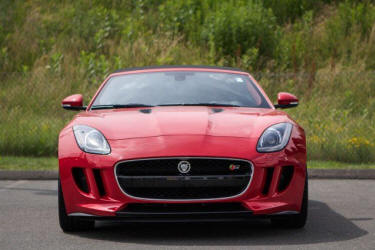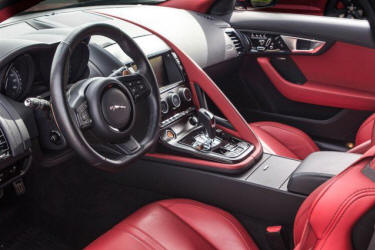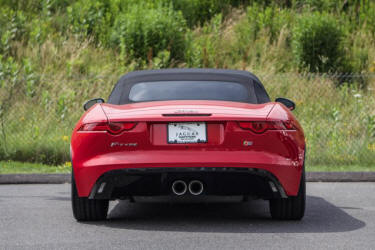 2004, Porsche 911 C4S Cab - X51 Package. Guards Red/Black. This is an interesting and really fun car. I found this one on-line at an authorized Porsche dealer in PA. Only 20,000 miles! I had just sold the 2005 C4S <below> and wasn't happy with the SLK320 <below> and this seemed like a great car. The X51 package raises the HP to 345 (the car is very fast). In addition to the X51, the car has heated sports seats, Bose, navigation and a sport exhaust system (which sounds really good - especially with the top down). I added the stripes and sport exhaust tips (which seem to be very hard to find for the C4S). I still need to get red seat belts, but I'll wait for the "right" deal to come along...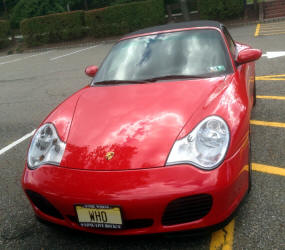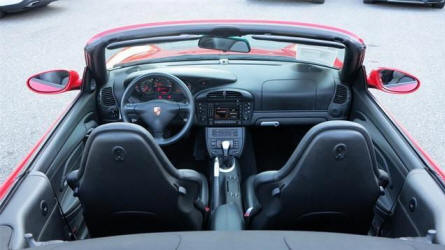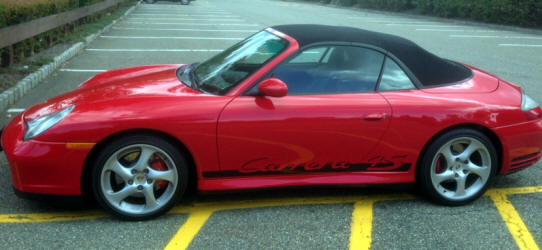 2003, Mercedes-Benz SLK320. Designo Black Metallic/Black, AMG package, heated seats. I've always loved the SLK - since it first came out in 1998. I bought my first one in 1999 - when they offered it with a manual transmission. This one was my 6th one, but my first SLK320 (6 cylinder, 6-speed). Sometime in the Spring, I realized I missed having a convertible and thought it would be nice to have an "inexpensive" classic. After a long search, I found this one at an "authorized" <nameless> dealer in Chicago. The miles were higher than I preferred, but the pictures of the car looked good and the dealership had a solid reputation - but unfortunately, they misrepresented the car (buyer beware!) I've purchased cars <long distance> over the internet before, but this was a "less-than-perfect" experience. Even with a "clean" Carfax, the car had some <obvious> repainting, was a "smoker's car" and a few mechanical issues (which I had repaired). I really liked the combo manual transmission with the larger engine - which was a lot more fun to drive than the SLK32 (below). However, I didn't like the overall condition of the car or the "smell" from the previous owner's smoke - so I traded the car in shortly after I got it. Oh well...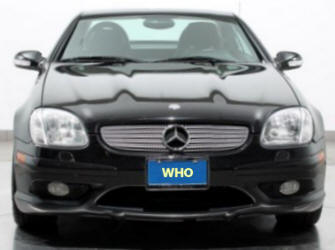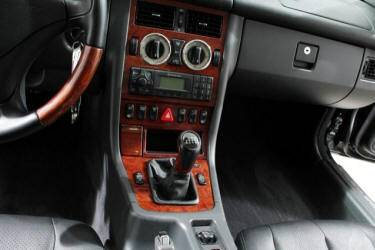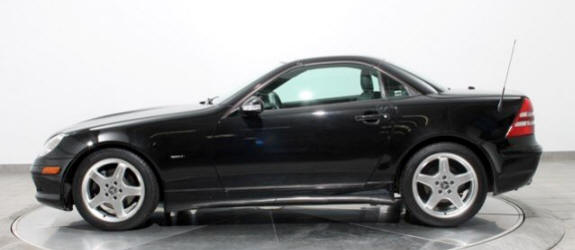 1986, Porsche 911 Targa. Guards Red with black. The "traditional" 911. This is a pretty cool car. Manual steering and an "old fashioned" 915 transmission. Fun to drive and the top comes off for "open sky" driving in nice weather. Of course the "whale tail" makes the car...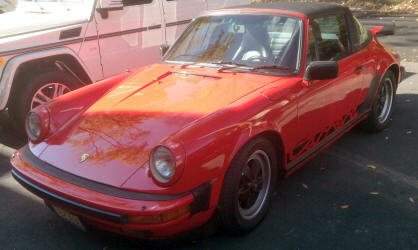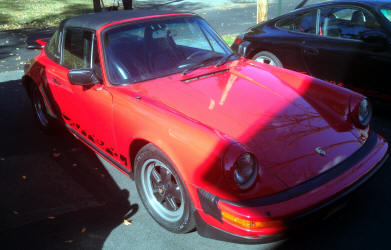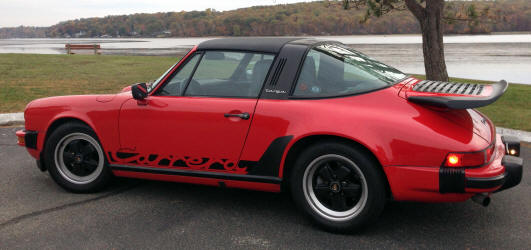 2013, Mercedes-Benz G-550. Arctic White with Designo Light Brown. This replaces the 2007/8 G500. The "G" is a great car and somewhat unique. Designed in 1979, Mercedes has constantly updated and refined it over the years. In 2013, they updated the interior/electronics quite a bit. This car is faster and more comfortable than the previous one(s) and the exhaust "purrs" nicely... Apparently, the only "option" on these cars (besides Designo exterior/interior) is a $200 heated steering wheel (which used to be a standard feature). Doesn't seem to make much sense... (but this one has it!)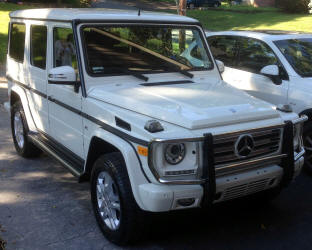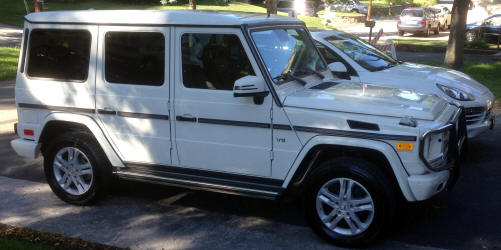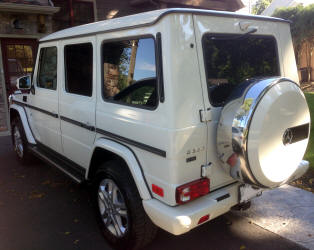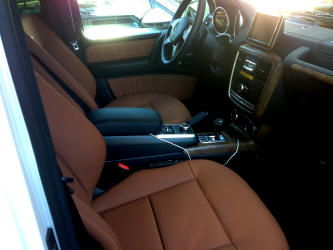 2013, Porsche Cayenne Diesel. I loved my 2011 VW Touareg TDI. It was a great car for the time that I had it. Porsche is long overdue in offering diesel engines in the Cayenne. The Cayenne and the Touareg share many parts - the engine and the chassis being <mostly> the same. However, the Cayenne differs by the handling (flat handling vs. body lean), superior brakes (a weakness of the Touareg) and an interior that will pop your eyes open. The Cayenne has 2 Navigation maps - one in the console and one in the instrument cluster! Very cool. While similarities exist, the Cayenne wins hands down if you had to choose between them. This Cayenne has a panoramic sunroof, heated steering wheel and seats, a trailer hitch, Bose surround sound and a bunch of other cool things. This is my first white car (black interior). Also worth noting, after spending many hours with various Porsche dealers, I was very pleased with the responsiveness and service at Jack Daniel's Porsche in Upper Saddle River, NJ. If you are interested in buying a new or pre-owned Porsche, please email me and I will email an introduction to my sales rep.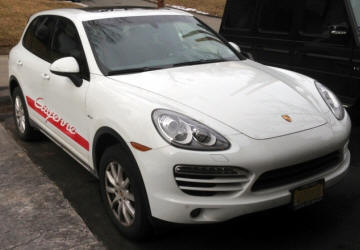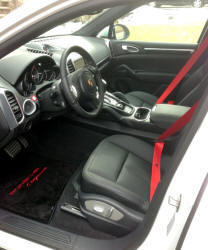 2005, Porsche C4S - 6 speed. This is my first Porsche in over 5 years. I was looking for a car to replace my 2011 VW Touareg (didn't really need 2 SUV's - and that was a GREAT car) and was considering various Mercedes. Long story short, I ended up finding this one! I always wanted a 996 style C4S (in my opinion the nicest looking of all the C4S' that Porsche ever produced). The shifter and clutch combo are *perfect* in this car - probably the best in any of the cars I have driven or owned... This car has factory navigation, heated seats. Bose Sound System and more (and yes - it's FAST). The car only has 14,000 miles on it and was in almost flawless condition... The interior is all black. I need to do a few things like add red seatbelts and perhaps some other "red parts" (i.e. floor mats, lower console, etc...) - we shall see...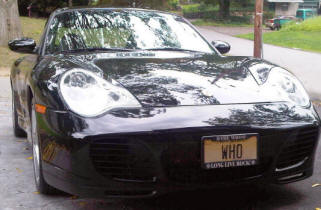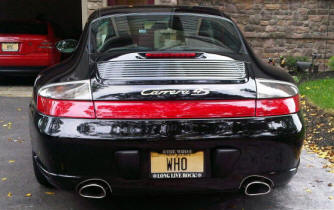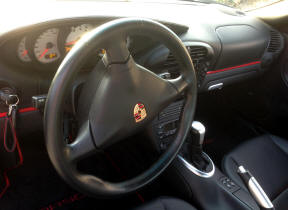 1999, Mercedes-Benz SLK230 - 5 speed. This is my *2nd* Magma Red, Salsa interior, SLK (I had one just like it in 1999!). The only difference between this one and my original one, is that this one has the factory phone kit (which I upgraded to blue tooth with ~$250 in parts) and added 17" AMG wheels from a 2002 SLK32. I found this one in Washington, with 53K miles on it and exceptionally clean and original in and out. Since this was one of my favorite cars, I figured, "why not"? I'm now in the process of getting the minor kinks out to make it "perfect". I'm also considering (for the right price) of adding the AMG "sports package" bumpers and side skirts to make it a snad more "sporty"...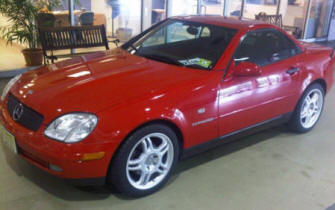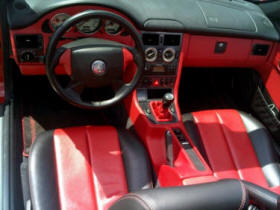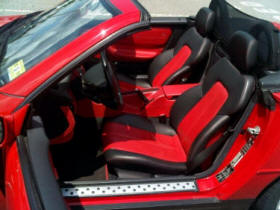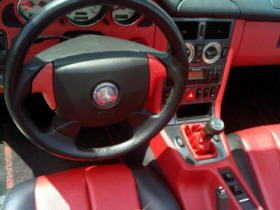 1982 Renault LeCar Sport (R5) & 1983 Renault LeCar Sport (R5)... (And then there were two...)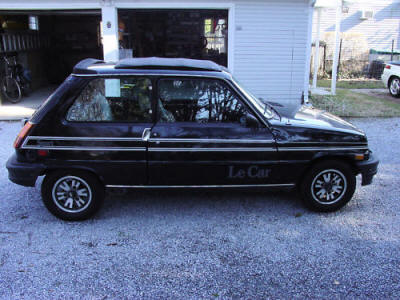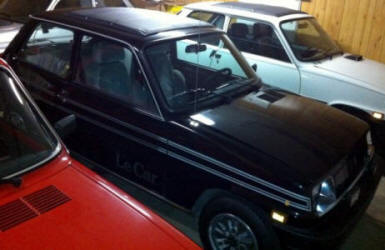 2011 Volkswagen Touareg TDI Executive - While I really liked the GLK, I wanted something a bit more "robust". All the car magazines were raving about the new VW Touareg so as soon as it arrived in the USA, I test drove one and really liked it. I've always been a fan of diesel engines. This one should get ~28 MPG on the highway... This one comes with all the bells and whistles (Navigation, electronic park assist, full pano roof, heated steering wheel, etc.). It's black with a brown interior...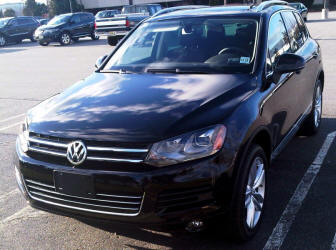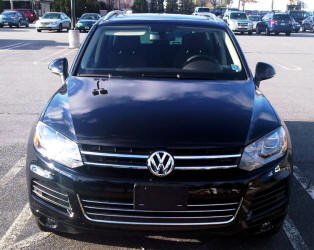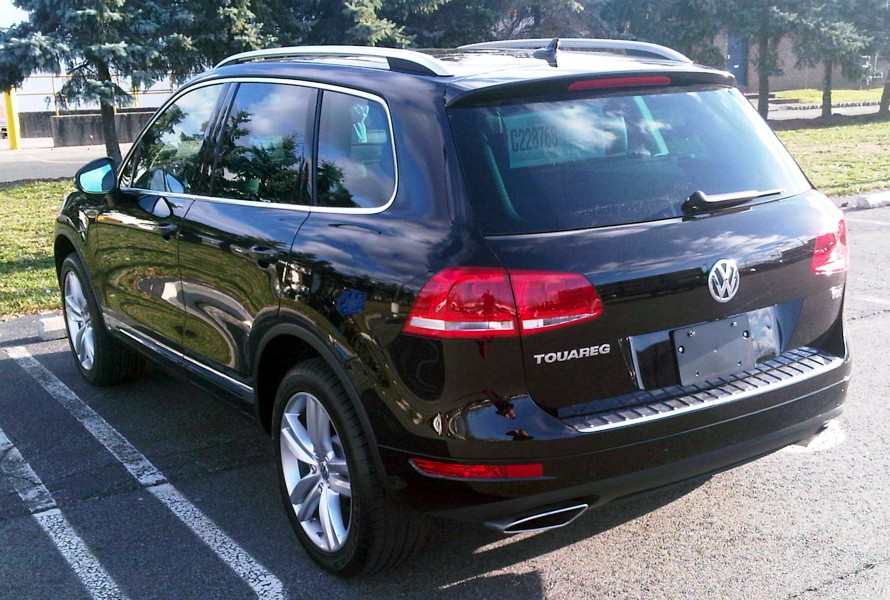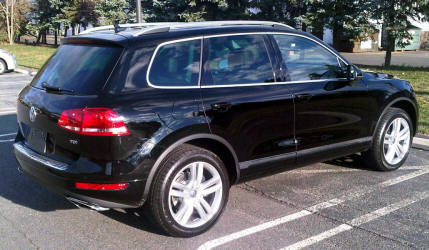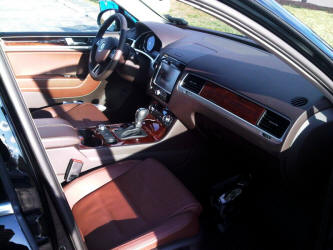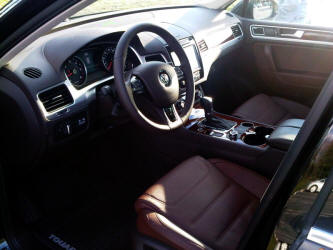 2011 Mercedes-Benz GLK350 - The CL550 is probably one of the best Mercedes ever made... but, I thought it was more practical to have a little truck with the winter coming, hence... the GLK! It's really a great vehicle. This one has all the right equipment: Navigation, Parktronic, Heated Seats, Keyless Go, Panoramic Room, etc... (Traded in on the 2011 Volkswagen Touareg TDI Executive)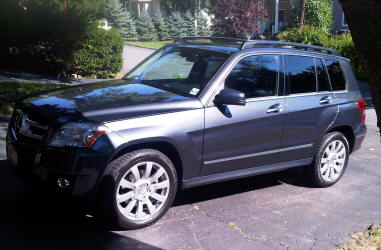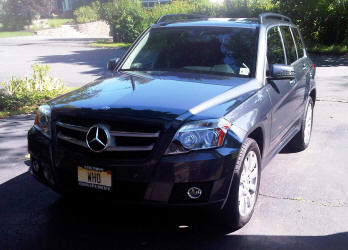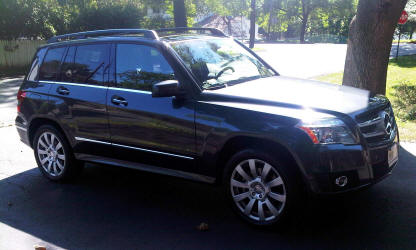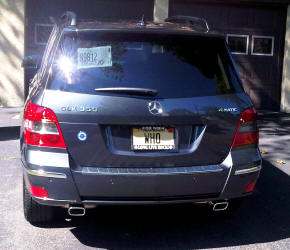 2009 Mercedes-Benz CL550 - This is without a doubt, the biggest car I've ever owned! We had to clean out the garage to make it fit! After putzing around a bit after getting rid of the SLK32, we came across this beautiful car sitting at our favorite car dealership (Mercedes-Benz of Morristown), took it out for a test drive and the rest was history. What a great car! This car has all the great options: designo mocha black with a cognac/black interior, rear camera, night view assist, distronic, AMG package and even a heated steering wheel. What a great car! (I decided it was too nice a car to drive to NY - so I traded it in on the 2011 GLK350 <above>.)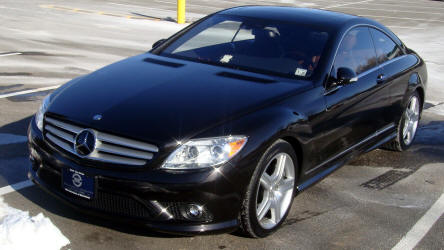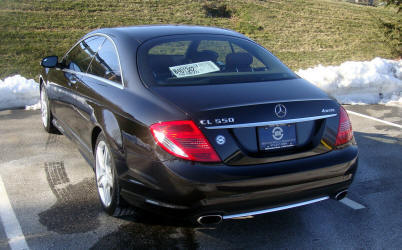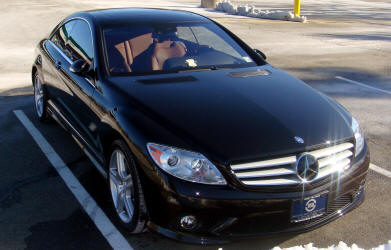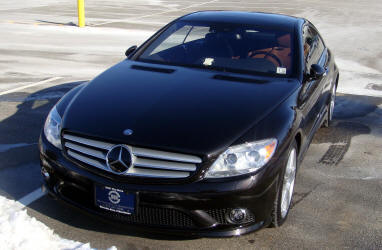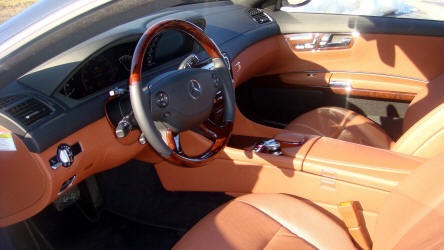 2002 Mercedes-Benz SLK32 AMG - I found this one on Autotrader at an authorized Mercedes-Benz dealer in St. Louis with only ~25,000 miles. It was described as a "100 point car" and physically the car is close to perfect and "showroom new". Unfortunately, the driver's side heated seat didn't work and it was a long ride home from St. Louis without it. This car is a very limited edition, with 349 HP (which is a lot in a tiny car like this). It also has the optional factory phone, which I upgraded with the blue tooth adapter. One of my favorite cars of all time was my 1999 SLK230 (pictured on the next page) and this one is very similar, but a lot more powerful! I recently traded this car in towards a mocha black, 2009 Mercedes-Benz CL550.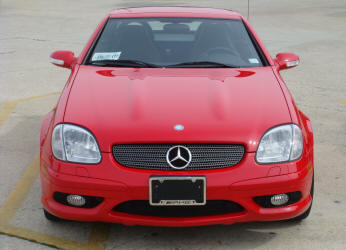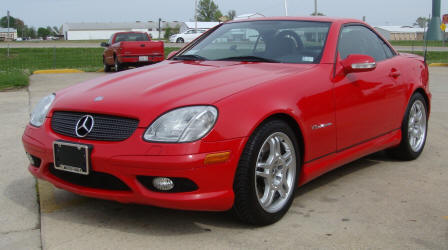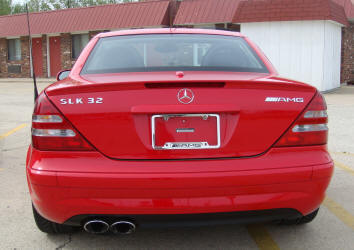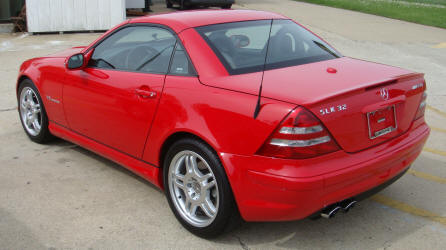 2009 Mercedes-Benz SL550 - The 2008 SL550 (several below) was a great car! I bought it before the 2009 was available and wasn't sure if I would like new design (which I do). While the physical differences are relatively cosmetic (and a matter of taste), the electronics have substantially improved with the latest navigation system and newly designed gauges - which are a huge improvement over the previous version(s). The suspension and overall driving experience can be described as "smoother" and better refined than the '08. Other differences include 19" AMG wheels and the Air Scarf System. Special thanks to Mercedes-Benz of Morristown (NJ) for providing one of the best customer service experiences with everything associated with this purchase!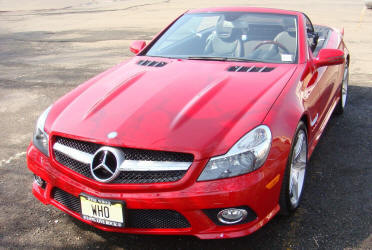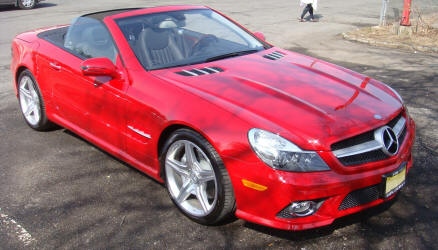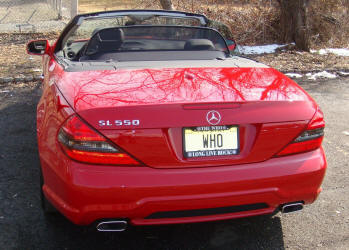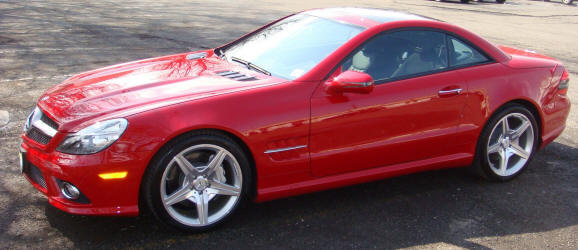 2007/8 Mercedes-Benz G500 Designo Mocha Black - We found this one on eBay and it was at a local dealer. Apparently, it was previously owned by the CEO of Mercedes' Classic Car Center who drove it for ~2,000 miles and turned it in. It was not previously titled. I always thought that the Silver/Black G500 (below) was kind of "plain" - but this one with the Designo package was very unique and very special.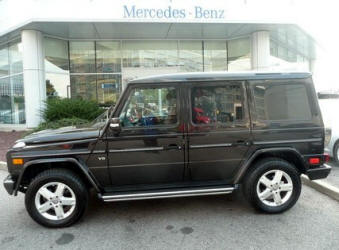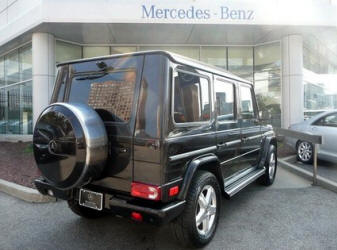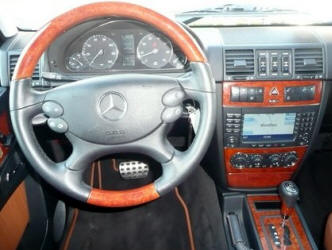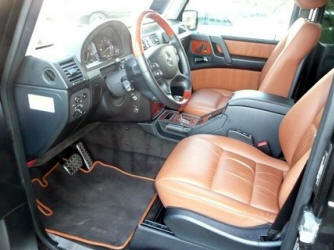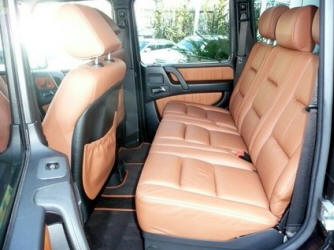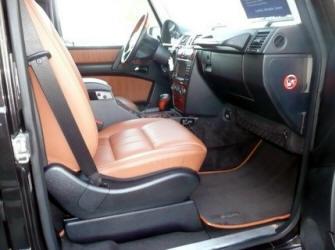 2008 Mercedes-Benz SL550 - I really loved the 2005 SL500 that I purchased in 2007 (below), but didn't care much for the interior color (Stone) and wanted some additional features, which that car didn't have. It seems that if you want a Mars Red SL550, 95% of them come with the Stone interior. Finally after much ado, this car was located at a port in Germany, destined to be shipped to Seattle Washington! We were able to have the dealer's work out a "swap", but unfortunately, the car was already scheduled for a boat and was then delivered to Seattle and trucked back to the other side of the country! All this just to get a black interior (the photos make it look grey - but it is black!). This car has all the options, except for distronic and run-flat tires. I also had the dealer install the lighted door sills - which add another nice element to the car. The SL500 had 302 HP. This one has 382 and it's a noticeable improvement. I traded this one in on the 2009 (above).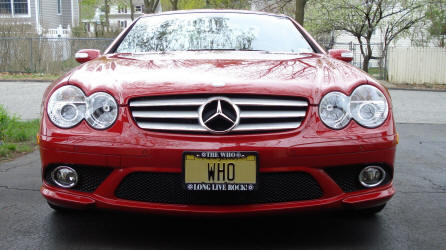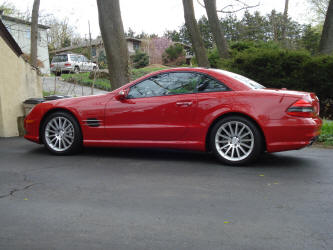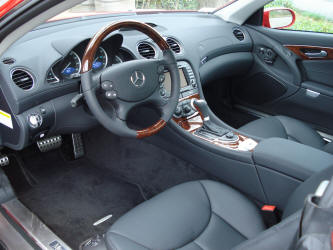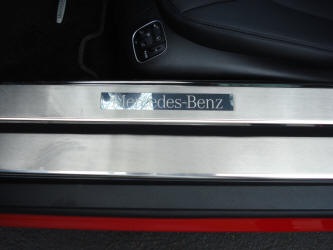 2008 Mercedes-Benz E350 4-Matic - While I really liked the C300 4-Matic (below), I guess I've gotten a bit spoiled in my old age. It was a really nice car, but it was missing some of the "niceties" that I have become accustomed to. I viewed the C300 as a "better BMW", but what I really wanted was more of a "traditional Mercedes" and that's exactly what the E350 is - and with all the bells and whistles. This car has a special Cognac/Black interior with Designo wood. The options include pano roof, keyless go, parktronic, voice control, and all the features you would expect from a well-appointed Mercedes-Benz. This E was traded in on the CL550 <above>.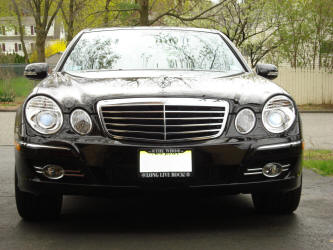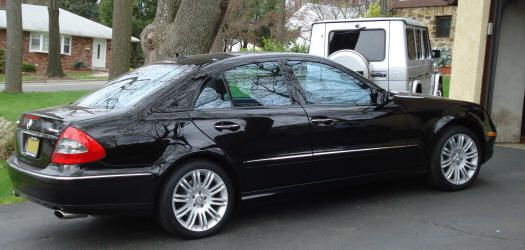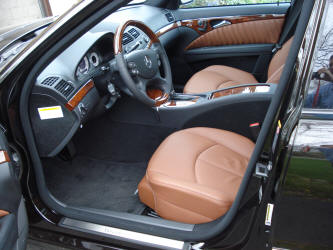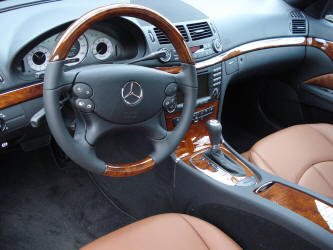 Here was a first - a 2 car pickup in one day! Gone are the remaining Porsche. Pictured below is a 2008 Mercedes-Benz C-300 4-Matic (Sport), with Panoramic Roof, Quick Park, Navigation, Heated Seats, etc... A very nice car, but too be traded in on a loaded E350 4-Matic <above>. Also pictured below, is a 2008 Mercedes-Benz G500 - a great "go anywhere" vehicle! This was traded in on the 2007/8 G-500 (above).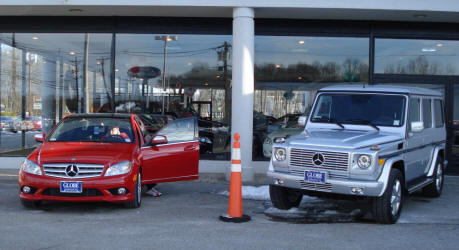 2005 Mercedes-Benz SL500 - I have always been a big fan of Mercedes-Benz dating all the way back to Karl Benz's 1885 "Patent Motorcar". However, I have driven manual transmission cars exclusively for the last 27 years. I had previously driven a 2003 SL55, but thought it was "too fast" and therefore a bit uncomfortable to drive. However - recently I test drove the SL 500 and really enjoyed it. I set out to find a 2007 SL 550, which had a red interior and one was located in California. While shopping at my local Mercedes dealer (the same one featured on The Sopranos), they happened to have this beauty with only 2,700 miles on it. Essentially, it made sense to buy this car and save ~$30,000. As you can see by the pix, the car is loaded. Mars Red with a <2-tone> Stone interior, parktronic, panoramic roof, AMG package and just about every other option except for distronic, tire pressure monitoring and the integrated telephone. I traded this car in on a 2008 SL550 (Mars Red/Black) <see above>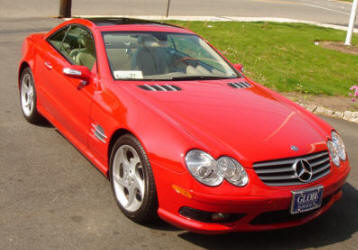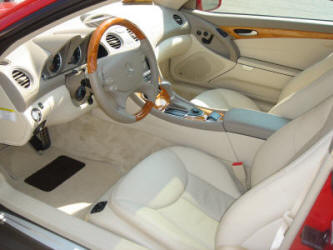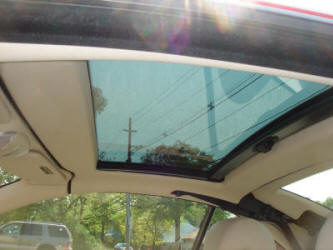 2006 Porsche Cayenne S Titanium Edition - Porsche #11. Essentially the same car as Porsche #10 (black Cayenne Titanium Edition) below (which lasted about a month). This one wasn't defective. All the same equipment (park assist is really fantastic), except the black one had variable assist steering, while this one has titanium colored roof rails and a CD changer. This was a very special vehicle... (traded in on the Mercedes-Benz C-300 pictured above...) ...Unfortunately, driving this car was a constant reminder of what happened in the previous Cayenne - so I had to sell it.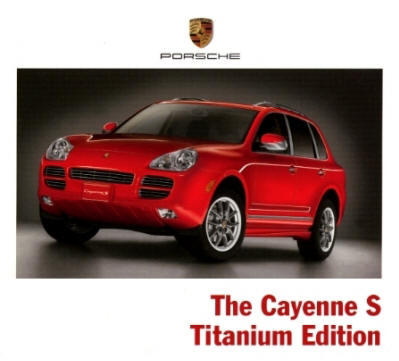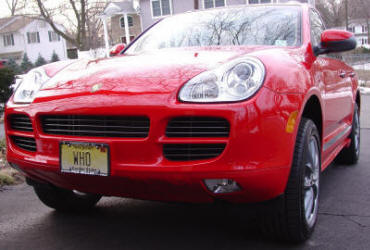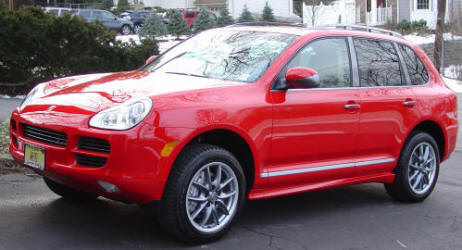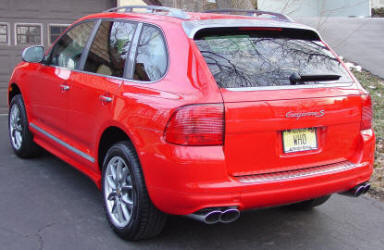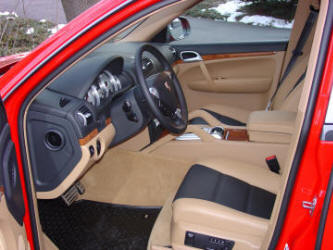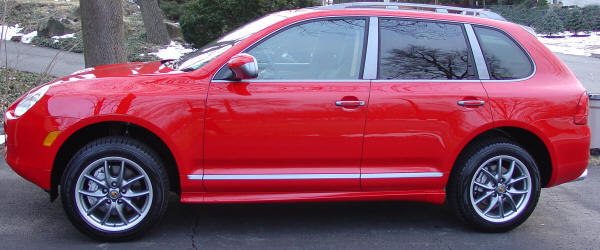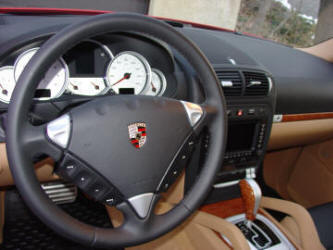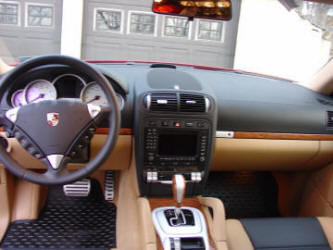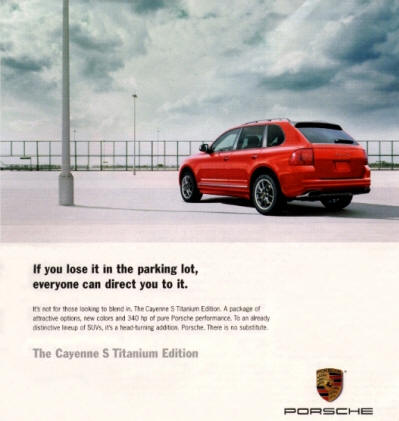 2006 Porsche Cayenne S Titanium Edition - Porsche #10. I had really wanted the "pure red" version of this, but it was impossible to find one with the right equipment as most of the better equipped cars were in black. Perhaps the next one... Porsche is about to change the body style (slightly) on the Cayenne - which essentially means a change of the grill and headlights. However, the nice two-tone interior (which is only offered with the Titanium Edition) would be no more. Porsche came out with this limited edition to bridge the gap between the end of the 2006 run and the beginning of the 2008 models (no 2007 Cayenne was offered). This SUV has all the goodies - special titanium trim, wheels, exhaust, as well as the two-tone interior (which was also offered in black/grey), Navigation, head crests, heated seats/steering wheel and park assist. Some nice improvements over the 2004 V6 - the suspension, transmission and steering are much smoother, giving the car a much "tighter" and "responsive" feel. (The wood kit is on order!) I had to give this car up, because after 3 days I realized the car was defective, unable to be fixed and created terrible suffering.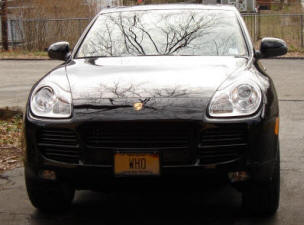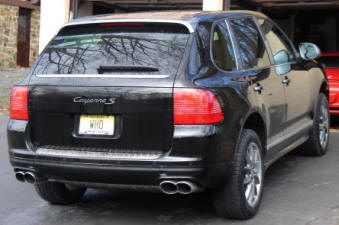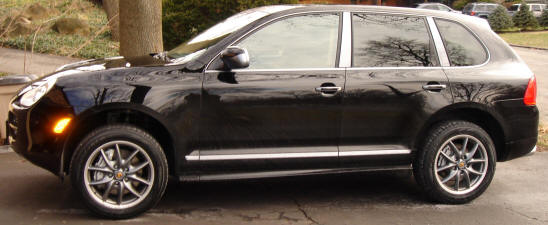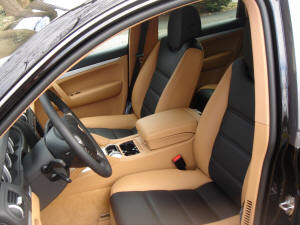 2006 Porsche Cayman - Red painted: wheel rims, console, dash trim, instrument surround, door closers. Plus: navigation, red seat belts, heated sport seats with crests, Bose surround sound, Sport Chronos, xenon lights, park assist, tire pressure monitoring and more...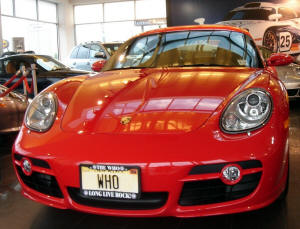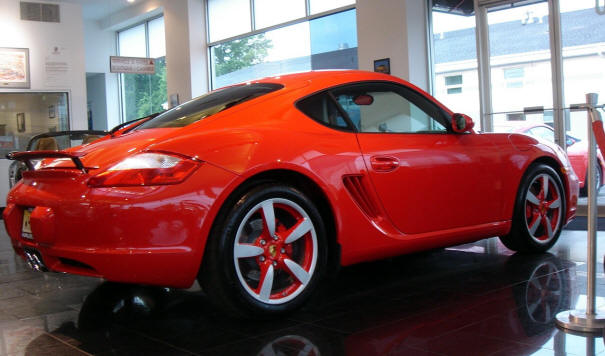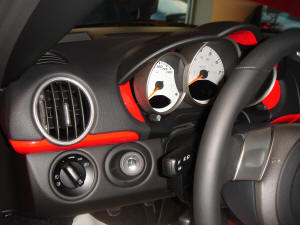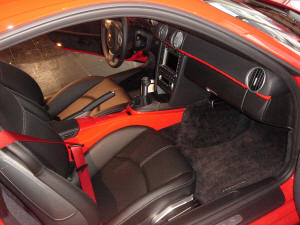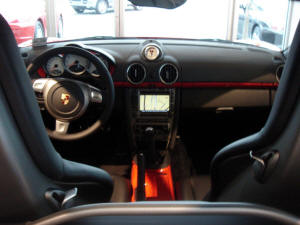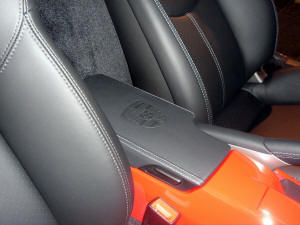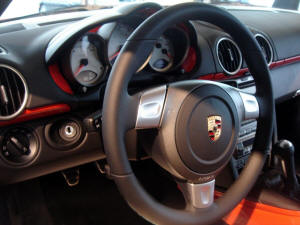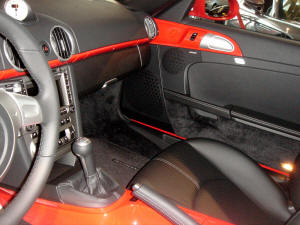 2006 Porsche C4S Cab - Red seat belts and gauges, heated sport seats, sport chronos, sport exhaust, short shifter, nav. park assist, etc... (traded in on the Mercedes-Benz G500 above...)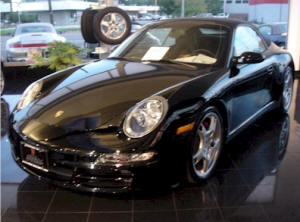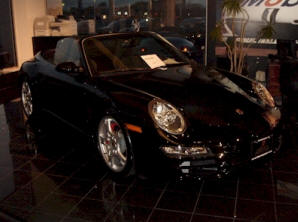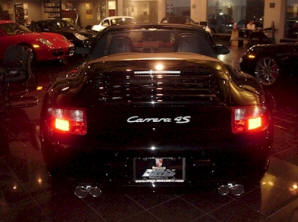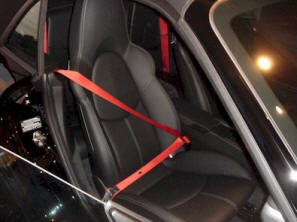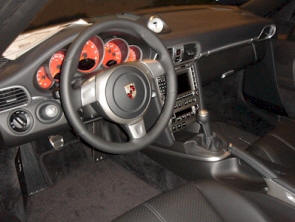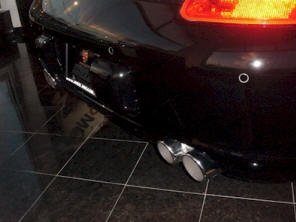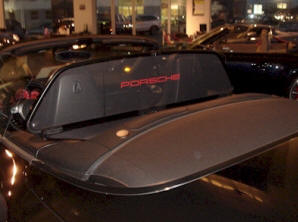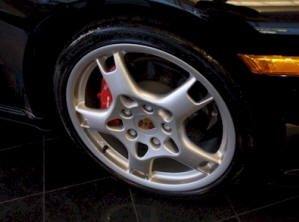 The 2000 Millennium (pictured <somewhat> below) was a great car, but like everything automotive, it was time for a change. Coincidentally, our favorite Porsche salesman (who knew I like red sports cars), called us up because he had this great car in stock - a 2002, C4 Cab. The car had only 15,000 miles and with Porsche certification, would have an extended factory warrantee for 3.5 years. It looked like new, the miles were low and was loaded with great options such as, Navigation, heated seats, aero kit, factory hard top and much more. So... why not? - So, it lasted for not quite 2 years and was traded in on the 2006 C4S <above>.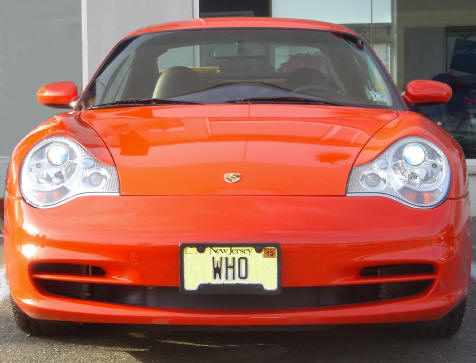 After putzing around trying to figure out what would be the "ideal" winter/bad-weather car and driving a lot of different cars and SUVs, it came down to the Porsche Cayenne, the VW Touarag and the BMW X3. I sorta felt guilty with the idea of owning 4 Porsches, but it was the nicest of the SUVs and felt the most like a "real" Porsche. So, enter the 2004 Porsche Cayenne. This one is equipped with the Bose System, Navigation (a must have), heated seats and, a heated steering wheel (why not?). This is a great "car" - very comfortable, handles great, fun to drive... (This car was traded in for the 2006 Porsche Cayenne Titanium Edition above)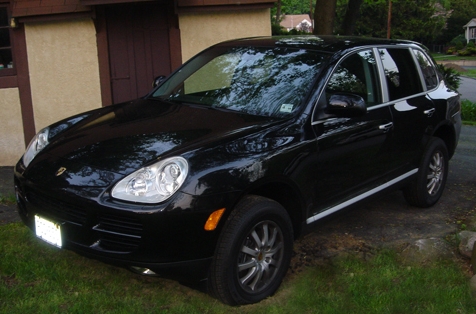 My wife has wanted a 914 for over 30 years. While there are still many around - there aren't a lot in great condition. After searching for several years, we came across this one, which was delicately rebuilt by its previous owner. We saw it, we liked it, we bought it. This is a 1974, Porsche 914 2.0.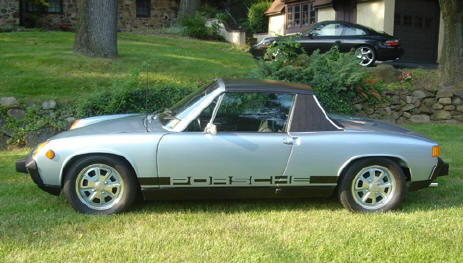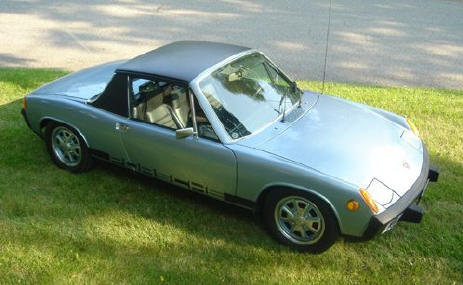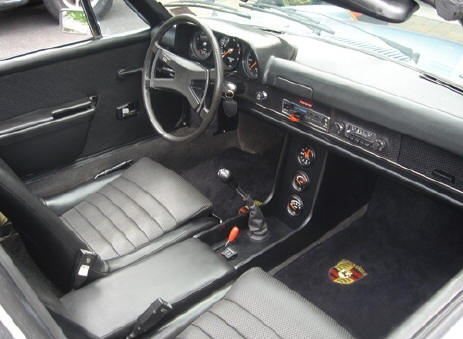 This was a recent "acquisition" - a 1997 Porsche C4S. I always liked the looks of the last of the air-cooled Porsches, and although these pictures show a very "dirty" car (the long ride home from New England), this car is in mint condition. My original thinking was that this would make a great "all season" car (all wheel drive and all), but it's too nice to keep outdoors - so... after much ado, I sold it!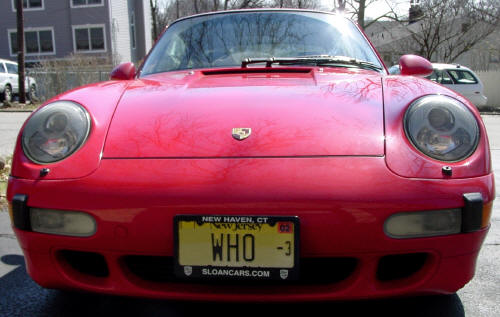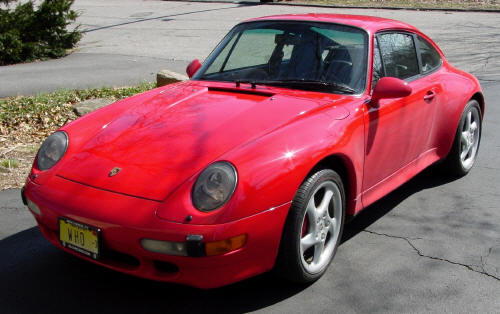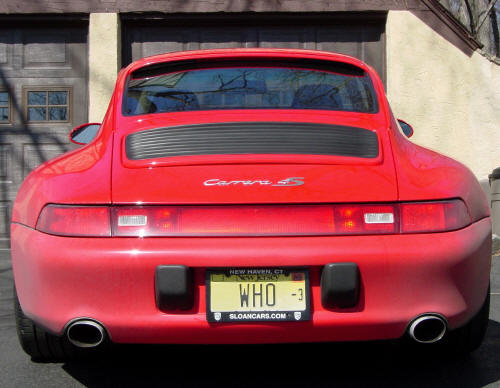 This was my current "every day" (2/03 - 4/06) car, a 2003, Porsche Boxster S - 6 speed. After driving around with the "wrong" color combo for 8 months (see 2002 below), I bit the bullet <$$$> and "upgraded" to the 2003. The 2003 has improved over the 2002 in several areas, (i.e. glass rear window, glove compartment, etc). I also ordered some nice options, such as: sport seats (with deviated stitching), red seat belts, red painted console, red roll bars, navigation, Bose sound system, carbon fiber shifter/brake handle, etc.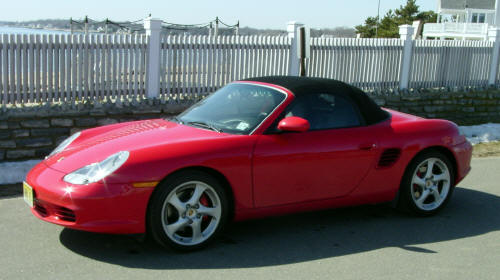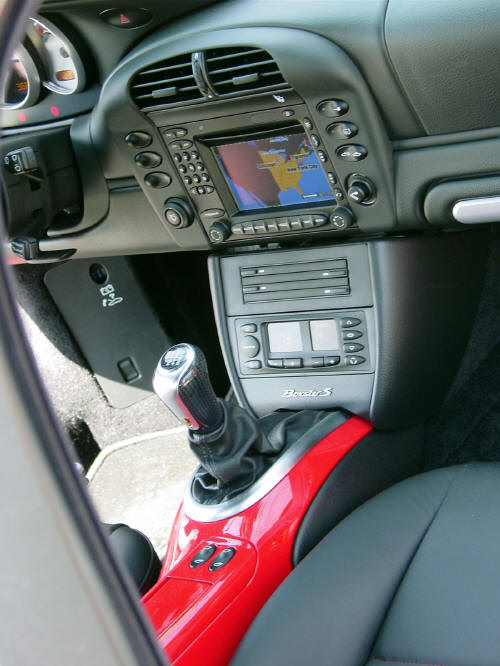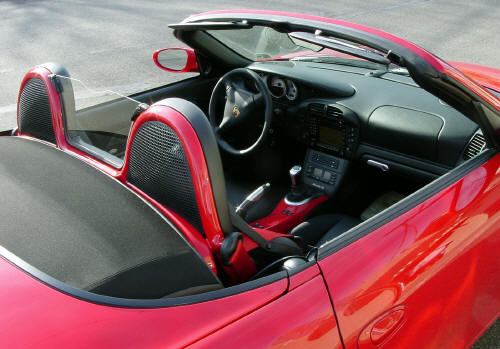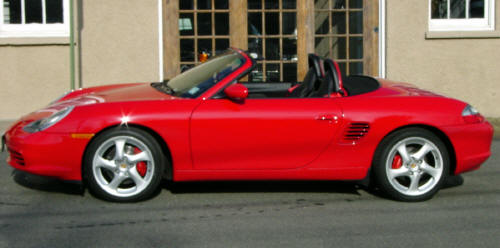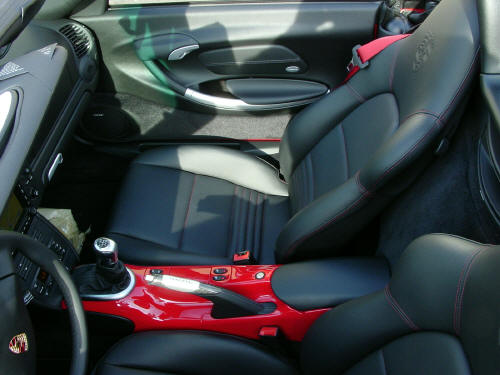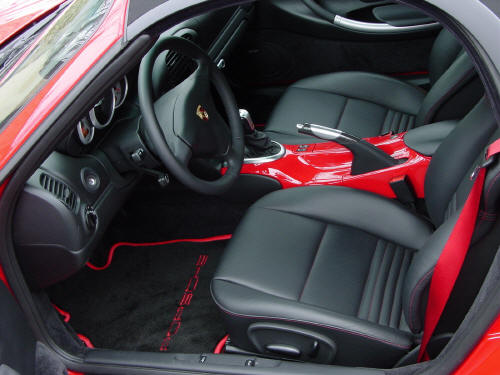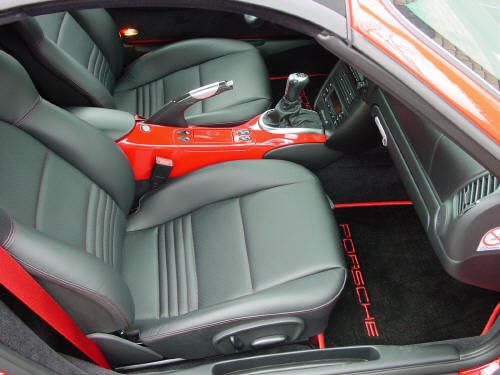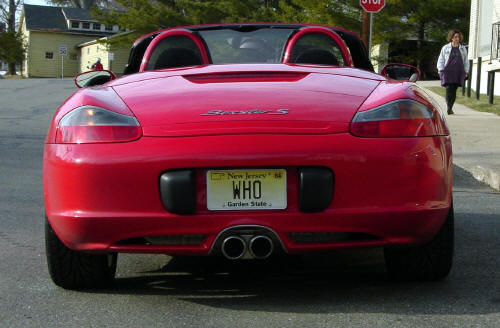 This was my first Porsche, a 2002, Porsche Boxster S - 6 speed. An exceptional performance car - has the best clutch/stick combo on any car I've ever driven. Unfortunately, I should have ordered a black interior (this one has tan), so after 8 months, I traded it in and ordered the 2003.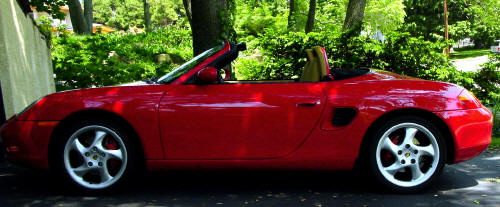 Copyright 2002, 2003, 2004, 2005, 2006, 2007, 2008, 2009, 2010, 2011, 2012, 2013, 2014, 2015, 2016, 2017, 2018, 2019, 2020, 2021, 2022 | RWhiteFang | All rights reserved. Terms of Use No part of this website may be copied or used for any other purpose without the express permission of the site owner.