WhiteFang's Other Collections
| New Stuff | Cats | Fish | Toys | Trains | Cars | Radios | Soupy Sales | Comics | Misc. | The Who | E-Mail | Home |
Radios
Long before Al Gore and Pete Townshend invented the Internet, we used to talk (live) over the CB (Citizen's Band) Radio. It was a lot of fun in its day. Here are some of the radios I've collected over the years...
Pictured below are 3 Tram base stations. 2, Titan IIA's (all tube) and a Titan IV (hybrid). On top of them are several Realistic (Radio Shack) mobile radios, a frequency counter and a Tram Diamond 10 VFO (Variable Frequency Oscillator). The tall, "lollypop" looking microphones are Astatic D-104's.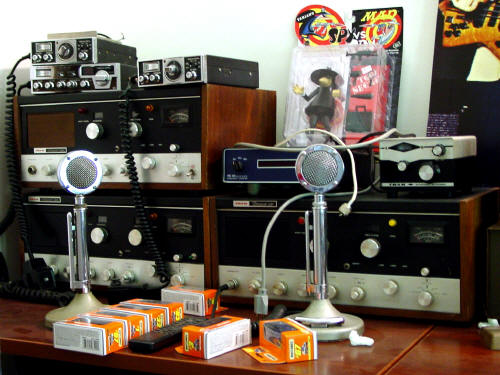 My Original Tram Titan IIA (with unused Astatic Gold D-104 and (2) Tram Diamond 10 VFO's. I originally purchased this radio in 1975! In 1981 I figured out how to modify the receiver to extend to 40 channels (see picture below). By adding a 15 pf capacitor to the tuning coil (with a toggle switch), effectively doubles the range of the receiver (the same modification can be performed on the Diamond 10). I sold this radio to friends 2 or 3 times between the mid 1980's and 2010's - only to buy it back and give it a permanent home as part of my CB Radio collection.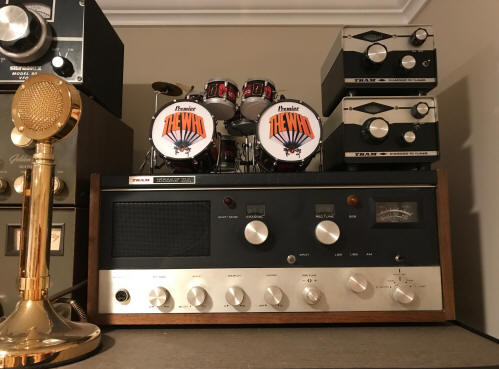 15 pf capacitor added to the tuning coil (with a toggle switch) to extend the receiver range +40 channels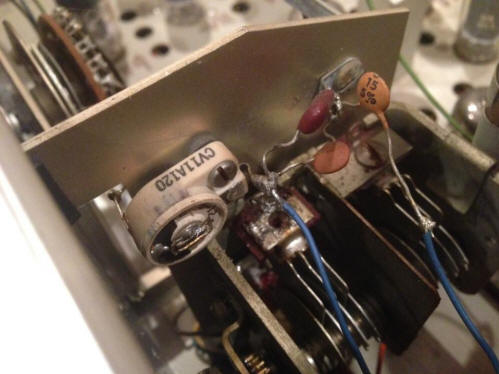 Tram Titan III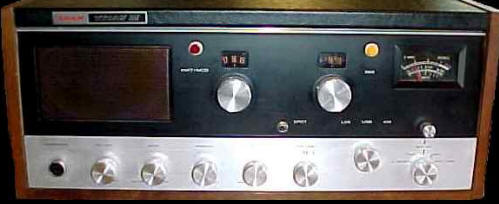 Below is Browning, Golden Eagle Mark III (Separate transmitter and receiver). The equipment on the top of the transmitter (left). Is a Siltronix Model 90 VFO and a Courier Porta-lab on top of it. Next to the Siltronix is a Pal VFO. On top of the receiver is a Courier Royal, tube base station.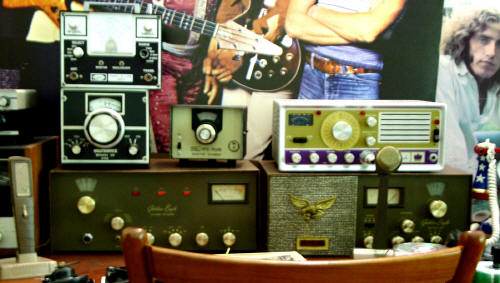 Close-up of the Browning, Golden Eagle Mark III (Banana mic, Turner 776 mic, Astatic Gold D-104 and Siltronix Model 90 pictured)...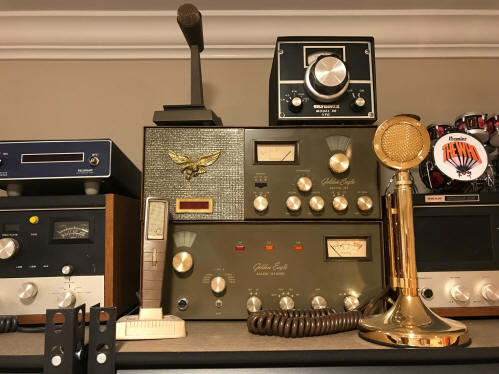 In this "sloppy" picture, is a Tram Corsair mobile (left), with an Astatic D-104 on top of it. Next to that, is a Cobra 139XLR base station. And... on top of that is a brand-new-in-the-box, Turner +2 Microphone.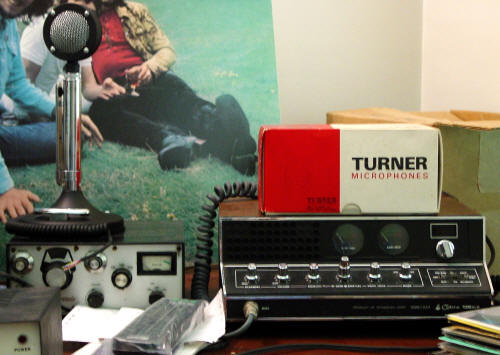 Pictured below is a close-up of the Cobra 139XLR and a rare, Cobra 135XLR sitting on top of it...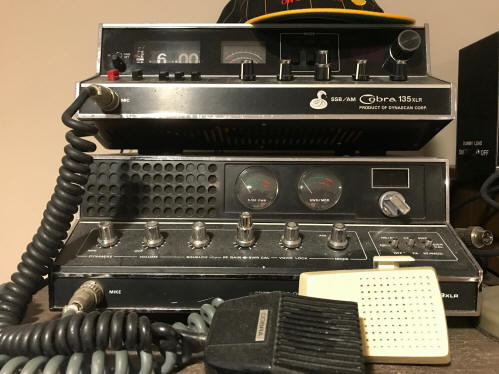 Pictured below is a Lafayette Comstat 25A, tube base station, with a Turner +2 microphone.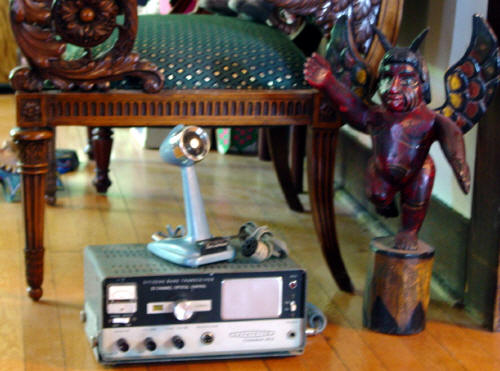 Pictured below is a Lafayette Telsat SSB-140, Tram Corsair, Pal VFO, Turner Super Sidekick (Mic) and an Astatic D-104.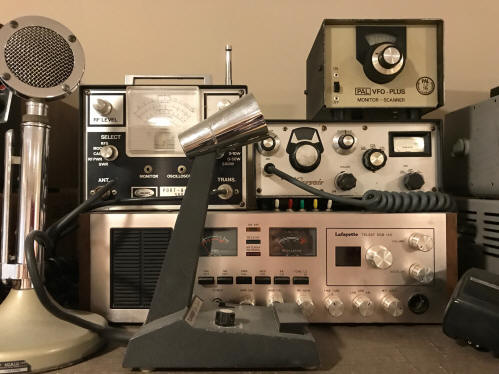 Pictured below is a Courier Royale, Lafayette HE-20d, Realistic TRC-449, Realistic 452 and an Astatic Night Eagle D-104. The TRC-449 was my favorite all-time sideband (SSB) radio and the TRC-452 (the very first 40 channel CB radio released) was my favorite AM radio. The 452 (with slight modifications) could exceed the performance of the Tram Titan IIA (pictured above). A fantastic radio (and best coupled with a Turner Plus 2 desk mic).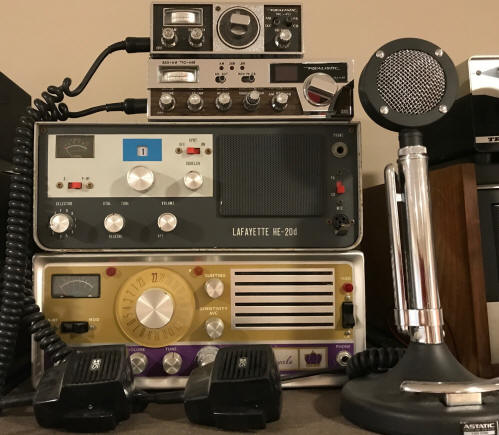 Pictured below is a Courier BL-100 <Base> Linear Amplifier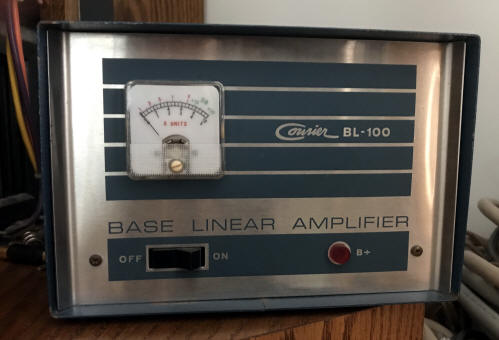 Tram Diamond 60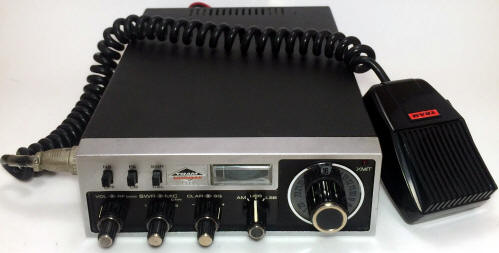 Tram Diamond 40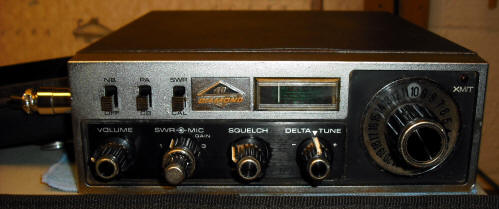 Pierce Simpson Lynx 23 (My Very First CB Radio in 1974)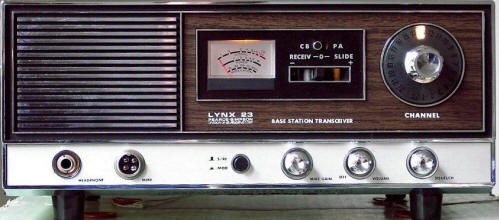 Turner Plus 2 Microphone (Unused)
Hygain 675 VFO

Hygain V/ 675A

Glen 326 VFO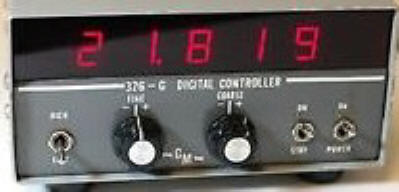 Courier Gladiator PLL 40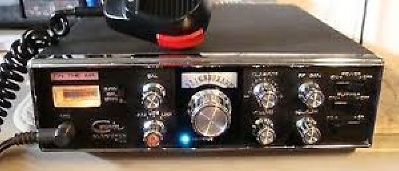 Courier Centurion PLL 40

Realistic TRC-455

Tram TR-27E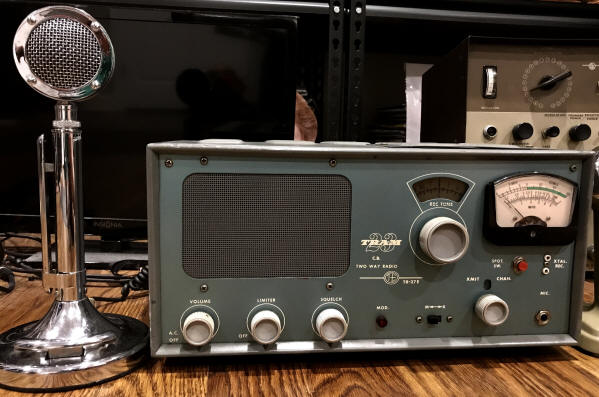 Tram TR-27C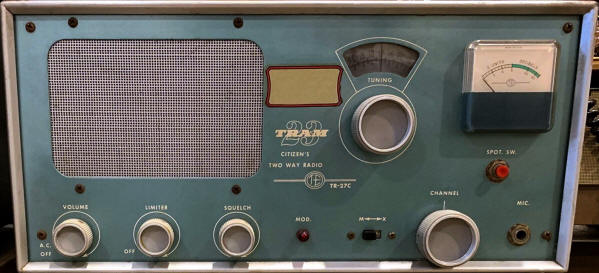 Tram TR-27B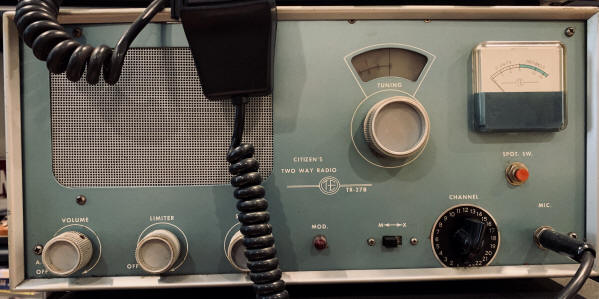 Tram TR-70 (Mobile)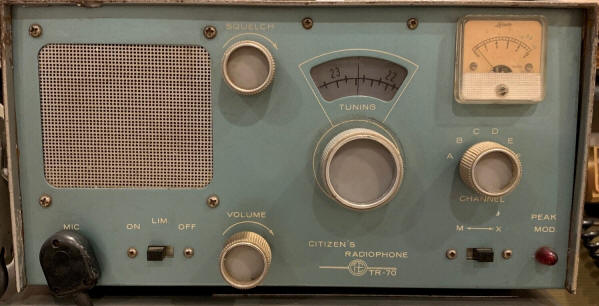 Tram TR-70C (Mobile)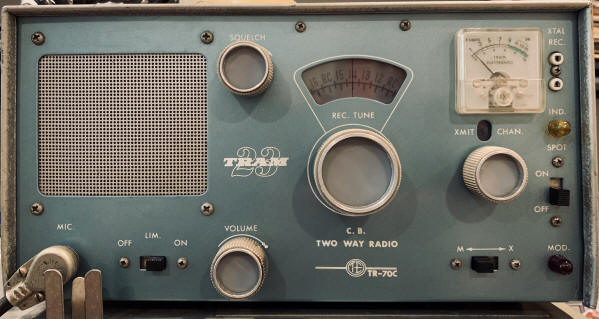 Browning S-9 & R-2700A (23)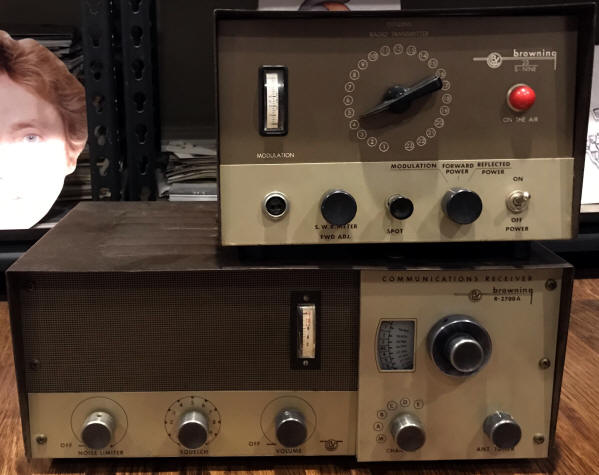 Browning Eagle S-23 & Eagle R-27

Browning LTD

To ensure all my tube equipment is functioning 100%, I have 2, tube testers - one of which is pictured below.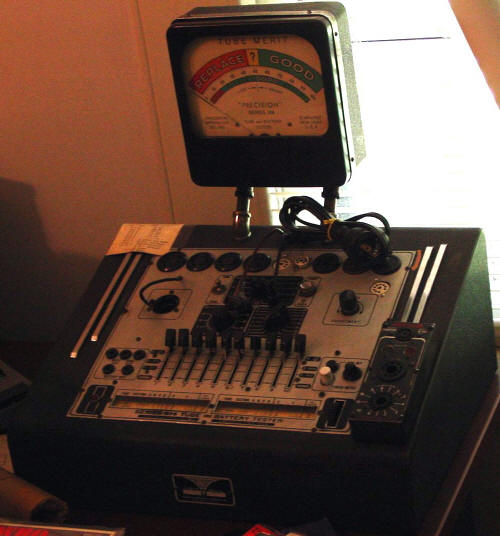 Select Previous Equipment
Cobra 132

Hygain Utopia 623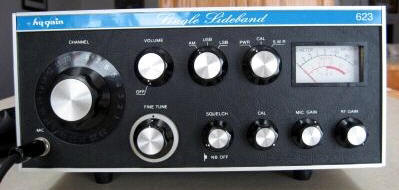 Hygain Afterburner Linear Amp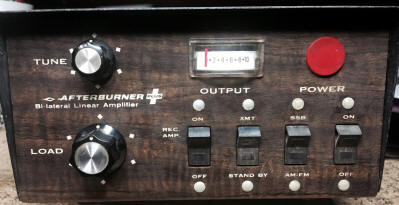 Browning Mark 100 Linear Amp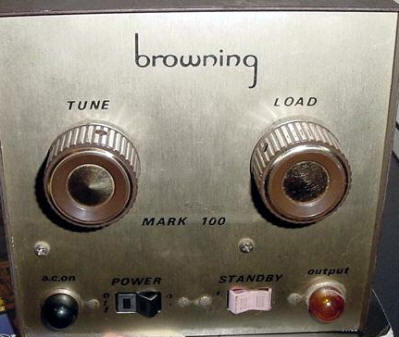 Browning 180 Linear Amp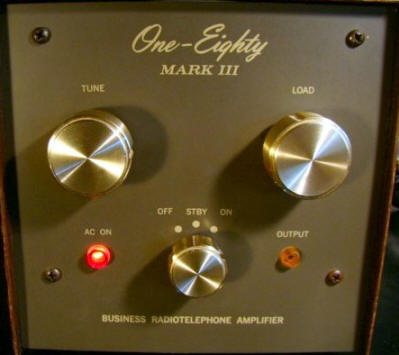 JC Penny 6247 (Same guts as the Lafayette Telsat 140)

Tram XL

Realistic TRC-458

Realistic TRC-30A (One of the most popular radios ever sold and probably the worst!)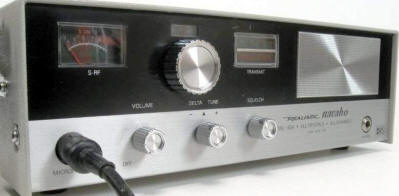 Realistic TRC-48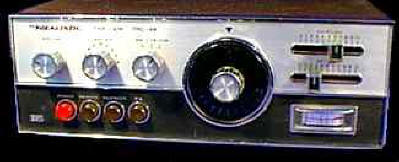 Realistic TRC-448

Cobra 138XLR

SBE Formula D

Browning Golden Eagle Mark II

Browning Golden Eagle Mark III AM / Browning R2700

Copyright 2002, 2003, 2004, 2005, 2006, 2007, 2008, 2009, 2010, 2011, 2012, 2013, 2014, 2015, 2016, 2017, 2018, 2019, 2020, 2021, 2022 | RWhiteFang | All rights reserved. Terms of Use No part of this website may be copied or used for any other purpose without the express permission of the site owner.