| | | | |
| --- | --- | --- | --- |
| | WhiteFang's Who Site - The World's Largest Collection Of The Who Records & CDs | | |
| | | | |
The Who - Discography - Other - Page 12:

The Who - Safety Master Tapes

These are backup "safety tapes" recorded and previously warehoused in Europe. An interesting mix of tapes, which include a stereo "Magic Bus" single (USA version) and a copy of "A Quick One" from the original Reaction label.

(Hear Sound Samples Below)

Circles <aka Instant Party> (alternate mix - mono, "less horn" version) (USA Decca Backup)

Substitute/Waltz For A Pig (Stereo) (EMEA Polydor Backup)

Studio Digital Transfer of the True Stereo "Substitute" (Sounds Great!)

Magic Bus/Someone's Coming (Stereo) (USA Decca Backup)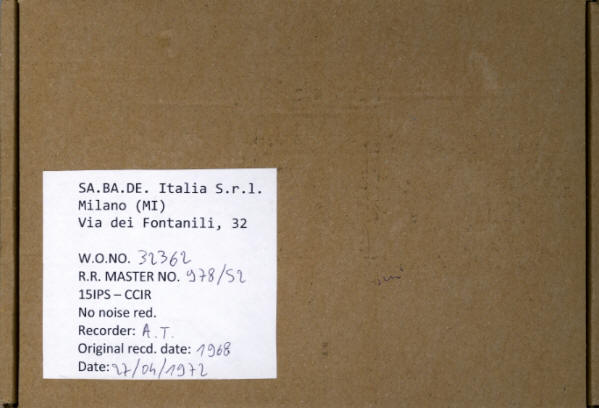 Magic Bus HD Sample Someone's Coming HD Sample
Studio Digital Transfer of the Stereo "Magic Bus" (Breathtaking!)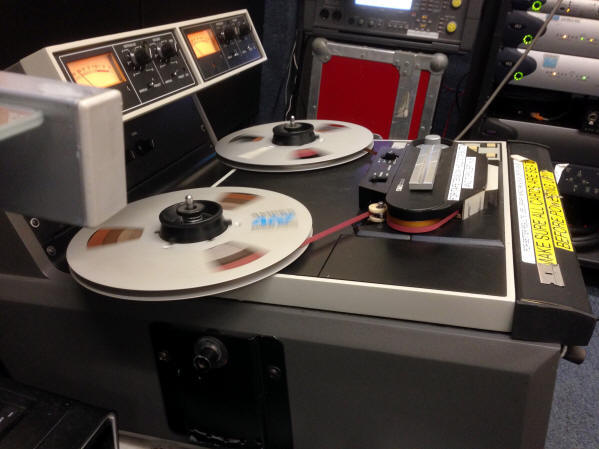 A Quick One <Mono> (UK Reaction Backup)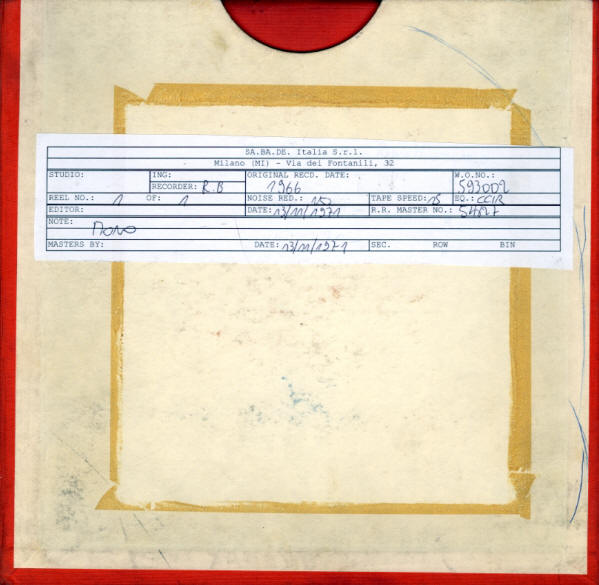 A Quick One <Stereo> (EMEA Polydor Backup)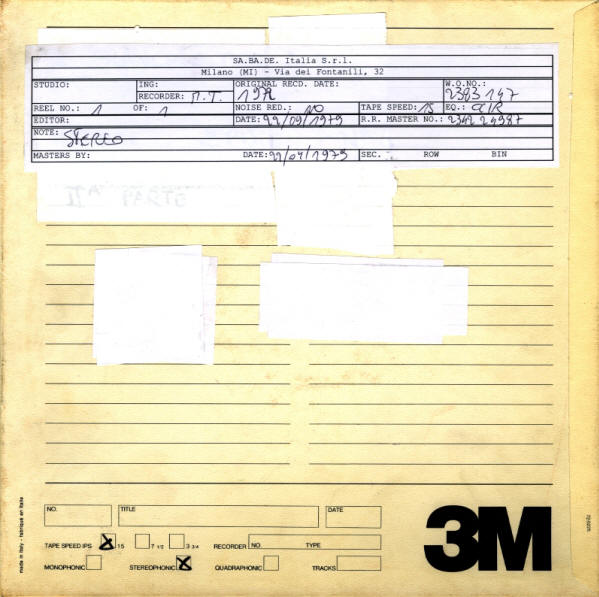 Happy Jack <Stereo> (USA Decca Backup)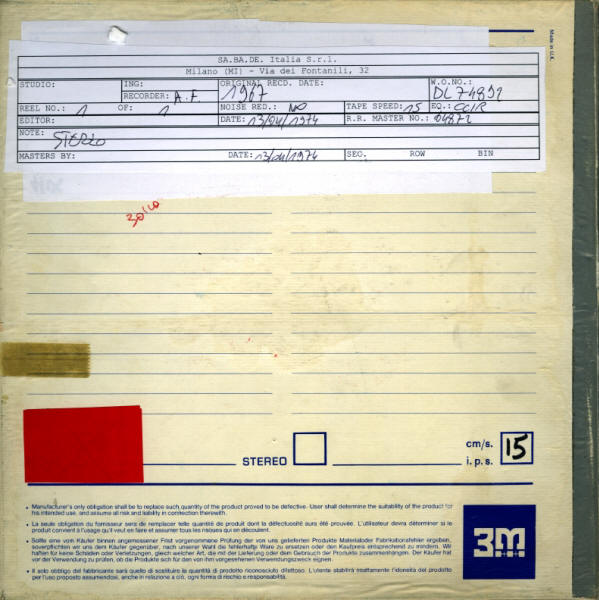 Tommy Reel 1 (EMEA Polydor Backup)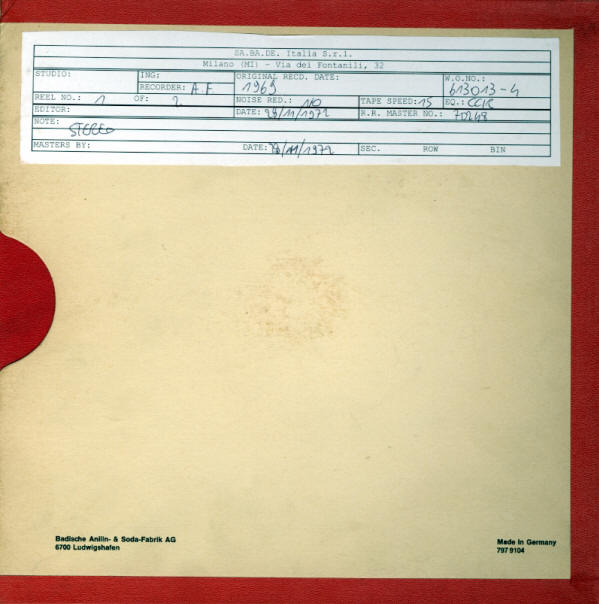 Tommy Reel 2 (EMEA Polydor Backup)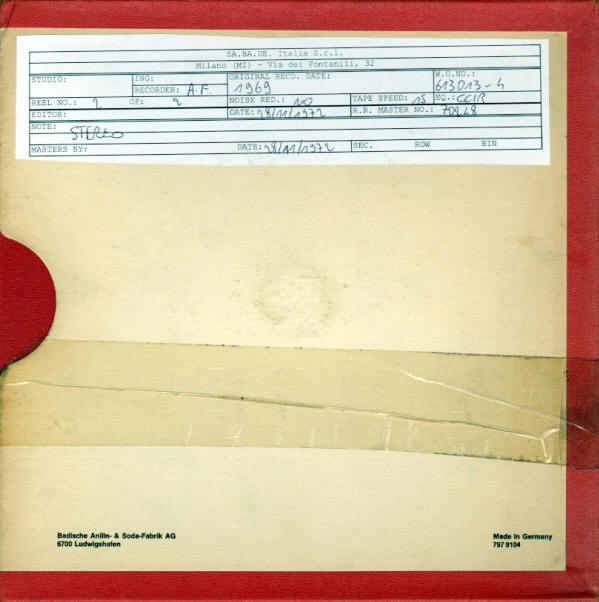 Meaty Beaty Big & Bouncy (USA Decca/MCA Backup)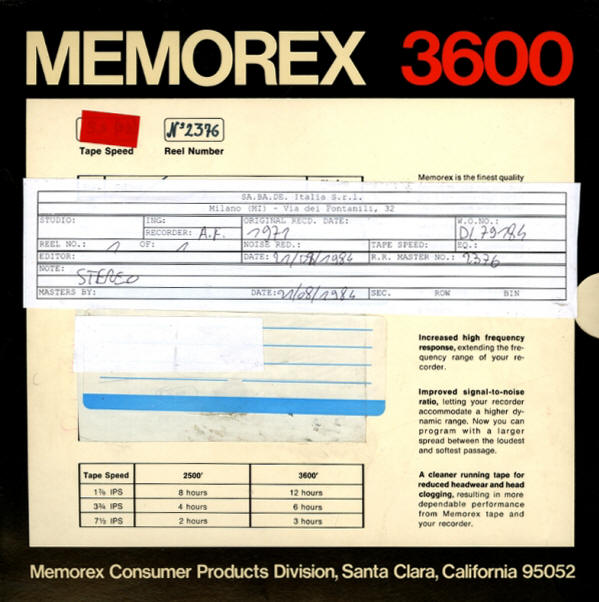 Quadrophenia (EMEA Polydor Backup)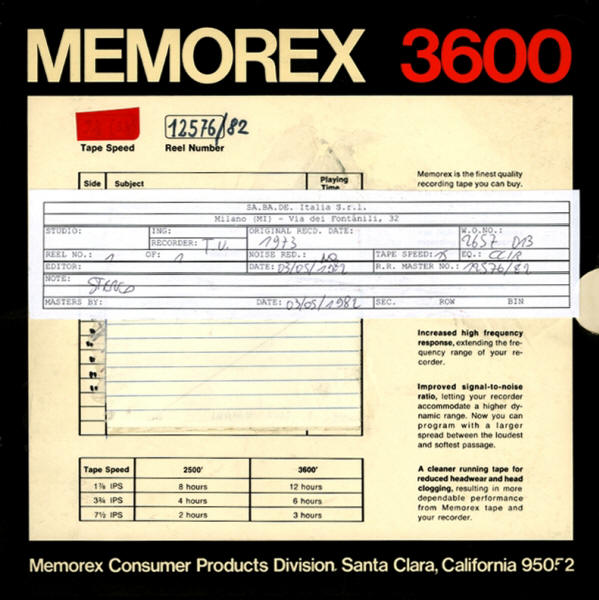 Odds & Sods (EMEA Polydor Backup)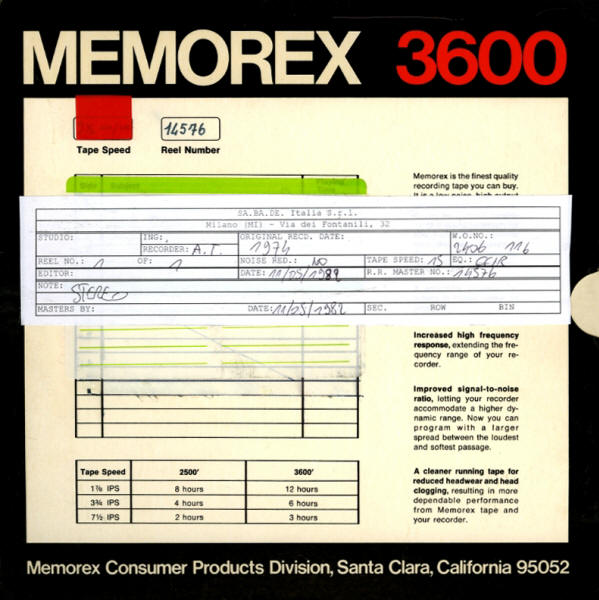 My Generation (EMEA Brunswick Backup)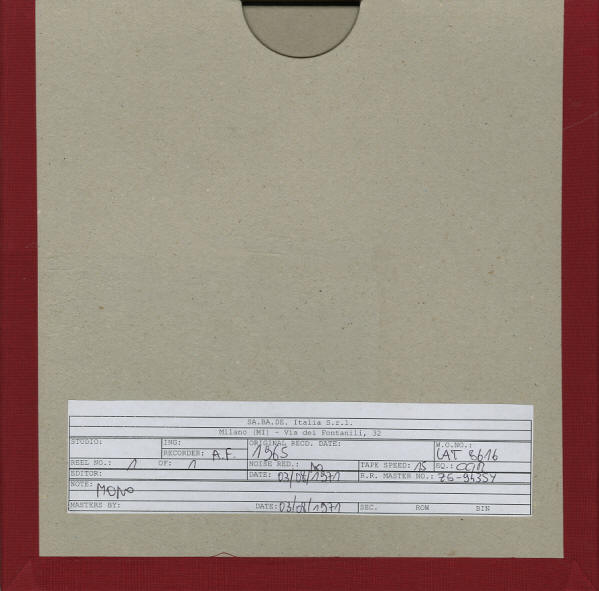 A Quick One (Stereo) (EMEA Backup)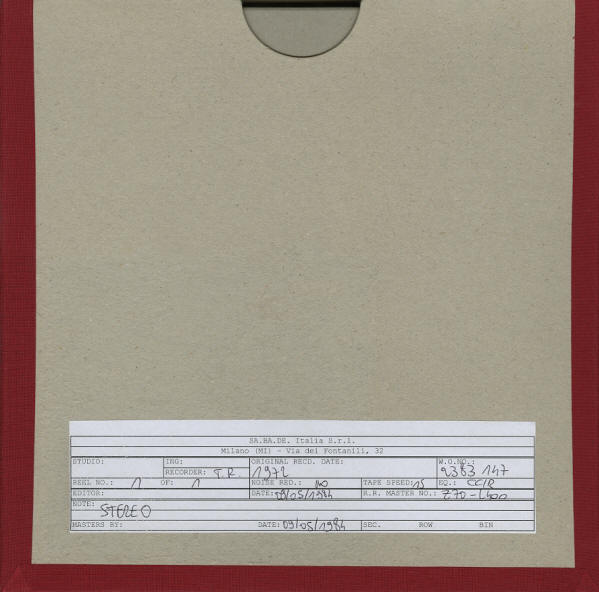 The Who Sell Out (Mono) (USA Decca/MCA Backup)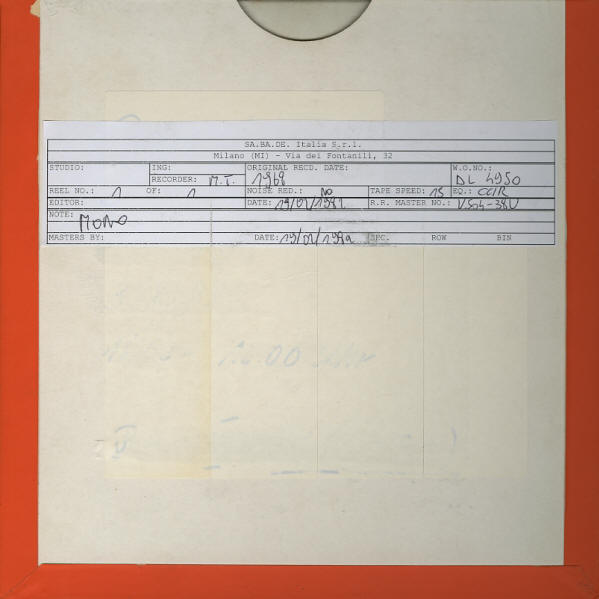 Quadrophenia (Soundtrack) Part 1 (EMEA Backup)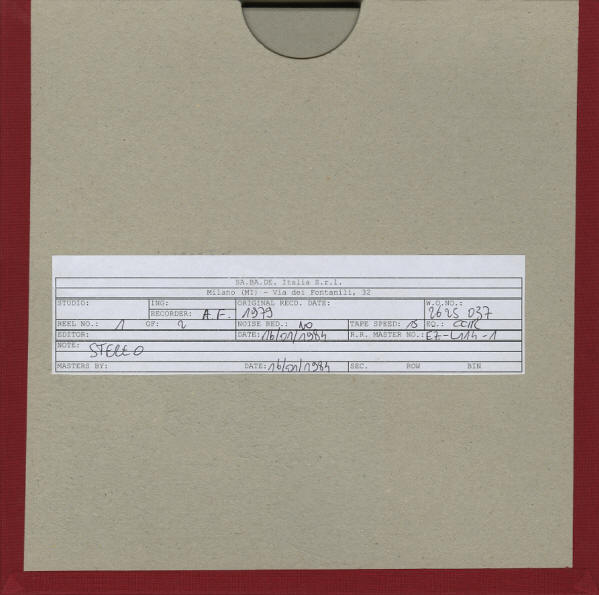 Quadrophenia (Soundtrack) Part 2 (EMEA Backup)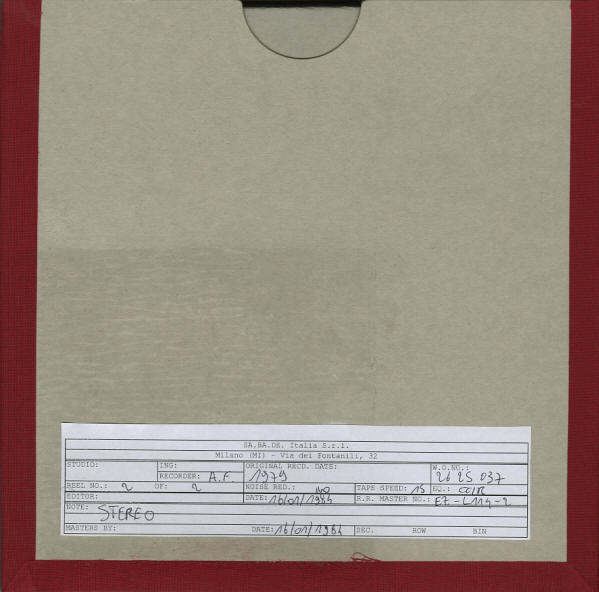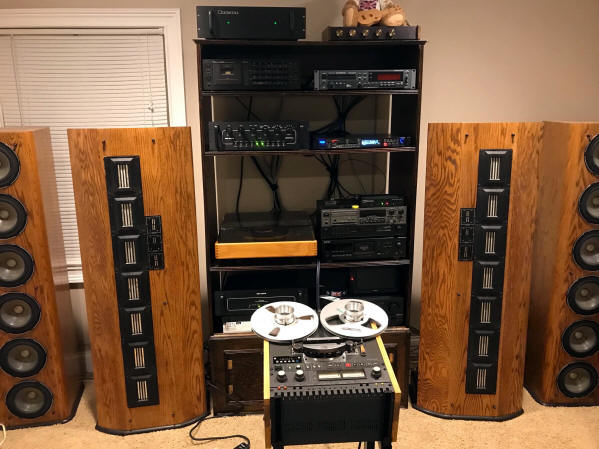 (System to record the above)
Pete Townshend - White City (EMEA Backup)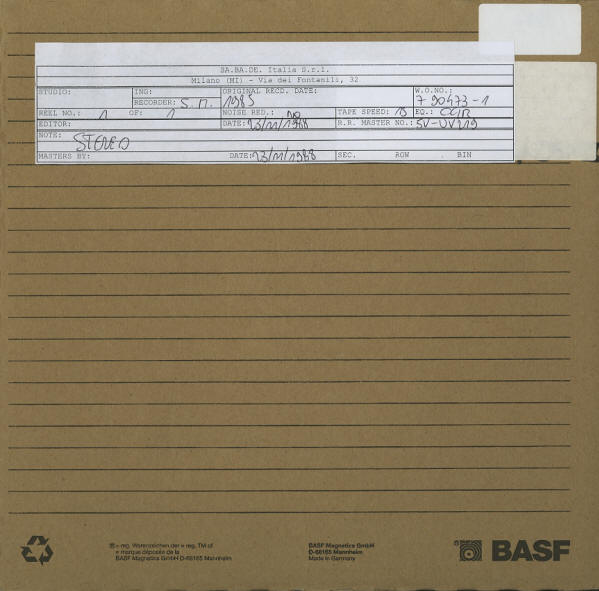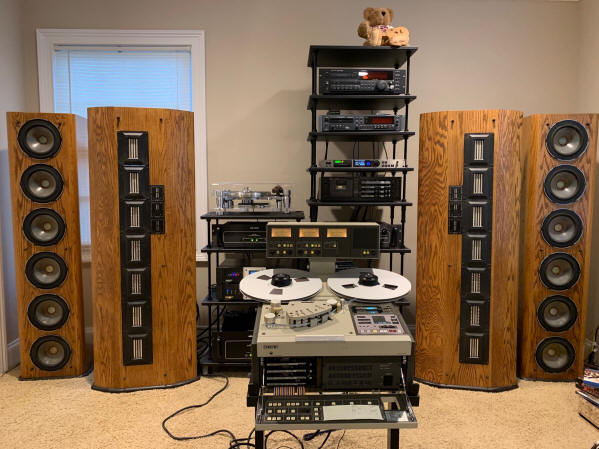 (System changes to record "White City" - 12" reels were required due to oversized tapes)
Playback/Recording Notes:
I acquired more of these tapes and at the same time thought it might make sense to purchase a reel-to-reel deck (Otari MX5050 BIII pictured above). I bought the Otari since it plays back at 15, 7.5 & 3.75 IPS as well as playing both NAB and CCIR tapes with the throw of a switch...
"Circles" - This is clearly a master for "The Who Sings My Generation" vs. any of the UK/European "Instant Party" (Circles) versions as it suffers from that poor "fake stereo" sound.

HD Sample:

Circles
---
"Substitute" - This appears to be the only known, true stereo recording. Essentially we figured out that John Entwistle wasn't satisfied with his bass track on the single and re-recorded a new one. Leaving the existing mono tracks alone (on the right channel), he recorded a new bass line on the left channel. He then appeared to use the multi-tracks in order to create the backing vocal chorus in stereo on both channels.

Below are (3) three samples: Direct off the reel (too much bass) and (2) two similar masterings. The first one, reduces the bass by 4.5db and the treble by .5db, widens the stereo effect, then adds 15% reverb. The 2nd, is almost the same, but instead of the reverb, uses an "ambiance" plug-in using the preset, "subtle".
HD 24 Bit Sample(s):
Substitute (Direct From Reel) Substitute (Mastering 1) Substitute (Mastering 2)
---
"Magic Bus" / "Someone's Coming" - These are the true stereo versions which appear on the 1968 USA "Magic Bus" LP. Absolutely stunning. Perfect sound. During the mad rush to press CDs, I'm sure the record labels were just grabbing master tapes and recording them as quickly as they could. The officially released stereo versions all sound somewhat shrill - especially noticeable on the backing vocals. I suspect that the tape was CCIR and they were playing it back in NAB, which shifted the entire frequency spectrum and made the recording too bright. There's nothing shrill about this recording and the backing vocals are perfect. (Note: stereo tapes were apparently often used to create mono singles.)
HD Samples:
---
"A Quick One" (first stereo version above) - The recording captured at the studio sounded terrible. Murky, bass heavy - hard to believe it was a master tape of any kind. When I played it on the Otari, the results were the same. However, just for the curiosity of it, I changed the EQ from CCIR to NAB- BOOM! Now, it sounded proper! Huge difference. While the improvement was dramatic, it still needed some help. John Entwistle's bass dominated everything and some EQ work made it sound pretty good. During playback, I noticed "See My Way" sounded pretty damn good, so I played with it a bit to get a good sound from it. Hence, some of these tapes play back perfect "as is" and some need to be tweaked (like this one). This tape does not appear to be true stereo, but rather one of the simulated stereo versions that were released in Europe between 1966 and 1970. (Fortunately, I found another "A Quick One" master and I hope to find that version in true stereo.) Each of the tracks from this tape appeared to be spliced together from different sources (easy to tell the difference between pink and white tapes changing with the songs).
---
"Quadrophenia" - I had some trouble with this one. Tape 1 had a splice in it (probably because it was actually 2 tapes on one pancake) and the <sticky> tape had dried out. Fortunately, I was able to make a perfect repair. Tape 2's pancake kind of lifted, creating some tape sticking up where it shouldn't be. This meant a lot of extra care rewinding it to its take-up reel. Fortunately, the transfer was a success - this is a really good master.

HD Samples:
The Real Me Cut My Hair The Punk Meets The Godfather I'm One Helpless Dancer 5:15 Bell Boy The Rock Love Reign O'er Me
HD Samples (Remastered):
The Real Me Cut My Hair The Punk Meets The Godfather I'm One Helpless Dancer 5:15 Bell Boy The Rock Love Reign O'er Me
---

"Odds & Sods" - This album was recorded on (2) two tapes. Tape (1) played just fine. "Post Card" has some extra bass noodling at the end, "Put The Money Down" has additional verses (and runs longer than the released version) and "Little Billy" has Pete saying "Good!" after the end of the song (sounded like Pete). Tape (2) had some problems. Apparently there were (2) two old splices which I had to work around. I haven't played with a reel deck since 1982 and this caught me by surprise (but I did have a tape repair kid handy). Other than the great sound and the (2) two notable differences above, the rest of the album seemed the same as the released version.
HD Samples:

Post Card (Ending) Little Billy (Ending) (Wait for the very end!) Put The Money Down (Ending)
---
"My Generation" - The cleanest, clearest mono version that I've ever heard (besides Shel Talmy's multi-track transfers). However, interestingly enough... Like Shel Talmy's multi-tracks, the title track is missing the guitar overdubs. Also notable, Pete's backing vocals in the fade out are different. In the released version, Pete sings in a high tone. In this version he sings in a low tone.)

After thinking perhaps this version "slipped out" into production into at least (1) one country, I went and pulled out the other Brunswick label LPs (i.e. France, Italy, Holland, South Africa) and a few other early pressings (Germany <Decca>, Australia <Festival>), etc. They all had the lead guitar intact. Apparently this tape was not used in production...
In "The Kids Are Alright", Pete's guitar is mixed down around ~1:15 (whereas his guitar is noteworthy in the released version).

There may be other noteworthy differences. I will update this section after listening to these tracks again...

MP3 Samples:
My Generation (Early Mix) Bass Solo My Generation (Early Mix) Ending My Generation (Common) Ending The Kids Are Alright (Early Mix)
(Note: The "My Generation" ending comparison is between 2:15 and 3:45...)
---
"A Quick One" (second stereo version above) - Not completely surprising.... "Run, Run, Run" begins in magnificent true stereo, followed by a really clean mono rest of the album! Great sounding tape - just mostly mono. hMMM... (Perhaps my "mono" Reaction tape is actually the stereo one - I will have to play that one soon.)
HD Samples:

Run Run Run (True Stereo) Whiskey Man (Fake Stereo)
---
"A Quick One" (mono version) - Sounds just like the UK Reaction mono LP (which makes sense since the tape shares the same catalog #) . I thought the mono tracks from the tape (immediately above) sounded better.
HD Samples:

Run Run Run (Mono) Whiskey Man (Mono)
---
"Happy Jack" (USA/Canada/Taiwan version of "A Quick One") - I originally brought this to a studio and wasn't crazy how it sounded. I'm not sure why, but on my own equipment it seems to sound much better. (Perhaps running the tapes through the ARC tube preamp made the difference.) The results were decent enough, but unfortunately the tape itself lacks true stereo tracks - "Run, Run, Run" and "A Quick One While He's Away" sounded good enough, but "So Sad About Us" was extremely bass heavy and would need to be re-eq'd. The rest of the tracks appear to be simulated stereo and/or mono...
HD Samples:

Run Run Run Boris The Spider So Sad About Us
---
"The Who Sell Out" (mono version) - An interesting collection of sometimes separate tracks (a space between the songs) and sometimes joined (no space). Just like the original 1967 mono LPs, the tracks have inconsistent sound (from really good to murky <too much bass>). Here you can appreciate the first re-released LP versions on Classic Records (and the latter CD releases) where the tracks were remastered and all sound consistently good (which the original LPs did not).
HD Samples:
Armenia City In The Sky Heinz Baked Beans I Can See For Miles Rael
---
"Meaty Beaty Big & Bouncy" - This (2) two reel set was a pain in the arse. The pancake on reel (1) one wasn't flat so I had to gently get it on another reel. A few old splices came apart and that is always fun (fortunately, nothing important). I didn't find anything remarkable or even memorable about this tape. However, it was the original source for the long version of "Magic Bus" and fortunately that recording came out OK. The tape overall was fairly flat (like many master tapes) and in need of a proper mastering.

HD Samples:
I Can't Explain The Seeker Anyway, Anyhow, Anywhere Magic Bus
---
"Quadrophenia (Soundtrack)" - After having some issues with the above (and other) tapes, I put this aside for over a year. What a mistake! These tapes sounded really good and I was very happy with the recordings they made.

HD Samples:
The Real Me Get Out And Stay Out Four Faces Joker James I'm One The Punk Meets The Godfather Bell Boy Zoot Suit
---
"Tommy" - This was a (3) three reel set and unfortunately, reel 3 is slightly too large for a 10.5" NAB reel (I need to buy a larger capacity machine or take this reel to a studio). Overall, the sound is clean, but desperately in need of mastering as the tapes are too bass heavy.

HD Samples:

1921 Amazing Journey Eyesight To The Blind Christmas Cousin Kevin Acid Queen
Update: The above samples were created with my Otari MX-5050 RTR. Because I needed a larger reel deck (the Otari maxes out at 10.5" reels), I bought a Sony APR-5003. This deck can handle 12.5" reels (and it's one of the best sounded pro RTR decks made).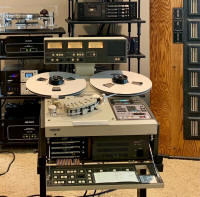 I successfully recorded the (3) three reels onto the Sony (pictured) and there seemed to be an improvement in the sound quality. Once recorded, I did a quick mastering using Izotope Ozone.

Below are the Sony HD samples, remastered:

1921 Amazing Journey Eyesight To The Blind Christmas Cousin Kevin Acid Queen Underture Pinball Wizard Go To The Mirror I'm Free Tommy's Holiday Camp See Me, Feel Me
---
"White City" - This appeared to be (2) two reels packed on a single pancake. Unfortunately, the tape was too large for a 10.5" reel, but with the recent purchase of a Sony APR-5003 (pictured above), I now have the capacity to go up to 12.5" reels. The Sony made a pretty good transfer and the sound quality of the album is really good (but needs proper mastering).

HD Samples:

Give Blood Brilliant Blues Face The Face Hiding Out Second Hand Love Crashing By Design
After recording the above, my IEC calibration tape arrived, so I ended up re-recording the album (tape) again. Depending on what equipment you are using, you may/may not hear some differences...
Give Blood-2 Brilliant Blues-2 Face The Face-2 Hiding Out-2 Second Hand Love-2 Crashing By Design-2


To be continued...
___________________________________
Copyright 2002, 2003, 2004, 2005, 2006, 2007, 2008, 2009, 2010, 2011, 2012, 2013, 2014, 2015, 2016, 2017, 2018, 2019, 2020, 2021, 2022, 2023 | RWhiteFang | All rights reserved. No part of this website may be copied or used for any other purpose without the express permission of the site owner. | This page was last updated on Sunday March 05, 2023 09:04 AM