| | | | |
| --- | --- | --- | --- |
| | WhiteFang's Who Site - The World's Largest Collection Of The Who Records & CDs | | |
| | | | |
Highlights From The Who Convention 2006: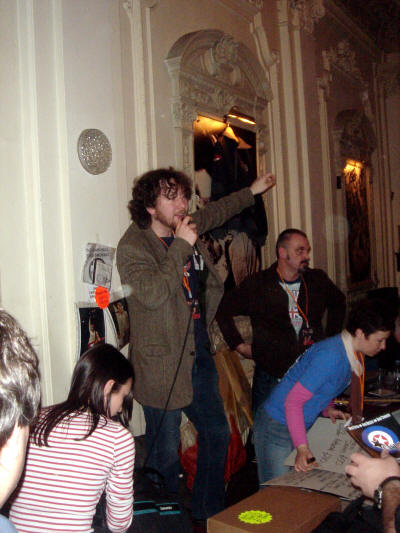 Tom, the Extraordinary Auctioneer - Raising Money for the TCT - Auctioning Donated Who Memorabilia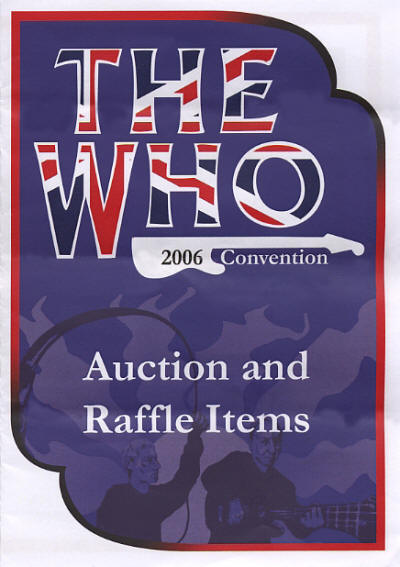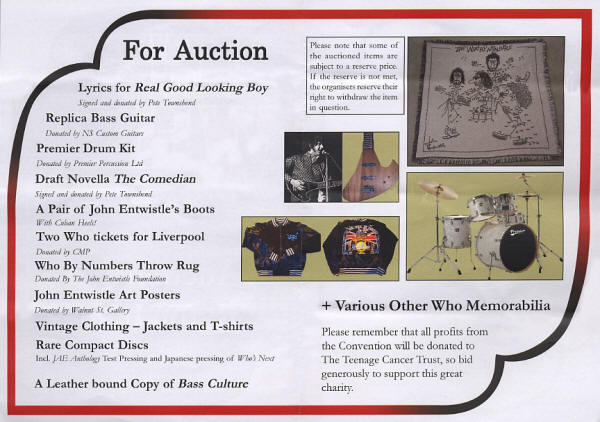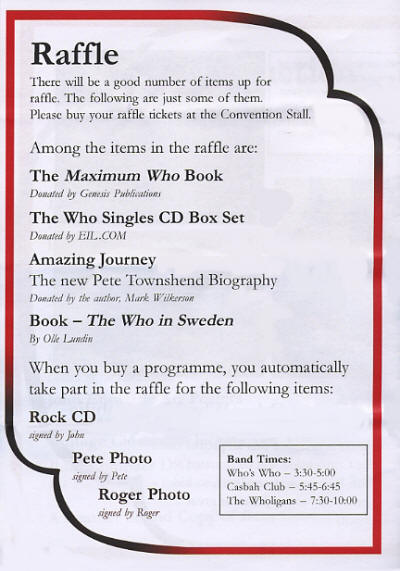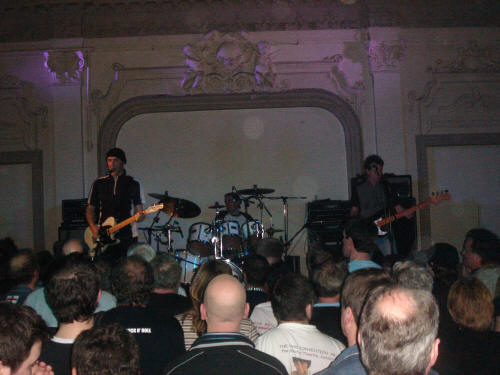 The Casbah Club (Featuring Simon Townshend)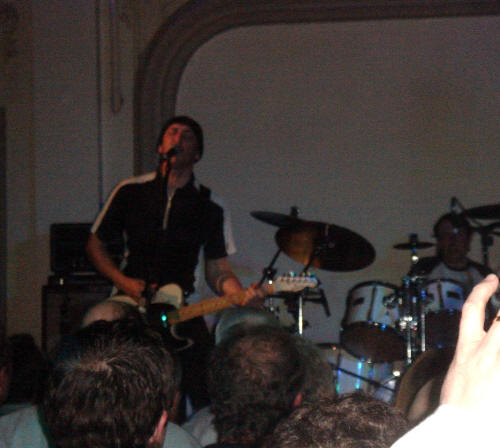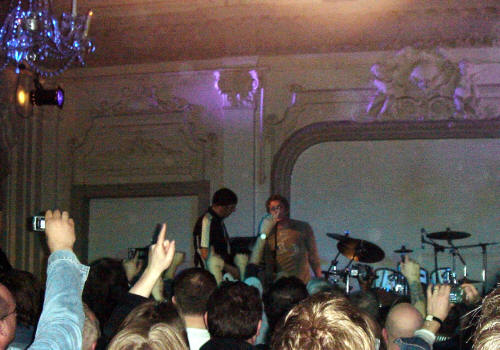 Special Guest, Roger Daltrey (with Simon Townshend)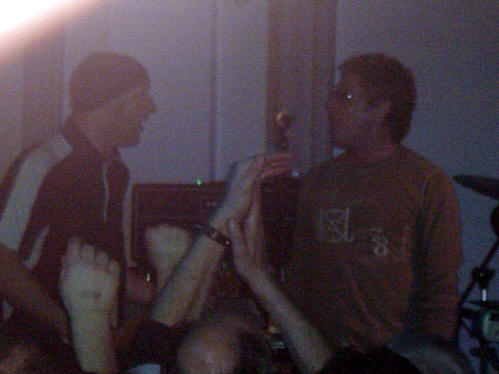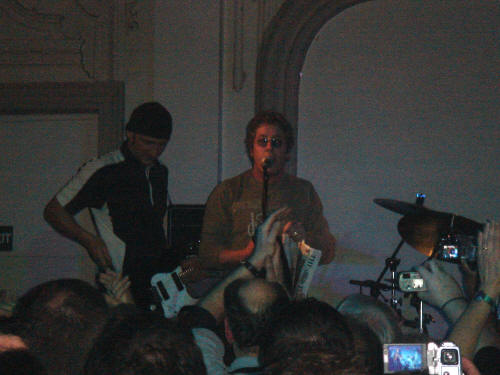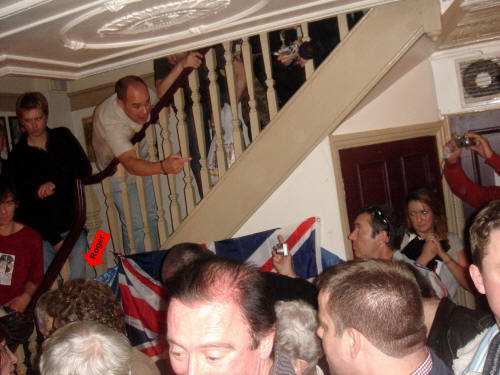 Roger Getting Mobbed By The Crowd (see red arrow) Trying To Leave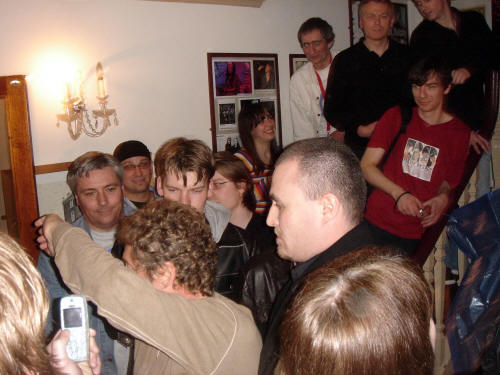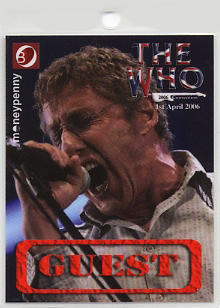 About:
Thank you to the organizers - who's hard work made so many people happy for this event and were able to raise money for the TCT...

The doors of Bush Hall (in Sheppard's Bush) officially opened at 12:00 - but I think I was inside closer to 11:30... Once inside there was a table for programs and Convention related material - immediately upstairs was some nice memorabilia - the new "Pictures of Lily" drum set, a John Entwistle bass and Andy Macpherson's (Revolution Studios) smashed SG - as well as many other interesting odds and ends...

Inside the main hall were various tables selling or displaying Who related "stuff". I made a b-line to Paul Derry's table (who had some very nice items ranging from a 1964 High Numbers single to the 1st pressing Meher Baba albums). In the middle of my "search", Mrs. Fang alerted me to Simon Townshend's presence - so I put the records <temporarily> down and greeted Simon (friendship before stuff). When someone else needed to talk to Simon I went back and went through Paul's nice stuff but unfortunately - I had it all. :(

From there I greeted Gary Hurley (who also had a nice table) but unfortunately I had everything there too! Mark Wilkerson was selling copies of
his wonderful Pete Townshend book, "Amazing Journey" and next to him was the long anticipated (4 - 5 years!) "The Who in Denmark" book
(by the same people who brought us "The Who in Sweden") - I bought both...

Across the other side of the room were several tables with the auction and raffle items as well as a Casbah Club table featuring Simon's wife, Janie, his daughter and his niece (Paul's daughter), as well as the band's great CD...

Bush Hall is a very nice place and it was pretty "filled" with fans (I believe about 350 tickets were sold). Fans from the UK, Canada, Holland and the USA (there may have been other countries represented as well). Among the guests were Doug Sandom, Chris Charlesworth, Andy McPherson, Mrs. Moon and many others...

Irish Jack came to the stage to do one of his readings - so I thought it was a good opportunity to go to Portobello Road to look for records. The "readings" are basically Jack's "artistic" spin on the band - a combo of prose and poetry. Either you like that kinda stuff or you don't. (I'm in the latter category....)

After Jack came Who's Who, who did a nice "Quadrophenia" set. The lead vocalist was able to capture Roger's voice almost identically for some songs (or parts of) and then be way off (copy-wise) on many other parts (which seemed a bit odd). The drummer was very good. Someone else commented that if you took the best player from each cover band - you might be able to get a fantastic band, but...

After Who's Who, came the start of the auction... There were a lot of nice things, but I specifically wanted the autographed lyrics to "Real Good Looking Boy" that Pete donated for the event (all auction proceeds went to TCT). I thought that this item was very special for several reasons and I also felt that it would be a strong addition to my website that *everyone* could enjoy... The auctioneer was actually quite good and very entertaining...

The auction was interrupted with the performance of Simon's Casbah Club. The band was *really excellent* and played a combo of their new music and some of Simon's older music.

The rumor that Roger Daltrey would be a surprise guest turned out to be true. In the middle of The Casbah's set Roger made his way to the stage and spoke to the fans thanking them for their continued support of the band and was looking forward to singing Pete's new songs. He also asked the audience if THEY had any idea what "The Boy Who Heard Music" was all about.`;-() He then asked for requests from the audience and sang, "Behind Blue Eyes" followed by "Substitute" with Simon. Roger couldn't stay, but on his way out greeted fans, etc and Casbah came back to finish their set...

After that the auction continued, followed by the raffle...

At this point Wholigans was about to start, but I felt I couldn't stand up any longer so I can't report on them - sorry!

The fans attending were very nice - I saw some people who I haven't seen in MANY years - and made some new friends as well...

I thought it was interesting as to how many people who came up to me and asked if I was "REALLY White Fang" (I did have my "name" above my shirt pocket and my URL on the back of my shirt - (as well as several unique picture sleeves, etc as part of the custom shirt design) - I had to ask, who else do you think I might be??? `;-()

Perhaps for the next event I will get a shirt printed that says, "Yes, I am REALLY White Fang!" `;-()

Other observations...

While the airfare to London is quite cheap - I think most of the money I spent was on cabs and trains - it seemed as if every taxi ride was about 10 pounds (not quite 20 dollars)... The food was relatively expensive compared to the USA and of mixed quality.

And the very worst thing? They no longer have the recording, saying "Mind the Gap" in the Subway/Tube system!
__________________________________
Copyright 2002 | RWhiteFang | All rights reserved. No part of this website may be copied or used for any other purpose without the express permission of the site owner. | This page was last updated on Thursday October 16, 2014 04:11 AM